New Car Review
1996 HONDA ACCORD EX WAGON
by Tom/Bob Hagin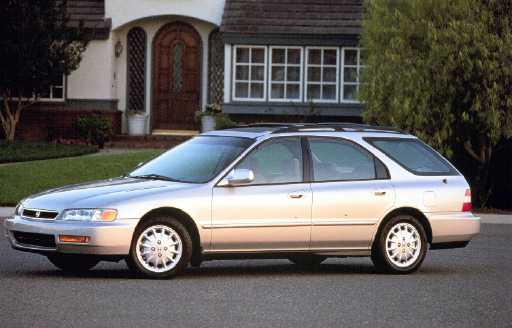 SEE ALSO: Honda Buyer's Guide
SPECIFICATIONS

     Manufacturer's Suggested Retail Price              $ 22,430
     Price As Tested                                    $ 22,810
     Engine Type                             2.2 Liter I4 w/MPI*
     Engine Size                                 131 cid\2156 cc
     Horsepower                                   145 @ 5500 RPM
     Torque (lb-ft)                               147 @ 4500 RPM
     Wheelbase/Width/Length                  106.9"/70.1"/188.4"
     Transmission                           Four-speed automatic
     Curb Weight                                     3197 pounds
     Fuel Capacity                                  17.0 gallons
     Tires  (F/R)                                      195/60R15
     Brakes (F/R)                              Disc-ABS/disc-ABS
     Drive Train                  Front-engine/front-wheel-drive
     Vehicle Type                       Five-passenger/five-door
     Domestic Content                                 65 percent
     Coefficient of Drag (Cd.)                              0.37

PERFORMANCE

     EPA Economy, miles per gallon
        city/highway/average                            23/29/26          
     0-60 MPH                                        9.7 seconds
     1/4 mile (E.T.)                       17.8 seconds @ 79 mph
     Top Speed (Est.)                                        N/A

     * Multipoint fuel injection


(The Honda Accord has been an American favorite since it was first introduced in 1976. Tom Hagin wished for V6 power while his father Bob was quite content with the four-cylinder powerplant.)
BOB - The Honda Accord has been locked in a well-publicized see-saw battle for supremacy as the top-selling car in America. Millions of them have been sold since it came out 20 years ago, and it's close to being all-American, too, since they're built in Marysville, Ohio. It comes as a coupe, a sedan or as a wagon, in Plain Jane trim or fully decked-out.
TOM - I see a lot of them on the road and most of those are several years old. I wonder if Honda has any regrets about making them last so long. Accord owners tend to be happy with their mounts and aren't in a hurry to part with them.
BOB - Honda owners are really loyal and they get a bit testy if you say anything bad about their pets. And it's been the Accord model specifically that's pushed the Honda name at or close to the top of U.S. car sales charts. But I'm sure that most Accord buyers go for the sedan model, not the wagon like the one we tested.
TOM - You're probably right, Dad, and Honda's Odyssey minivan further pulls sales from the Accord Wagon. Minivans are trendy and very much "in" so I look for a continued decline in conventional station wagon demand.
BOB - Accord wagons come in either LX or top-line EX trim levels, with a couple of engines available. But the wagon can't be bought with the new V6 that's available in the Accord sedan, which gives it quite a bit more power - although I'm not convinced that the V6 isn't much more than a response to a perceived request for more power by American drivers. I drove a V6-powered sedan last year and I wasn't as impressed as I was with Honda's four-banger that carried the VTEC variable timing system. And the mileage was better, too.
TOM - Although I like the V6 better, I admit that the VTEC system is pretty slick mechanically. It starts with the basic 2.2 liter engine like the one in the LX version, and adds a second set of high- performance cam lobes that come into play at higher engine speeds. Driving around town, for example, the engine operates on the first set, which provides good fuel economy, but not a lot of power. But when the driver pushes the revs up around 5000, the extra lobes kick in and the power jumps dramatically. It works great when you're trying to pass someone or when you want to get onto a crowded freeway.
BOB - When the VTEC is activated, it feels like a turbocharger boost or as if you've just released the parking brake -it really works great. The VTEC system in the Accord gives 145 horsepower and 147 lb-ft of torque, which isn't all that much, but it delivers it in a very efficient package. I really don't think that the Accord needs the V6.
TOM - So we disagree there, Dad, but I bet we feel the same about Honda's four-speed automatic transmission, the only gearbox available with the EX wagon. It changes gears solidly, and uses computer- controlled Grade Logic, which minimizes unnecessary shifting and stretches fuel mileage. The gearbox also uses a locking torque converter - another gas saving feature.
BOB - This EX version is a little fancy for my tastes. The moon-roof I could do without - but it's standard equipment. I do like the fact that all EX models come with anti-skid braking as standard equipment. The remote-entry lock is a pleasant thing, too, especially when you're fumbling around trying to open the door in the dark, but the standard roof rack is a waste as far as I'm concerned.
TOM - That's because you're not a skier, Dad. During the winter season, I give the roof racks on our test cars a real workout. It's so simple to attach a ski carrier to the existing rack and just head east.
BOB - The last time I used a roof rack was when your mother and I took all you kids on a vacation to Disneyland years ago. It was such a hassle, I swore I'd never use one again - even if I didn't have a car load of noisy kids.