New Car Review
1996 SATURN SW2
by Tom/Bob Hagin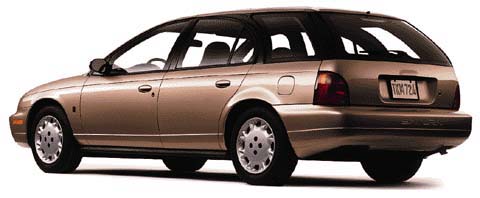 SEE ALSO: Saturn Buyer's Guide
SPECIFICATIONS

     Manufacturer's Suggested Retail Price              $ 13,725
     Price As Tested                                    $ 17,355
     Engine Type                            1.9 Liter I4 w/SPFI*
     Engine Size                                 116 cid\1901 cc
     Horsepower                                   124 @ 5600 RPM
     Torque (lb-ft)                               122 @ 4800 RPM
     Wheelbase/Width/Length                  102.4"/67.6"/176.3"
     Transmission                           Four-speed automatic
     Curb Weight                                     2875 pounds
     Fuel Capacity                                  12.8 gallons
     Tires  (F/R)                                      185/65R15
     Brakes (F/R)                              Disc-ABS/disc-ABS
     Drive Train                  Front-engine/front-wheel-drive
     Vehicle Type                       Five-passenger/five-door
     Domestic Content                                        N/A
     Coefficient of Drag (Cd.)                              0.36

PERFORMANCE

     EPA Economy, miles per gallon
        city/highway/average                            24/34/28          
     0-60 MPH                                        8.7 seconds
     1/4 mile (E.T.)                       16.8 seconds @ 82 mph
     Top Speed (Est.)                                    125 mph

     * Sequential port fuel injection


(Saturn is on a sales roll with a marketing philosophy and customer service that's in line with the upscale luxury car makers. In today's test, Tom Hagin wondered why Saturn would produce a hot-rod station wagon until his dad, Bob, reminded him of their own old wagon.)
BOB - Since its inception in '91, Saturn has gained market share every year. In '95, almost 290,000 Saturns were sold and I think one of the main reason they enjoy this success is the "total ownership experience" customer care that's exhibited in every Saturn showroom. Another factor that helps is that Saturn salespeople are low-key and low pressure. When I visited our local Saturn store, I couldn't find a single necktie in the place.
TOM - And if we hadn't been able to get one from the factory for our go-around, we never would have gotten a wagon version of either model, the SW1 "stripper" or this hopped-up SW2. Every dealer I've talked to told me that they have a waiting list for the wagon that's as long as your arm. The one we tested carried the upscale moniker SW2, and it's the wagon of choice among Saturn buyers. Its looks have been dramatically altered, without tossing away that distinct Saturn style. The roof has been rounded to increase headroom and improve aerodynamics, but the rear side windows look as if they were grafted from the sedan.
BOB - The more rounded shape helps to reduce wind noise, a problem on the old Saturns. New double door seals help in this area, as do new door panel isolators, and even a new raked-back radio antenna. Something as simple as the antenna's position added to the noise level and I'll bet pinpointing that problem area gave the engineers major headaches.
TOM - But that's not all Saturn engineers did to reduce noise and vibration. The accessories that are driven by belts from the engine have been redesigned as well, along with a new, quieter operating alternator. New acoustical insulation has been added underneath the dashboard, and sound-deadening insulation has been installed where wires, cables and columns pass from the cabin to the engine bay. All that stuff works, too, because this car is quieter than the wagon we drove last year.
BOB - It's stiffer and more rattle-free now, too. A dashboard support beam lessens vibrations in the steering wheel when you hit those monster freeway potholes. And in the wagon, there is another cross-car beam connected to the rear seat that helps torsional stiffness. New bushings for its front and rear suspension, revised shocks and better standard tires all contribute to a better ride and better control.
TOM - Uplevel Saturns use a 1.9 liter twin-cam four cylinder engine, that puts out a respectable 124 horsepower. This is the same engine the car has had since the beginning, but it's been "massaged" to make less noise. Having been and automotive machinist, I found it interesting that both the engine block and the cylinder head are aluminum. And I know that twin cams and four valves per cylinder are old news by now but putting them on a four-door station wagon is pretty impressive. It boosts the power by around 20 percent over the SW1 wagon which is one rung down on the Saturn ladder. And the five-speed stick shift in the SW2 even has closer ratios when it's used with the twin cam. That makes things pretty sporty - for a wagon.
BOB - The engine in our test SW2 was mated to a four-speed automatic transmission which uses the company's adaptive "fuzzy-logic" shift parameters. This computerized program eliminates "gear hunting" where the transmission goes back and forth between gears on slight hills. It would be interesting to compare the same car with the two different transmissions as I'm sure that the stick version would be quicker. Performance-oriented wagons are getting lots of publicity these days and this Saturn comes close to fitting into that category.
TOM - I can't imagine anyone needing a "hot" wagon, Dad. Why not just buy a sports sedan?
BOB - Tom, if I wasn't able to put some extra "umph" into that old four cylinder wagon we used when you seven kids were growing up, we never would have been able to climb the foothills heading out of town.