New Car Review
1996 ISUZU TROOPER LS
by Tom/Bob Hagin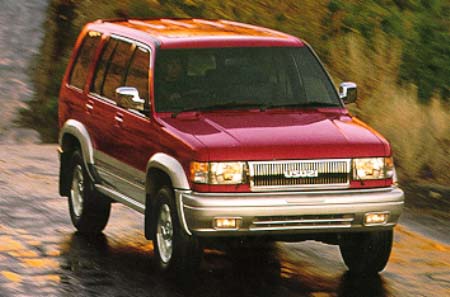 SEE ALSO: Izuzu Buyer's Guide
SPECIFICATIONS

     Manufacturer's Suggested Retail Price              $ 31,570
     Price As Tested                                    $ 37,585
     Engine Type                             3.2 Liter V6 w/MPI*
     Engine Size                                 193 cid\3165 cc
     Horsepower                                   190 @ 5600 RPM
     Torque (lb-ft)                               188 @ 4000 RPM
     Wheelbase/Width/Length                  108.7"/72.2"/183.5"
     Transmission                           Four-speed automatic
     Curb Weight                                     4315 pounds
     Fuel Capacity                                  22.5 gallons
     Tires  (F/R)                                      245/70R16
     Brakes (F/R)                              Disc-ABS/disc-ABS
     Drive Train                   Front-engine/four-wheel-drive
     Vehicle Type                       Five-passenger/four-door
     Domestic Content                                  5 percent
     Coefficient of Drag (Cd.)                               N/A

PERFORMANCE

     EPA Economy, miles per gallon
        city/highway/average                            14/18/16          
     0-60 MPH                                       10.9 seconds
     1/4 mile (E.T.)                       17.8 seconds @ 75 mph
     Maximum towing capacity                         5000 pounds

     * Multipoint fuel injection

(Several years ago, Isuzu made a pivotal decision to leave the passenger car business - at least in this country - and has cleverly decided to concentrate on the skyrocketing sports/utility vehicle (SUV) niche. And while it also markets a pickup and a minivan here, its true calling is to SUV aficionados. Bob Hagin found the Trooper a bit big for around-town use, but son Tom feels it's perfect for winter ski trips and pulling his ski boat during summer.)
TOM - One of the best features on the Trooper is its engine, a single overhead cam 3.2 liter V6 that pumps a healthy 190 horsepower and 188 lb-ft of torque. And while the Trooper is heavy for the somewhat small engine, there's enough power for the thing to cruise nicely. The single-cammer replaces Isuzu's exotic twin-cam unit of last year, but this simpler engine puts out the same number of horses. It uses multipoint fuel injection, which puts fuel directly to the engine's intake ports, and it has no distributor. Spark is delivered through a magnetic pickup, which in turn activates individual coils and fires the spark plugs. What's so great about this is that it can "trim" the engine timing to give better gas mileage and reduce engine knock.
BOB - But don't expect great fuel mileage with this new Trooper, Tom. It's heavy and about as aerodynamic as a woodshed. I was only able to get about 16 mpg on average, and about 13 mpg around town. My best figure was 20 mpg on the highway with the cruise control set at 65. You'd have to get into a mini-SUV to stretch fuel and "small" isn't one of the Trooper's strong points. It's big and somewhat cumbersome in tight city traffic. It tips the scales at over 4300 pounds but in this case, "big" means comfortable. The front seats can be set to accommodate almost any physique. There is plenty of head and legroom, and shorties like your mom can see well over the dash. But in back, Isuzu's as-advertise three-across seating is more suitable for two. Three in a pinch, maybe, but the person in the middle will have a hard seat.
TOM - The Trooper has almost all the fancy safety features. Dual airbags and side-impact beams are standard, and so is a special belt for a child seat and kid-proof rear door locks. Four-wheel disc brakes with a rear anti-lock system come standard on all Trooper models, but to add front ABS, buyer will have to shell out another $1200. It's an option that could come in handy, however, so I'd eliminate some of the non-essential items on our tester, like leather upholstery, and put the money into ABS. The virtues of 4WD could be considered a safety feature, too. The part-time system Isuzu uses can now shift into 4WD at speeds up to 60 mph. It's got automatic locking front hubs, which is nice, but to disengage the system, you have to stop the vehicle, then back up about 20 feet. That's not handy.
BOB - If it were up to me, I'd get rid of the moonroof and the CD player as well to bring down the cost of this Trooper, but I know you young guys feel those things are important. I took a Trooper through the Southern California desert a while back and found that they sure can handle the off-road. My co-pilot, an Isuzu suspension engineer, amazed me with how much engineering goes into softening the ride of the plush 4X4, while still keeping its rough-duty capabilities intact. He said it's got to be soft, but still be able to traverse steep, rocky terrain. The Trooper has independent front suspension with torsion bars, and a solid rear axle with coil springs. Sway bars front and rear keeps the thing relatively flat in corners, and there's standard skid plates underneath to protect the transfer case, radiator, fuel tank and exhaust pipe. Also, a limited slip rear differential is available, which is helpful when things get damp or really slick.
TOM - That's a great extra, Dad, but I hope you know that over 90 percent of the 4X4 SUVs sold here never see anything rougher than the potholes of suburban streets. Most SUV buyers don't want to jar their teeth out while crawling through the boondocks.
BOB - And you're looking at one, Tom. Had I known how rough the Isuzu off-road run was going to be, I'd have stayed in the lodge.