New Car Review
1996 EAGLE VISION TSi
by Tom/Bob Hagin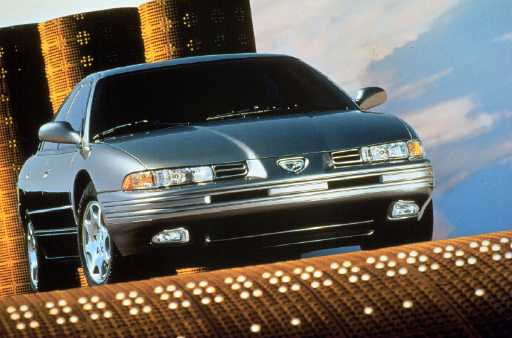 SPECIFICATIONS

     Manufacturer's Suggested Retail Price              $ 23,835
     Price As Tested                                    $ 24,690
     Engine Type                             3.5 Liter V6 w/MPI*
     Engine Size                                 215 cid\3518 cc
     Horsepower                                   214 @ 5800 RPM
     Torque (lb-ft)                               221 @ 2800 RPM
     Wheelbase/Width/Length                  113.0"/74.4"/201.6"
     Transmission                           Four-speed automatic
     Curb Weight                                     3494 pounds
     Fuel Capacity                                  18.0 gallons
     Tires  (F/R)                                     P225/60R16
     Brakes (F/R)                              Disc-ABS/disc-ABS
     Drive Train                  Front-engine/front-wheel-drive
     Vehicle Type                       Five-passenger/four-door
     Domestic Content                                 90 percent
     Coefficient of Drag (Cd.)                              0.31

PERFORMANCE

     EPA Economy, miles per gallon
        city/highway/average                            17/26/22
     0-60 MPH                                        8.6 seconds
     1/4 mile (E.T.)                       16.9 seconds @ 83 mph
     Top speed (Est.)                                    113 mph

     * Multiport fuel injection

(Eagle has always been sort of the "phantom brand" at Chrysler. But with very little promotion and even less advertising, Eagle has held on to a small market share as all-American "sports machines" with a European flair. Its new "Autostick" automatic transmission gear selector on the Eagle Vision TSi made a big impression on Tom Hagin, but his father, Bob, wishes it had a proper five-speed manual gearbox.)
TOM - Dad, the Autostick shifting system in this new Eagle Vision really makes a difference in how you're able to drive the car. It's like having both manual and automatic transmissions in the same car. This brand-new technology stuff, I like it!
BOB - Well Tom, before the war, some of British and European cars had pre-selector gearboxes and they only shifted when you popped the clutch. And I even had a thirty-something Hudson that had the same feature. But the Autostick actually is just another way of selecting the gears in an automatic transmission and the technology used on the Autostick was first found on Formula One racers. Even now, a few exotics have buttons that'll change gears with the flick of a finger.
TOM - That's true, Dad, but those "exotics" fetch over $60,000 while the Eagle Vision TSi starts at around $24,000. That's quite a difference in price. Besides, those cars have to be equipped optionally with the system, but the Vision TSi has it standard.
BOB - Ok, Tom, you win - but I'd still like the car better if it had a five-speed manual transmission. The Vision can be had in either the ESi, which is considered the base version, or in uplevel TSi trim. The ESi uses a 3.3 liter, 161 horsepower V6, while the TSi model comes standard with the more powerful 214-horse 3.5 liter V6 that's used in a whole bunch of other Chrysler products. Interestingly, the ESi is available with a low-emissions version of the 3.3 liter V6 - but only if it's bought in New York, Maine or California.
Tom - Both Vision models handle pretty well, too. Sixteen inch wheels and tires are standard on both cars, and both have gas shocks and stabilizer bars front and rear. Speed-sensitive steering is standard, too, and works great when you need some extra steering boost while parking. Fortunately, there's more road feel when it's cruising at highway speeds.
BOB - And since both models have four-wheel disc brakes, stopping such a large car isn't scary. But to get the TSi model's standard anti-lock braking system, ESi buyers will have to purchase it as an option. The ESi model is pretty well "tricked-out" with lots of standard comfort and convenience items, so it's a long way from being a "stripper." Both of them have power windows with the "one-touch" feature for the driver's side glass, and the door locks and outside mirrors are electric, too. And when it's frosty outside, both the rear window and outside mirrors have heating elements built-in.
TOM - But the TSi adds a lot more stuff. It's got an overhead console with a compass, outside temperature gauge and trip computer, and I can store my sunglasses inside the little storage compartment up there. And the TSi model also has a standard keyless entry fob and a leather shift knob and steering wheel cover.
BOB - I can see where the compass and storage cubbies come in handy, but why would anyone care what the outside temperature is?
TOM - I do, Dad. The TSi version comes standard with traction control to control wheelspin on ice and snow, and all Vision models are front-wheel-drive, which works better than rear-drive when it's slippery. This makes the car a good choice for heading up into the mountains for some downhill skiing. And I need to know the outside temperature so I know what clothes to change into.
BOB - You'd have to have your whole cold-weather wardrobe in the back seat and wrestle yourself into them in the front seat. That seems like a lot of work just to be stylish.
TOM - Dad, even when it gets really cold at the resorts, you still have to look the part when you walk up to the ticket window.