New Car Review
1996 MAZDA MPV 2WD
by Tom/Bob Hagin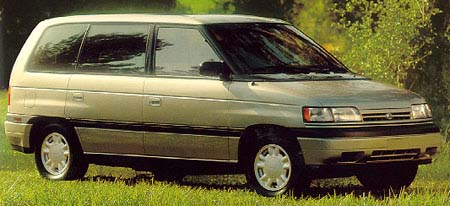 SEE ALSO: Mazda Buyer's Guide
SPECIFICATIONS

     Manufacturer's Suggested Retail Price              $ 23,255
     Price As Tested                                    $ 25,125
     Engine Type                             3.0 Liter V6 w/MPI*
     Engine Size                                 180 cid/2954 cc
     Horsepower                                   155 @ 5000 RPM
     Torque (lb-ft)                               169 @ 4000 RPM
     Wheelbase/Width/Length                  110.4"/71.9"/183.5"
     Transmission                           Four-speed automatic
     Curb Weight                                     3970 pounds
     Fuel Capacity                                  19.6 gallons
     Tires  (F/R)                                     P215/65R15
     Brakes (F/R)                              Disc-ABS/disc-ABS
     Drive Train                   Front-engine/rear-wheel-drive
     Vehicle Type                      Seven-passenger/five-door
     Domestic Content                                One percent
     Coefficient of Drag (Cd.)                               N/A

PERFORMANCE

     EPA Economy, miles per gallon
        city/highway/average                            16/22/20
     0-60 MPH                                       11.6 seconds
     1/4 mile (E.T.)                       18.4 seconds @ 76 mph
     Maximum Towing Capacity                         4300 pounds

     * Multiport fuel injection

(There is a battle-royale going on in the auto industry between the sport utility vehicle (SUV) and the minivan - and the minivan forces are pulling out all the stops. Mazda re-enters the fray by putting a second rear door on its latest version of the MPV minivan. The Hagins are both van owners and find that as the genre evolves, the more blurred the line becomes between the minivan, the SUV and the traditional family sedan.)
TOM - The Mazda MPV comes in three trim levels in two-wheel-drive form, and dressed two ways with four-wheel-drive mechanicals. Mazda is trying to re-market its MPV not as a minivan, but as an SUV, especially in its 4WD form. But either way, it's still a van.
BOB - That's true, but by adding a fourth door just behind the driver, it's close to becoming a station wagon. Although unless its a big domestic, rarely do you see a wagon that's rated to tow up to 4,300 pounds. But in the case of the MPV, that's true only if it's equipped with the special Load Leveling Package that adds a full-sized spare tire, transmission cooler and a larger engine cooling fan.
TOM - The 1996 MPV has been stretched a bit. It's now almost eight inches longer, but that's due to an extension to the front bumper and hood, and a restyled tail. That fourth door is the best idea the company has had since the Miata. The windows roll all the way down, too, not like other cars where the glass only lowers halfway.
BOB - But those doors are long, Tom, and they open outward almost 90 degrees. So while that makes getting in and out easier, it's hard to open them wide inside those tight parking spaces. I really like the rear doors of a minivan to be sliders but I still think the extra door is a great idea. Why didn't they think about that before?
TOM - Probably because it was more expensive, and since the other van makers didn't have one until recently, Mazda felt it didn't need one either, until the pressure of competition made it necessary. Even now, some of the other makers haven't offered an extra door and it's hurting their sales.
BOB - The MPV certainly is loaded with convenience features - they're everywhere! All MPV models have power windows and ventilation ports to the rear seats, and all but the bottom-line DX 2WD have standard cruise control, an AM/FM cassette stereo, power door locks and outside mirrors, and a tilt steering column. And air conditioning, keyless entry and variable speed intermittent wipers are available. You can even get an extra A/C unit and heater for the rear passengers.
TOM - Mazda has snugged up the instrument panel somewhat, and where last year's version protruded outward, the new van's pod-like panel has been blended nicely into the rest of the dash. And since it's a van, there are three different seating arrangements to choose from. The best setup has to be the ES model's four bucket seats for the front and middle, plus a three-across bench seat in the "way back." And they're easy to remove, too, so I can fit my mountain bike inside without dismantling the whole thing.
BOB - MPV power comes from a 3.0 liter V6 that still gives the same 155 horsepower it did when it arrived in 1989. It's just adequate for a van this size and when the inside is full of people, it's downright slow. It now has a redesigned intake system which improves mid-range throttle response, but I think it needs a horsepower injection. It could come from an enlargement of the engine but I've been told that three liters is just about the limit of expansion that the engine can take.
TOM - If it's weak in the power department, it's strong on safety. Dual airbags are now standard on all MPV models, as are four-wheel anti-lock brakes. Those brakes are discs all the way around, too, and I think that stopping power can't be compromised with a family vehicle.
BOB - I wish these modern minivans had been around when all you kids were growing up. They would have been handy going on camping trips.
DAD - Dad, there were so many of us that we would have had to use a small trailer to cart all our gear.
BOB - And I guess we'd have never found room for the dog.