New Car Review
1996 Chrysler LHS
by Tom/Bob Hagin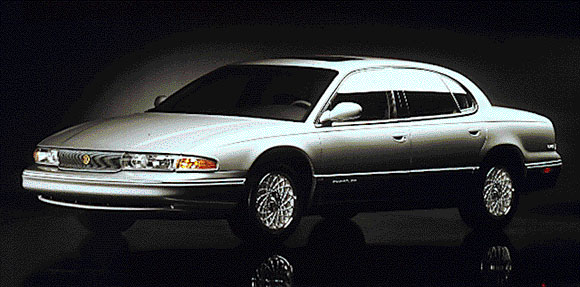 SEE ALSO: Chrysler Buyer's Guide
SPECIFICATIONS

     Manufacturer's Suggested Retail Price              $ 30,255
     Price As Tested                                    $ 32,150
     Engine Type                             3.5 Liter V6 w/PFI*
     Engine Size                                 215 cid/3518 cc
     Horsepower                                   214 @ 5850 RPM
     Torque (lb-ft)                               221 @ 3100 RPM
     Wheelbase/Width/Length                  113.0"/74.5"/207.4"
     Transmission                           Four-speed automatic
     Curb Weight                                     3605 pounds
     Fuel Capacity                                  18.0 gallons
     Tires  (F/R)                                     P225/60R16
     Brakes (F/R)                              Disc-ABS/disc-ABS
     Drive Train                  Front-engine/front-wheel-drive
     Vehicle Type                       Five-passenger/four-door
     Domestic Content                                 92 percent
     Coefficient of Drag (Cd.)                              0.36

PERFORMANCE

     EPA Economy, miles per gallon
        city/highway/average                            18/26/22
     0-60 MPH                                        8.9 seconds
     1/4 mile (E.T.)                       16.7 seconds @ 86 mph
     Top Speed (Est.)                                    114 mph

     * Multipoint fuel injection

(Since its inception in 1923, Chrysler has seen the best of times and the worst of times. Bob Hagin remembers the best (the 300 letter- series cars of the '50s) and son Tom remembers the worst (the ill-fated '70s). This week the Hagins test Chrysler's flagship, and for once agree on everything - almost.
TOM - The LHS seems well-suited to the American Baby Boomer. It's large and powerful, yet doesn't rely on chrome doo-dads and fancy bolt-on items that serve virtually no function. It hardly has any chrome trim; no opera windows; no whitewalls - none of the traditional American luxury sedan styling cues. Instead of all that costume jewelry, LHS uses fat performance-oriented tires, stylish aluminum wheels and blacked-out window trim.
BOB - I'm glad and I sure hope Chrysler never forgets that it almost met its maker during the '70s with those lackluster sleds it hung the Chrysler logo on. The LHS seems to have the right combination of performance and good looks, but what I like best about the LHS is how comfortable it is to drive. What I don't like is its price - at over $30,000, those Baby Boomers had better be well-off financially.
TOM - But Dad, most luxury cars these days, especially imports, run closer to the top side of $30 grand, and considering the equipment that comes standard on LHS, it's highly competitive. For power, a 24 valve 3.5 liter V6 is under the hood, mated to an electronically- controlled four-speed automatic transmission. Its 214 horsepower and 221 lb-ft of torque provide plenty of power to move the large car, but it's not a real barn-burner. It's smooth and quiet under normal acceleration, but after about 4000 rpm, it tends to get loud.
BOB - Maximum torque comes on early, at about 3000 rpm, so instant acceleration is available, especially when you try to pass a slow-moving big rig on a two-lane road. The transmission is so smooth you can hardly tell when it changes gears. Safety is an important issue with car buyers today so the LHS comes standard with dual airbags, side-impact beams in each door, and four-wheel disc brakes with anti-lock all the way around. And standard traction control all but eliminates wheelspin when the road gets slick. Also, the power rack-and-pinion steering is speed-sensitive which means it's easy to steer at low speeds, such as while parking, and becomes progressively stiffer when speeds rise - but that's a good thing, because you want more feel for the road at higher speeds.
TOM - LHS handles pretty well for such a big car. Its four-wheel independent suspension uses struts up front and a multi-link beam axle in back. Coil springs give it support, and the whole setup does well to isolate all but the largest bumps. Defying the old rules that said American luxury cars have to handle like land yachts, LHS is soft and plush, yet handles like a sports sedan.
BOB - Soft and plush may have more to do with its leather upholstery and soft padding. Even a diehard like me enjoys almost "melting" into the seats while driving the thing. And since it uses the cab-forward design, pioneered by Chrysler, that means there is lots of room inside for stretching out - especially so in the back seat. The LHS Chrysler has almost every creature comfort available as standard equipment.
TOM - True, Dad. LHS comes with power windows, outside mirrors, driver's seat and door locks, along with tilt steering, automatic air conditioning and cruise control - all standard. And it comes with a powerful stereo, but if you want a CD player, it's going to be a $300 upgrade. Our test vehicle also came with an optional power moonroof, which added another $795. Its destination charge is $595, and California/New York smog equipment is $105. Unfortunately, that's a "mandatory" option that can't be eliminated here.
BOB - Sometimes I long for the '50s and '60s when new Chryslers had big V8s and no pollution control devices. Everything was so simple.
TOM - Until you tried to park those boats in downtown traffic. Then you needed radar and a traffic controller. Don't Forget, Dad, we were in the back seat when you restored those old Starcruisers.