New Car Review
1996 VOLVO 960 WAGON
by Tom and Bob Hagin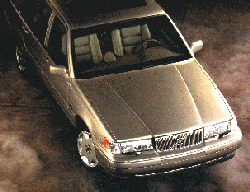 SEE ALSO: Volvo Buyer's Guide
SPECIFICATIONS

     Manufacturer's Suggested Retail Price              $ 35,760     
     Price As Tested                                    $ 37,135     
     Engine Type                             2.9 Liter I6 w/EFI*     
     Engine Size                                 178 cid/2922 cc     
     Horsepower                                   181 @ 5200 RPM     
     Torque (lb-ft)                               199 @ 4100 RPM     
     Wheelbase/Width/Length                  109.1"/68.9"/191.4"     
     Transmission                           Four-speed automatic     
     Curb Weight                                     3547 pounds     
     Fuel Capacity                                  20.8 gallons     
     Tires  (F/R)                                     195/65HR15     
     Brakes (F/R)                              Disc-ABS/disc-ABS     
     Drive Train                   Front-engine/Rear-wheel-drive     
     Vehicle Type                       Five-passenger/five-door     
     Domestic Content                                        N/A     
     Coefficient of Drag (Cd.)                              0.38

PERFORMANCE     

     EPA Economy, miles per gallon    
        city/highway/average                            18/26/21     
     0-60 MPH                                        8.9 seconds     
     1/4 mile (E.T.)                       17.0 seconds @ 81 mph     
     Towing Capacity                                 3300 pounds     

     * Electronic fuel injection

(Volvo is a very old and revered name in the U.S. The Hagins liked its new 960 wagon but father Bob disapproved of its frills. Son Tom reminds him that he doesn't seem to disapprove of its "sleeper" performance factor when it comes to stop-light drag racing.)
TOM - I'm surprised Volvo doesn't sell out of 960s every year. It comes standard with almost every automotive convenience item known to man, yet stays well below the competition's prices.
BOB - I guess that I'm still living in the past and I'm not quite sure I know what you consider a low price, but our test wagon is approaching $40K - which is not cheap by any standard.
TOM - Unless you're in the Rolls-Royce or Ferrari category, Dad. But let's look further into what the 960 buyer gets for his or her money. As far as comfort goes, all 960s get automatic climate control. You just set a predetermined temperature and leave it be. It also comes standard with cruise control, power windows, door locks, mirrors and front seats, and a power glass moonroof. And that's not all.
BOB - OK, Tom, but there are some things I could do without, like the optional leather upholstery and the moonroof, but I certainly can learn to get cozy with the adjustable lumbar support on the front seats, heated outside mirrors, intermittent wipers and integrated front fog lamps, all of which are standard equipment.
TOM - We're still not done with the standard items, Dad. It comes with super-plush floor mats, lighted vanity mirrors in the sun visors, a leather-wrapped wheel and a tilt steering column. And it has that great feature that stores the driver's seat position in a memory, so when you drive it, all you need to do is push a button and the seats go to where you want them, which is way different than where I set them.
BOB - That's true, Tom. I've noticed that you set the driver's seat tilted way back, like you're cruising the boulevard on a Friday night and I always have to change it back to a "normal" position.
TOM - Cruise in a Volvo? Come on, Dad. But I did take it to the mountains, where the strong inline six gave plenty of power to climb upand over the 7000-foot passes with ease. It uses a dual overhead cam unit with four valves per cylinder which has been tweaked to provide increased torque at lower rpms, but at the expense of a few horses.
BOB - But the loss isn't something you can feel, and the different cam profiles of the '96 version make it more user-friendly around town. The automatic-locking differential and the automatic transmission mode that starts the car from third gear no doubt helped your traction up in the snow country to reduce wheelspin on ice. But Tom, we haven't even discussed its safety features yet.
TOM - That's where things really get good. The 960 comes with four airbags up front - one in the steering wheel, one in the dash and two in the sides of the front seats. Also, there are three-point seat belts for all passengers including the person in the middle rear seat who usually has to make do with a lap belt. Also, there's headrests at all five seating positions, along with automatic tensioners on the front belts.
BOB - The 960 uses daytime running headlamps, as well as a rear fog lamp that is just a little brighter than a traditional tail lamp but I'm still not convinced it helps. Volvo also builds its cars with lots of high-strength steel inside the doors, and reinforcements in front to strengthen the chassis against direct and offset frontal collisions.
TOM - It really is a jungle out there - but it helps that all 960 models have four-wheel disc brakes with a sophisticated four-channel anti-lock braking system. The system works great and really helps pull the car down quickly from speeds - without locking the brakes. It also helps that it's a wagon and I can fit all my ski stuff inside.
BOB - Volvos have always had a reputation for safety and being rugged and this new 960 lives up to that reputation. And it's performance factor is a real "sleeper" in that this 960 we tried was a wagon. From a stop light it really sizzles and surprises other drivers.
TOM - Especially when it's driven by an old guy with white hair.