NEW CAR REVIEW
Ford Explorer AWD XLT (1996)
by Mark Fulmer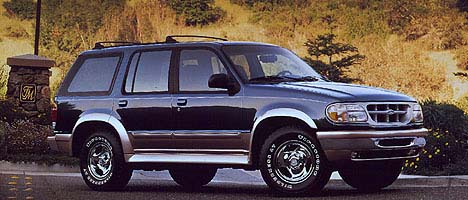 SEE ALSO: Ford Buyer's Guide
For the last 5 years, the Ford Explorer has led the sport utility pack by combining creature comforts with efficient use of interior space. Like most in this breed, they have added air bags, anti-lock brakes, remote entry systems, and the like. But this year (1996) they walked up to the front of this little beast, opened the hood, and wedged in a feisty 5.0-liter V8. The 4.0 liter V6 is still standard, but I predict will quickly become the lessor chosen. After all, an all-wheel drive sport utility vehicle is by its very nature going to see quite a few mountain roads in its lifetime, and there will be times when you'll want to assertively get around that lumber truck.
On the inside, the Explorer is simply splendid. Seat adjustments are easy and extensive and include seat wing and lumbar air pillows. Gauges and controls are all straightforward and reachable. Entering and exiting the vehicle is not a problem, and the cargo space is superior to its peers.
The Explorer attains a most successful middle ground: neither too hard like a truck nor too soft like a sedan. And that's what the sport utility class is all about. No wonder then that folks keep snatching up this nifty Ford.
CAPACITIES

Fuel Tank: 		21 gal.
Maximum Cargo: 		81.6 cu.ft.
Maximum Payload:	82 lbs.
Maximum Towing: 	6500 lbs.
Maximum Seating: 	5


Standard vehicle price:  $25,710
Evaluation vehicle price: $31,240