New Car Review
Too Grand Cherokee Laredo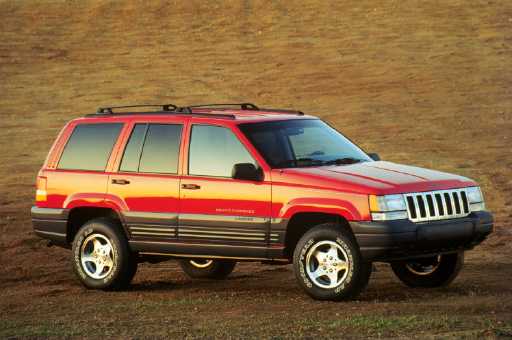 SEE ALSO: Jeep Buyer's Guide
by Andrew Frankl, TACH European Bureau Chief
No, the title is not a mis-print. The 5.2 litre Cherokee is a little bit of too much of everything. Having driven it hundreds of miles into the mountains surrounding Lake Tahoe, it was magnificent but excessive. I did not need a 5.2 litre engine - a $1,311 dollar extra; nor things like the overhead console. These things tend to appeal to those who never drive on unmade roads unless there are roadworks outside Tiffany's in Union Square, in the heart of San Francisco. Mind you, Range Rover does exactly the same in England. The most expensive cars they make are usually sold within a square mile of Harrods, the famous department store; and the steepest hills the owners ever climb are the pavements outside the shops.
I suppose it's called marketing. Anyway, the Jeep did of course storm up Highway 8O at a steady 55 miles per hour (yeah, right), and for sure there was never any danger of running out of steam. On snow the huge, optional and unnecessary Goodyear Wranglers were disappointing. It was a case of more show and less substance.
The fuel consumption is something we'd better forget. The "Vehicle Information Centre" was indicating 15.8 miles per gallon.
On the plus side, the Jeep looked magnificent in flame red and never missed a beat. lt was incredibly comfortable and easy to drive although the power steering was a little bit too wishy-washy for my liking. The ride was comfortable, the passengers loved it. Would I buy one? At the base price of $26,571 dollars, yes. At $31,176 - as tested - definitely not. It is fascinating to sit in this car and think back to its ancestor as ridden by General Eisenhower and millions of Gls. Duel airbags, sport aluminum wheels, extra quiet insulation (!), air conditioning, front and rear cup holders, tinted glass, power windows, reclining front bucket seats.
How did the old cigarette ad go "you've come a long way baby!"... You sure have. .