Mitsubishi Lancer (2002)
SEE ALSO: Mitsubushi Buyer's Guide
2002 MITSUBISHI LANCER

The Little Easy Debuts in the Big Easy


by Marc J. Rauch, Executive Vice President & Co-Publisher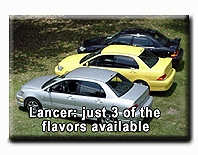 It seems to me that Mitsubishi has long been relegated to a "oh yeah, them too" status. Commonly, when the average person thinks of Japanese automakers they first think of Honda, Toyota, and then Nissan. When pressed, Mazda, Subaru, and Mitsubishi might come to mind (and when really pressed some deep-thinkers could tell you that Suzuki also makes cars). It's unfortunate for Mitsubishi, because being in only an "also ran" position means that they often get over-looked by consumers when considering which vehicle to buy; although their products are as good (or better) as anything offered by Honda, Toyota, or Nissan. Ironically, Mitsubishi may have put themselves in this position by concentrating more on supplying cars and engines to other automakers, such as Chrysler, instead of concentrating on creating their own brand awareness.
But, while the also-ran position may have negative connotations for corporate Mitsubishi, it's a boon for consumers: lower demand and awareness of the Mitsubishi product has resulted in better economic value for car buyers. Personally, I've always loved Mitsubishi vehicles. Back in the 80's I bought a Dodge Colt Vista wagon (a re-badged Mitsubishi). It was fun, affordable, a pleasure to drive, reliable, and it fit to a T my requirements for carrying people and schlepping stuff - if it was Chrysler made, I wouldn't have bought it. With the introduction of the Eclipse (which was also re-badged for Chrysler versions), I felt the marketplace now had its best small sportscar, and probably the best all-around sportscar. Furthermore, I felt the 3000GT (badged as a Stealth for Dodge), was the best performing sportscar (in particular the twin turbo) in the "popular priced" sportscar market. I thought it out performed and drove better than any model Porsche, the Corvette, or Viper. I also liked its performance and road handling far better than the NSX. I know that techies and purists will take me to task for my opinion, 3000GT vs. NSX - arguing how technically the NSX is better. But, as I'm neither a techie nor a pure car-guy, I can only offer an opinion from the perspective of my driving impressions. Also, the 3000GT was priced well below Porsches, Viper, and the NSX. On the road or on the track, this was the car for me - I was sorry to see it go.
Likewise, dollar for dollar I've always felt that Mitsubishi's Galant, Diamante, and Montero Sport SUV represent about the best value in their respective classes: in some instances they offer equivalent (if not better) performance and creature comforts for thousands of dollars less than their competitors.
So it was with eager anticipation that I traveled to the Big Easy, New Orleans, for the press introduction of Mitsubishi's "new" Lancer (the model name Lancer is not new to Mitsubishi, as they've used it before and in other countries, but the vehicle is an all-new entry).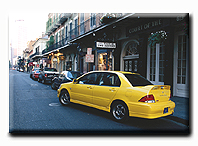 As is typical in these press introductions, the day began with a theater-style presentation conducted by several members of the company's design and marketing staff, which included Pierre Gagnon, CEO of Mitsubishi Motor Sales of America. Frankly, I'm always impressed when the top dog of a car company shows up to rub shoulders with the press and make himself, or herself, available for the constant harangue of questions and comments that inevitably take place during the presentation day(s). Pierre's youthful appearance and demeanor (a result of being pretty young) fits Mitsubishi's image as a manufacturer of sporty, aggressive vehicles - you get the sense that he would actually own a Mitsubishi, even if he weren't its CEO.
The new Lancer sedan is designed to compete in the compact car market, which represents roughly about 2 million new vehicles per year. This carmaker is targeting their sales at 64,000 units per year, which, mathematically at least, seems like a reasonable goal. Eventually, the Lancer will replace the Mirage sedan as Mitsubishi's low-end four-door vehicle (although the Mirage is a sub-compact).
Lancer will compete directly against the Honda Civic, Toyota Corolla, Nissan Sentra, the Mazda Protege, and the VW Jetta. Feeling the way I do about Mitsubishi product, I thought that this was also a reasonable objective, and that if the company will promote the vehicle like they say they are going to, that they could easily attain their sales goals. Additionally, because the Lancer draws upon its international heritage as a rally sportscar (the Lancer EVO has won 25 1st Place victories), on the presentation screen it had a decidedly sportier look to it than most of its rivals.
When the car goes on sale in early August (2001), it will be available with a choice of either a 5-speed manual transmission or 4-speed automatic, and will be offered in three trim packages: ES; LS; and OZ Rally, the full-on sport appearance version. All versions are available with just one engine: 2 liter, 120hp, inline 4 cylinder.
The good news here is that even if you opt for the more basic ES model, you've got the same power as the two more upscale versions. The implied bad news is that the OZ Rally will only have the same engine as its down-market brothers - but, as I was to discover, it was an implication without foundation. Although prices were not revealed to us, we were given a range of "under $14,000 to under $18,000".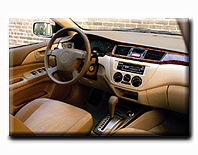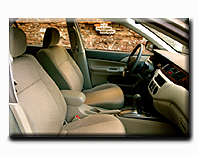 From the theater presentation we moved outside en masse to the staging area for the day's drive. Our hotel was located just outside the French Quarter (and yes, I did stay out very late both nights I was in New Orleans and had more than my fair share of alcohol while listening to incredibly fantastic jazz, zydeco, and blues bands). The planned drive route was set to take us out of the city and into Bayou country on a couple hundred-mile circuit.
Again, my big question was would the ES version benefit from having the same power plant as the OZ Rally version, or would the OZ Rally version suffer from having to use the same engine in the base model Lancer. Since I was going to drive first (my driving partner was cheerfully chose shotgun), and I wanted the answer right away, I selected a manual transmission OZ Rally Lancer.
However, before I tell you how the car drove, let me go back to appearance: As I mentioned above, I thought that in the onscreen presentation Lancer looked sportier than its competitors. But in person, the vehicle was more than that, and even better looking. Lancer borrows some of the design lines and characteristics of the Galant and Diamante. To me, this gives Lancer a classier appearance. Civic and Corolla, while attractive, seem to have been purposely designed with a low-end look - sort of "let's not make it look to good so that it doesn't impinge on our sales of Accord/Camry". In Mitsubishi's case, it seemed more like "let's utilize our success with our bigger cars to make it look better in order to help sales". But the bottom line was that, as expected, Lancer was offering more bang-for-the-buck in the appearance department.
In any event, with the fawning period over, I did finally get in the car. This is when the Big Easy met the "Little Easy". In starting the Lancer, putting it in gear, and moving into traffic, my first thought was, "This is EASY." The whole process was smooth, lithe, buttery...EASY. Visibility was great, the seat felt good, there was plenty of room for me (a small guy) and my driving partner (a big guy). Shifting up and down was effortless and without over-torqued jerkiness. Acceleration was equally effortless, and moving from city speed to highway speeds - with plenty of passing - answered my question: the OZ Rally version would not be a victim of an under-nourished engine (which conversely meant that the base ES version would indeed be the beneficiary of the single common engine for all Lancer versions).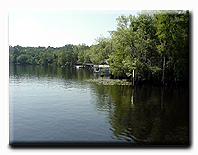 I don't want to over dramatize my enjoyment and appreciation for how the OZ Rally performed; after all it is just a lower-priced compact car. But in essence, that's the point: I really, really liked driving this lower-priced compact car. When I was driving, I wasn't giving anything up: not in comfort, handling, roominess, or fun. When I wasn't driving, but outside the car looking at it, I also felt that I wouldn't be giving anything up: it looked great.
At mid-morning, after about 60 miles, we stopped to change drivers and admire the scenic beauty of the Tickfaw River. Now I was a comfortable passenger. My co-driver, who had to listen to me blabber about how "easy" the Lancer drove, parroted back virtually everything I told him about the car. He was also amazed at how smoothly the Lancer flowed: the shifting, the handling, and the acceleration.
After another 60 miles or so, we lunched at a beautiful antebellum home at the Madewood Plantation. Hmmm, authentic southern fried chicken, catfish, and lemonade...my mouth waters just thinking about it. Unfortunately, since I was still feeling the effects of the previous night in the Quarter, I didn't actually eat anything (but everyone told me it was delicious and I do ordinarily love fried chicken & catfish). But I did take a bunch of pictures and made several prerequisite phone calls.
For the return trip to downtown New Orleans, we changed vehicles in order to try the ES version with 4-speed automatic transmission. Obviously, there are performance differences between driving a stick and an automatic vehicle, but the ES automatic version felt just as easy and enjoyable as the stick - although, I did prefer the 5-speed and would choose it over the automatic. Other than that, the ES was a near duplicate of the OZ Rally version (minus the trim enhancements). The remainder of the trip was quite uneventful. It was just a beautiful, carefree drive in the country. We didn't even have to think about the car, just admire the environs. So does that mean that the vehicle was so uninspiring that we didn't have to continue discussing the Lancer? Quite to the contrary: we were so at ease and relaxed by the car that we were able to just enjoy the day. Which, when it comes right down to it, is what you want from a vehicle in this class: effortless, carefree, easy driving.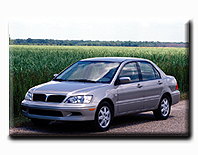 I've applauded Mitsubishi's automaking efforts and results in the past, and the Lancer didn't disappoint me. I've found that when people have been able to get out of the Honda/Toyota/Nissan box, and try a Mitsubishi, they have been delightfully surprised. For the shopper that's looking for great value, comfortable ride, sporty performance, and a good looking car that will stand out in a shopping mall parking lot filled with Civics and Corollas, the Lancer should be their next new car.
More Information:
www.mitsubishimotors.com