New Vehicle Review
CHEVY AVALANCHE

This Camel is the Ultimate Utility Vehicle


by Marc J. Rauch, Executive Vice President & Co-Publisher
SEE ALSO: Chevrolet Buyer's Guide
You've probably heard the funny old bromide that the camel is a horse created by committee: too much input, too many suggestions, overly designed. Seeing Chevrolet's new Avalanche framed against the incredibly beautiful mountains that surround the Palm Springs' desert, during a recent Media introduction, it was easy to make a parallel assessment.
My first impression was that the Avalanche's exterior looked a bit too embellished, with too much stuff on and around the vehicle; sort of like comparing an armadillo or rhinoceros against their respective "armor-less" cousins, the rat and hippopotamus. To more clearly understand the correlation, keep in mind that the Avalanche is based upon, and indeed built upon, the Suburban, Chevy's full-bodied "vanilla" workhorse.
In presenting the Avalanche to the group of journalists, Chevy employed several different people to talk about the vehicle's various attributes. As they spoke, revealing more and more about its features and capabilities, the camel analogy seemed even more appropriate. Finally, when the last speaker reveled that the vehicle had over 25,000 possible configurations, I leaned over to the person next to me and whispered, "I think they consulted a few too many focus groups on this one." My god, they made it sound like the only thing missing from the Avalanche was a retractable wing for flying and a mast and rudder for sailing.
But there's also an undeniable reality about the camel: it's superbly suited to the tasks and environment in which it's used. No horse, regardless of its strength, speed, or sleekness can accomplish what a camel does. As it turns out, the Avalanche IS a camel, but for all the right reasons.
Firstly, let me say that I've always liked the Suburban. True it's not a practical one-person mover, nor good for bumper-to-bumper inner city traffic use. It's a great brute of a vehicle, capable of transporting a whole passel of people and/or a big load of cargo. It drives well, is comfortable, and has a solid reputation. In fact, I even had a very impressive off-road experience with a Suburban about three years ago up in the Sierras near the Desolation Wilderness. Since the Avalanche uses about 85% of all the parts and equipment that go into the Suburban, I think it's fair to say that it starts with a solid foundation.
Well, Chevrolet took the Suburban, chopped off the rear passenger compartment, put in a truck bed, added flared fenders and enlarged wheel openings, and made some "cut" Aztek-like design changes to the front and hood. Then, as I mentioned earlier (while I was still in my critical mode), added so many features and refinements to the Avalanche that you could use it every day in a different way for about 70 years without ever duplicating a previous configuration (based upon the 25,000 possible configurations).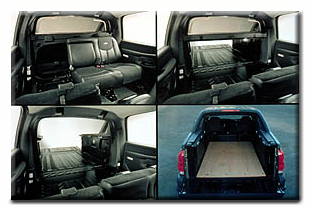 The Avalanche is a do-everything vehicle; in short, it is in a class of its own: it drives like a car, has the capabilities of an SUV, and the functionality of a full size pickup. BMW described their X5 as an SAV (Sport ACTIVITY Vehicle), to try and differentiate it from its Sport Ute competitors. But the Avalanche is more deserving of a specialized designation: the people at Chevrolet refer to it as a UUV, the ULTIMATE Utility Vehicle. It's also a lot like an "Adult Transformer" (from the old cartoon series). Either way, they are fitting and accurate descriptions.
Unlike some of the extended cab pickups currently on the market, which have beds that are only usable for very short loads, the Avalanche can accommodate eight-foot long materials and still be able to close the tailgate. A sturdy modular hardtop fits over the entire bed and provides a waterproof, locked compartment. On the other hand, the entire mid-gate and window can be opened to provide an almost convertible-like driving experience or, when stationary, provide the perfect structure to add an optional camping tent. Speaking of options, there are plenty of official GM accessories available for the Avalanche, from a pickup box extender (for even more room), to a roof-mounted bicycle carrier, to a custom car cover. It appears "The General" has figured out that making and selling accessories is big business; and he wants in.
Now here's the best part;
everything works well and seems to be very well made! In chopping off the back part of the Suburban, Chevy's engineers added lots more structural support to the body. This increased support results in a terrifically sturdy and comfortable ride - it drives more comfortably and much more nimbly that the Suburban. Even off-road there were no creaks and groans as this big camel cruised easily over rocks and berms. As I mentioned above, the entire mid-gate and window opens to provide a completely clear and uninterrupted compartment from the back of the front seats to the tailgate. The folding mechanisms and stowage areas that make this possible were very well designed and are simple to operate. To tell you the truth, it was totally unlike the over-engineered and hard-to-use features often found on General Motors' products (evidence the coffee cup holder in most GM cars).
The Avalanche is available in two-wheel drive and four-wheel drive versions. The basic engine for either version in the "1500 Series" is the Vortec 5300 V8. The 2WD ranges in price from about $30,000 to $35,000; and the 4WD runs from $33,000 to $38,000. Considering the size and versatility of this beast, I think it's priced quite reasonably. Later this year, a "2500 Series" model will be available that uses the new Vortec 8100 V8, providing 340HP, as compared to 285HP for the 1500 Series. The 2500 Series will probably run in the low $40's.
A very nifty NORTH FACE designer version is also available, featuring a great looking interior and several North Face accessories, like the "Duffalo" which is a seamless water-resistant duffel bag. The North Face version will cost $37,465. As this comes only 4WD, I think it represents the best buy of the lot.
In a market filled with me-too SUV-style vehicles, the Avalanche is a rugged individual. It's not wildly priced, like the LaForza or the full-size Hummer, and it has a respectable pedigree. Initial distribution of the planned 100,000 vehicles for the first year is going to be limited to California, Texas, and Florida. Lots of reasons were given for this, but personally, I think that it's because otherwise Montana would gobble up the entire allotment. My only unanswered question is; when will the Avalanche be available with a retractable wing? I think there's no doubt that this thing will fly!

More Information:
www.chevy.com