Motorcycle Review
GOLDEN CHILD

Why the new Honda Goldwing 1800 IS the definitive Tourer.

Nicholas Frankl
Contributing Editor
In life, as in motoring, one makes decisions based upon priorities. If you want to eat well you travel to France and enjoy the world's finest culinary delights; cheeses that make your nose quiver and eyes run, wines that tempt the palate and beef from Chalon that melts almost before it reaches your mouth! For beauty in form, and function, it's off to Italy. Milan and Rome, for Verdi Opera, the Coliseum and style, Venice to feast upon architecture, - so much cultural ambiance it's like the gene pool is infected with it. Where else could they build cars like a Lamborghini Countach, Ferrari 250 California Spider and the original FIAT 500 - Topolino? But for motorcycles that run, and run forever, and achieve this with outstanding mechanical and technical efficiency, one travels much further to the East. To a country, that in the last 25 years has transformed the design, engineering and production process of every motorized machine on earth.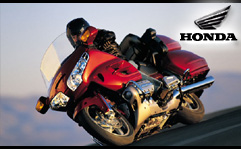 Japan brought us cheap, mass produced vehicles on a scale never dreamed of by Henry Ford. Well equipped, well built and made to last without monthly visits to the dealer, the Japanese big three were in no small way responsible for the demise of the British car industry and revolutionary overhaul of Detroit. And what became of the automobile industries? They also befell the motorcycle culture. It's no surprise that going back to its roots, Soichiro Honda began as an entrepreneurial motorcycle builder. Today Honda sells more than 5 million motorbikes a year. Admittedly these are not all 929's, but more 125 cubs and the like to India, and the Asian markets. But that's an awful lot of engines and engineering and it is these qualities that Honda builds into all its two-wheeled transport.
Constant self-evaluation through research and development, even in the face of tremendous sales success and critical acclaim, keeps the machines at the top of the desirability lists and the Goldwing 1800 is just the latest incarnation from a company that refuses to stand still. With an increase to 1832cc, producing 118bhp and 125lb/ft of torque, this is one hell of a big engine. But size is only part of the propulsion jigsaw here. The flat six, as used previously in the GL1500 and Valkerie was already silky smooth and responsive. The new totally redesigned unit is a kilo lighter and features parallel two-valve cylinder head design which utilizes direct, shim-under-bucket valve actuation (and requires no 750 mile service; the first valve clearance inspection is at 30,000 miles), and two 40mm-diameter throttle bodies that deliver air to six, specially designed Keihin(r) 50-psi high-pressure fuel injectors. Fuel is delivered through four nozzle tips in each injector, producing an atomized fuel mixture that is highly combustible, for optimum efficiency and power. The new electronic CPU provides two digital 3-D fuel injection maps for each cylinder and one digital 3-D ignition map for each cylinder, creating ideal fuel mixture and spark advance settings for improved ride ability. Finally a unique knock-control sensor monitors ignition advance to improve performance throughout the entire rpm range.
And what does all this techno-bable mean to you and me? Quite simply this is the finest and smoothest engine I have ever had the delight to ride upon. Acceleration is embarrassingly strong from even very low down the rev range and most importantly can be accessed from practically any gear. You'll certainly never find yourself needing to change down for fear of shuddering. But the engineering isn't just reserved for the motor. Every element of the bike from the dust cap up has been redesigned. As a result the handling is now vastly improved over the outgoing model. Previously the front end of the bike floated and gave the rather unnerving feeling of not being fully connected to the rest of the frame. Of course this wasn't the reality, but the new Wing is simply in a different league. The bike, even on narrow and tight canyons, is a sensation to ride, the front falling nicely into corners, gripping securely and providing good feedback. The rear is all-new too and the single swing arm set up takes advantage of the ultra stiff and tuned aluminium chassis. The only cautionary note being that this isn't a sports bike and simply doesn't have the clearance that the chassis can encourage you to explore.
For such a massively big bike and, make no mistake, it is a giant in comparison to almost anything else on the two-wheel highway, the new Honda also exhibits very effective stopping capabilities. Utilizing dual full floating 296mm front discs with Linked Braking System (LBS) three-piston calipers and a single ventilated 316mm rear disc with one LBS three-piston caliper, the Wing can haul off speed much quicker and in a more controlled manner thanks in part to the all-new anti-dive system which minimizes front fork dive when braking. The system utilizes brake fluid pressure generated in the secondary LBS master cylinder mounted on the left fork leg and is activated by input from either the front brake lever or the rear brake pedal. Of course if you jump of an RC51 onto a GL1800 you'll be a little surprised when you reach for the brakes - the duration of retardation is very significantly increased. But after a few miles an adaptable rider will accommodate this into his or her riding style (or end up in the back of a car).
Traffic in fact is more of a problem with a bike this large. Despite the excellent headlamps and built in low level riding lights, You just cannot get around town as nimbly as you might on something slightly narrower. But out on the open road the Wing is in a class of it's own. With the adjustable screen at its maximum height I found cruising at 85-95mph very comfortable. The cruise control is easy to work and the optional 6 CD changer (there's really no option but to have it) makes trips a delight. The 4-speaker surround sound system is almost good enough to take inside and use as a home stereo! Certainly if you like riding with company the redesigned seating, featuring built in intercom and heating, will delight any pillion used to Harleys. On a number of occasions I had people dropping off to sleep. Well almost.
And when it comes to the weekend trips, you won't have to worry about what one will pack for the Ball. The three luggage compartments will swallow 147 liters, enough for a week, let alone a weekend. If you get the gist that I like this bike - then you'd be right. Is it the perfect solution? At present I'd say yes, although I hear BMW are bringing out an up dated version of their 1200 cruiser. But just imagine if you took all these newly pioneered developments and put them into the fabulous Valkerie. Now that's a bike I would seriously consider owning.
---
Vehical Information:
GL 1800


Engine Type:           1832cc liquid-cooled horizontally opposed six-cylinder
Bore and Stroke:       74mm x 71mm
Compression Ratio:     9.8:1
Valve Train:           SOHC; two-valves per cylinder
Carburetion:           PGM-FI with automatic choke
Ignition:              Computer-controlled digital 
                       with three-dimensional mapping
Transmission:          Five-speed including overdrive,
                       plus electric reverse
Final Drive:           Shaft
Suspension
      Front:           45mm fork with anti-dive system;
                       140mm (5.5 inches) travel
      Rear:            Pro Arm single-side swingarm with Pro-Link;
                       electronically controlled spring preload adjustment 
                       with two memory presets; 104mm (4.1 inches) travel
Brakes
      Front:           Dual full floating 296mm disc
                       with LBS three-piston calipers
      Rear:            Single ventilated 316mm disc with LBS 
                       three-piston caliper Optional ABS
Tyres
      Front:           130/70R-18
      Rear:            180/60R-16
Wheelbase:             1691mm (66.6 inches)
Rake (Caster Angle):   29.25¡
Trail:                 109mm (4.3 inches)
Seat Height:           739mm (29.1 inches)
Dry Weight:            360kgs
Fuel Capacity:         25 litres
Colors:                Pearl Blue, Pearl Yellow

California version meets CARB 2008 emissions standards. 

---
More Information:
www.hondausa.com

Thanks to:
Arai helmets: www.araiamericas.com
Intersport Clothing: 1-(800) 416-8255 / www.intersportfashions.com