New Car/Review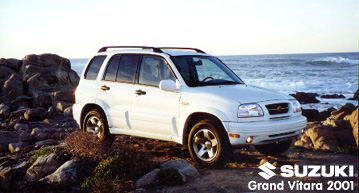 Suzuki Grand Vitara Limited 4 x 4 – Report 4
SEE ALSO: Suzuki Buyer's Guide
by Annabelle Frankl
And so, alas, my white charger must be returned to its stable after 7 months of hard work and cross-country travel. Well, California travel. Then again, given the current climate (and I do mean meteorologically speaking) we may as well have been in a water park for the last few months. All rather depressing, but great for charging through puddles and overflowing storm drains - pedestrians, beware of tidal waves. Given the vast amount of excess water on the roads, the Vitara coped admirably, with only one pseudo-hydroplaning incident, which caused an extra heartbeat for a second, but was soon rectified.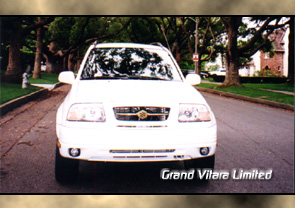 The Vitara has proved extremely reliable over the past few months. It seems to moan and groan a bit when it's wet, but perhaps it's just picking up on my dark "when's it going to stop raining" mood. The catalytic converter also smelt rather awful for a while, no doubt wearing itself in, but this has subsided. In fact, other than nearly running out of petrol once (why is there no illuminated gas sign? The one that signifies "fill up now or walk"), driving the Vitara really has been hassle-free motoring. And apparently I am not alone in this realization, given the growing amount of fellow-Vitara drivers I have spotted around town - no doubt as a direct result of yours truly expounding upon its virtues!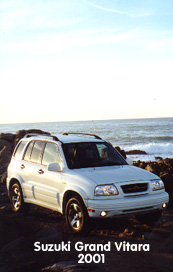 And so to a few figures. Just how much does the Vitara cost to run, how fuel efficient is it, what maintenance is required? Well, here goes.
Fuel Cost & Efficiency
My driving is about 50:50, City:Highway. On average I filled up the car once every week. Average cost of a fill-up was $25, given that gas has fluctuated between around $1.45 and $1.67, for normal unleaded and the Vitara's tank holds around 16.8 gallons. Best fuel economy was attained on a journey to Northern California - all highway driving - with nearly 300 miles to the tank.
07/2000 - 03/2001
  Total Mileage:  5402
Total Fuel Cost:  $775
   City average:  18 mpg
Highway average:  20 mpg
   Average tank:  267 miles
Oil Changes
The Vitara requires oil changes at 3000, 6000 and 9000 miles. My two changes cost $32 each.
No other maintenance costs were incurred, other than car washes - the downside of a white charger! I'll leave you with the usual rundown of measurements, capacities, power and so on and bid you farewell.
Specifications

        Engine     2.5 liter 24 valve DOHC V6
    Horsepower     155 hp @ 6500 rpm
        Torque     160 lb-ft @ 4000  rpm 
  Transmission     4-speed automatic with overdrive
                   & lock-up torque converter
     Wheelbase     97.6 in 
        Length     164.5 in
         Width     70.1 in
        Height     67.8 in 
 Passenger Vol     82.7 cu ft
        Brakes     Power assisted front disc/rear drum
           ABS     4 wheel
        Wheels     16" alloy
    Suspension     5-link w/ coil springs (rear)
                   Macpherson struts w/ coil springs,
                   stabilizer bar (front)
      Steering     Power rack & pinion
           4WD     Select shift-on-the-fly

Daytime running lamps, dual power mirrors, fog lamps, 
7 position tilt steering wheel, AM/FM/6CD, A/C, cruise control,
fold down, split rear seat w/ head rests, leather trim,
power doors & windows, remote keyless entry, sport front seats,
2nd generation driver & front passenger airbags.

Destination charge:  $   480.00
      Retail Price:  $ 22999.00