New Car/Review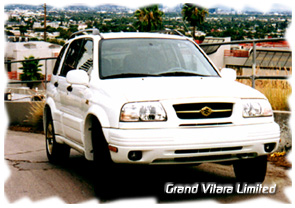 Suzuki Grand Vitara Limited 4 x 4 – Report 2
SEE ALSO: Suzuki Buyer's Guide
by Annabelle Frankl
There is an interesting battle going on amongst the World's major car companies. It does not have a name but it has to be the nearest thing to that well-known game: Monopoly. That, of course, is impossible by definition since the US Government would never agree to a merger between Ford and GM, but call it duopoly or triopoly-if there is such a word-and you are getting nearer to the plot.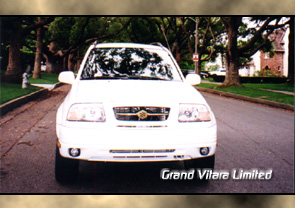 GM, Ford and DaimlerChrysler all seem to have different strategies. Ford went on a spending spree, gobbling up companies such as Jaguar, Volvo, Aston Martin and others, whilst GM, under John F. Smith Jr., embarked on a different strategy. GM have been buying 10% here, 20% there, so at the time of writing they are involved with or engaged to Subaru, Suzuki and FIAT.
The Suzuki link goes back some 20 years when the Japanese firm started to supply small cars to its American partner. Recently the link got even stronger when Osamu Suzuki Chairman and Chief Executive of Suzuki announced that GM's share will go up to 20% and that a GM senior executive would join the board as well. Who? None other than Mr. Smith himself. In this back-biting, bitchy world of automating the two are apparently great personal friends. As Mr. Suzuki said at the press conference: "we wanted someone who could advise us on areas of strategic importance. We are grateful to get an excellent person." Praise indeed in the very formal world of Japanese business etiquette.
GM are an uncanny lot. By picking Subaru and Suzuki they did not lumber themselves with huge debts; in fact Suzuki have not made a loss since 1949. They have also, very cleverly, utilized their Hungarian plant in the ancient city of Esztergom, from where their entire European production comes. Initially the Hungarians were none-too-keen; after 40 years of Communism they had difficulties getting used to the idea of 8 hours work for 8 hours pay (since, under the old regime they would work as little as possible, knowing that the State would borrow abroad to keep the rickety system going). Consequently, when the first batch of Hungarian workers were flown to Japan for an introduction to Japanese work ethics, they nearly had a fit. After a while they realized that this was the way ahead and things are now going so well that Suzuki are investing in extra capacity. Even more important to GM and Suzuki is the huge Asian market. To show that they really mean business Suzuki will start manufacturing a 'minicar', currently known by its codename YGM-1. It will be made in Kosai, near Mount Fuji, where the first cars will roll off the line in September 2001.
If it proves as popular as the Vitara, Suzuki will no doubt be rather happy campers. Despite its relative novelty-value in the States, and its fore-runner the Sidekick, the Vitara is doing swift business with the mini-SUV drivers over here, and one can understand why. Despite rising fuel prices, the Vitara proves itself to be fuel efficient, averaging so far around 280 miles to the tank, with a mixture of highway and city street driving. This makes for around $30 fill-ups of the 17-gallon tank, depending on which gas station is frequented! An oil change at just over 3000 miles and the Vitara is running as smoothly as ever. The "service engine soon" light illuminated itself for about a day, but then went off again. I'm sending it to the Suzuki Spa soon for some automotive r & r and no doubt Ms. Vitara will relish a fine tuning and engine massage. No shakes, rattles or rolls have emerged thus far and the Vitara is proving extremely handy around town.
Some torrential rain over the past few weeks was no problem, even on the notoriously slick streets of LA – got to love that oil build-up! Wipers wiped, tires gripped, and trying to elicit even the smallest slide proved hard. Even though the Vitara is not as raised as the bigger SUVs on the market, it still offers much greater visibility than being in a sedan, a fact which makes driving in treacherous conditions (i.e. every time you venture out on the streets and freeways of LA!) all the easier to handle. The rain also means we'll hopefully be in for an early snowfall, and some testing of the Vitara's 4 x 4 capabilities. Evidently the Grand Vitara Limited impressed Texas' journalists, who voted it Best Mini-SUV, after tests on road, in the mud and on sand. Hhmm, I wonder what the Santa Monica lifeguards would say about me using the beach here…