New Car/Review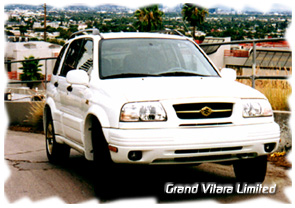 Suzuki Grand Vitara V6 4x4 - Long Term Test
SEE ALSO: Suzuki Buyer's Guide
by Annabelle Frankl
My knight on a white charger has finally arrived. Well, the charger's here, but Suzuki are still working on the Knight…looks like it might be a while! (Is that life in your late 20s or life in LA?). But in any case, yours truly is now the proud tester of the above-mentioned mini-SUV, to do with what I will, in the name of long-term car testing and much putting-through-paces performance. Over the next 6 months I will be going up mountain and down canyon in a valiant effort to conscientiously test the Vitara to the max. I'm always complaining that I don't do enough road trips, so now's my chance. Joshua Tree, here I come. Mammoth Mountain - with snow - look out. And as for the 10 Freeway, on a daily basis, this commuter is coming through. I should also note that it won't just be me doing the driving but also my illustrious father, Andrew, and itinerant brother Nicholas, thus a Frankl Family baptism by fire, so to speak.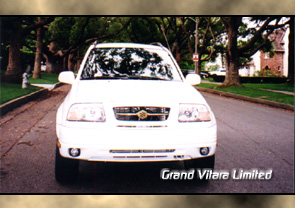 Before getting into the technical, I must just say one thing. This is a lower-end of the market, mini-SUV, admittedly fully-loaded, but in any case unlikely to attract rich oil sheiks in the Middle East. That said, I am somewhat dumbfounded by the amount of gold lettering, gold wheels and so on which abound. Now, personally, I'm a silver/platinum kind of girl, or in car terms, chrome/steel etc. Gold just looks silly and ostentatious, and that's on a Merc or a Rolls. On a Suzuki, it just looks silly. But you get my point.
The Grand Vitara is powered by a 2.5 liter, V6 DOHC 24 valve engine, which provides a good amount of oomph, although I do find myself having to depress the gas pedal quite sharply to get a more impressive bursts of acceleration. Having the O/D button 'on' and the engine in 'power' mode helps immeasurably, and the resulting nippiness is very welcome.
This V6 with multi-point electronic fuel injection produces155 horses at 6,500 revs, and 160 ft-lbs of torque, at 4,000 revs, making it very competitive in its field. In fact, the Vitara outperforms the Rav 4, the CRV, the Kia Sportage and the Chevy Tracker, with only the Subaru Forester producing greater amounts of hp and torque. However, the Forester is marginally lighter in curb weight. The automatic transmission is extremely smooth and the engine is surprisingly quiet, especially compared to the 1999 model I tested last year. Admittedly that was a manual, but the difference in decibel levels is noticeable, perhaps due to the Vitara's all-aluminum engine construction and refined fluid-filled mounts.
The Vitara's 4-sensor, 3-channel ABS brakes are possibly its best feature, offering excellent, and smooth, stopping capability. Really very good. Other safety features include front and rear crumple zones, dual air bags and forged steel beams in the doors. Also featured, day running lights and auto activating lighting for when darkness looms.
The power rack and pinion steering is light, and the 7-way tilt steering wheel comfortable. The ladder frame chassis, with boxed rails, is relatively stiff and the MacPherson independent strut front and advanced 5-link rear suspension offer good on-road handling. There's some rolling on the corners, but nothing major and stability does not seem to be an issue. I've yet to try off-road driving in the Vitara, when I can put the on-the-fly 4WD to the test. That said, the roadworks on Santa Monica Blvd, with potholes and gravel aplenty, make for a happy medium! I'll be very interested to see how it copes with off-roading, with both a light and a heavy load.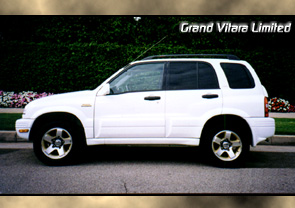 Interior specs in the Limited are very nice, with bucket front seats and leather all round. The dash is simple and easy to read, under-seat, in-door, and back-of-seat storage proliferates, and the 6-CD changer under the passenger seat is a nice inclusion. I prefer the in-dash 6-CDs, but they do have the safety issue of trying to change CDs whilst driving, something which is virtually impossible with this design. Room for rear passengers is a little tight on the legs - one 5'10" friend had to try her hand at contortion, and that was with my seat pushed fully forward. That said, only the RAV4 offers, marginally, more rear legroom in its class.
Visibility is good. Eventhough the Vitara does not seem that much higher than a normal sedan, one actually has a nicely-raised viewing position, as long as there's not a 'I'm-not-a-Sherman-Tank-I'm-Just-an-SUV' in front. Rear 40-60 split seats, a spare tire on the rear door, cruise control and micron-filter A/C round out the package.
Fuel consumption has thus far been pretty good - 270 miles or so to the first tank, with mainly city driving and a couple of trips up the Canyons, but with only yours truly in the car. I'm religiously keeping track of fill-ups, consumption, squeaks, rattles and rolls and will reveal all occurrences, mishaps, adventures and experiences in future installments.
That's it for now folks. Until next time on the Vitara update, I will get in my white charger and bid you farewell. White knights, applications on a postcard, please!