New Car/Review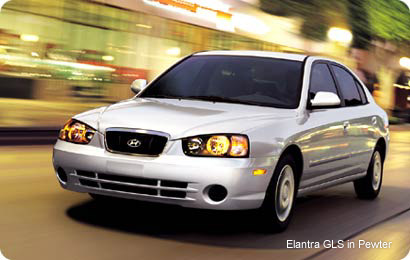 Hyundai Elantra GLS
SEE ALSO: Hyundai Buyer's Guide
by Annabelle Frankl
If you're looking for a "driver's car" then you should stop reading now and look elsewhere. However, if you're looking for a cheap, solid, pretty nicely appointed sedan, which will get you from A to B, reliably, in relative style, and with little fuss, read on.
Powered by a 2 liter, DOHC MFI 16-valve 4-cylinder inline engine, the Elantra gets off to a good start. The engine is extremely quiet and rather punchy, producing 140 hp@ 6000 rpm, and 133 lb-ft of torque @ 4800 rpm. Acceleration is good, if somewhat hampered by a horrible manual gearbox. Truly, it's up there with a Skoda I once drove, and that's saying something. Shifting from 1st to 2nd feels like a movement one might make on a trombone, but less secure, with the gearstick wobbling around as much when in gear, as in neutral. Took a bit of getting used to and detracted from the gutsy little engine.
And then there's the handling. Or rather lack-there-of. Pretty pathetic, I have to say. Minimal grip, road holding and cornering ability. Thank god they don't make SUV's. The Independent MacPherson strut front, and Independent multi-link rear axle suspension itself wasn't bad, giving a pretty firm ride, but the chassis could well have been made of 10 different parts, all moving individually of each other given the stability of ride achieved. The power assisted dual diagonal braking system was effective, if lacking in the delivery of a real punch, but did the job with relative smoothness.
All of which 'lacklustreness' is rather a shame, because the boys at Elantra have obviously tried extremely hard to kit out the car with as many gadgets and knobs and colour-coded stuff as possible, things one might not expect to find in a $12.5K car. Consider speed sensitive power rack and pinion steering (light, quite precise); halogen headlamps; power body-colour heated mirrors; power windows w/ driver express down. The interior was spacious and comfortable, although the seats could have been a little firmer. One minus point: the dash is designed at just the right angle that in the lovely shade of khaki in which mine was appointed, full reflection of dash on windscreen was possible, giving a rather skewed visibility. General visibility is, however, good.
Plenty of room in back for baby seats/kids/grown ups, and a cavernous trunk allows for luggage too. Excellent storage throughout actually - doors, seat backs, center console. Safety features include driver and front passenger front and side impact airbags, collapsible steering column, 5-mph bumpers and front passenger presence detection.
This car is definitely made with practicality in mind. In fact, practicality is the word for this car. It does a ridiculous 25/33 mpg city/hwy. And with the extensive warranty coverage offered by Hyundai, the smooth running of your car is unlikely to ever be a concern. It may not be a driving machine, but it's a well-oiled one that is kind on the pocket, both to buy and to run.

Facts & Figures

Price:          $12499.00

Engine          2 liter DOHC MFI 16-valve 4-cylinder inline
Transmission    5-speed manual w/ overdrive
HP              140 @ 6000
Torque          133 @ 4800
Brakes          Ventilated front disc/self-adjusting rear drum
Suspension      Independent MacPherson strut front
                Independent multi-link rear axle
Steering        Speed sensitive power rack & pinion
Fuel Economy    City/highway  25/33

Features include: Dual front & side air bags, A/C, electric rear window defrost, 60/40 split seat, power door locks, power window, power mirrors, tinted glass.
---
For additional information about the Hyundai Elantra GLS visit: www.hyundaiusa.com
---