New Car/Review

GMC Sierra 1500 2WD Reg Cab Pickup
SEE ALSO: GMC Buyer's Guide
by Annabelle Frankl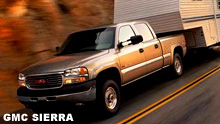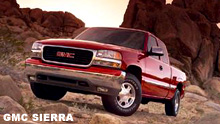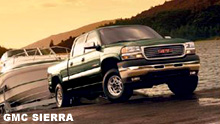 I've driven a lot of different vehicles; high end, low end, somewhere in the middle, coupe, sedan, convertible and so on and so forth. But I've never had such a universally positive response to anything I've driven before than with the GMC Sierra. Girls thought it was fantastic that I was bombing around town in a rugged, bright yellow pickup truck. Fellow pickup and truck drivers were friendly and appreciative of it's imposing presence and style and, I'd like to think, that there was a chick behind the wheel. Men wondered what sort of statement I was trying to make. Me? I was having far too much of a good time to think about it. The Sierra looks great. And in Sunblast yellow, it's hard to miss. This is a big truck, even with just the regular cab. It's overall length is 203.2", it's around 72" high, and with the Sportside Body, it's 78.5" wide. It gives one a very commanding, if rather bouncy, driving position. Personally I'd have preferred the suspension to be firmer. With independent coil springs at front, and semi-elliptic 2-stage multileaf springs at rear, even just driving on uneven surface streets and freeways, the Sierra holds the road well, but does have an inclination towards flight when faced with bumps. I did not get the chance to go off-road, but I imagine it must be a somewhat jarring experience.
Evidently, with a full load, this effect would be lessened, and the Sierra, whilst only holding a couple of friends on its 40/20/40 split front seat, will tote 2054 lbs of payload, so luggage/tree trunks/kitchen sinks are no problem. And with a GVWR of 6100 lbs and a total curb weight of 4058 lbs, the Sierra more than measures up against its competitors in a field of increasingly popular pickups.
The 1500 is powered by a 4.8 liter, V8 fuel injected engine, which produces 270 hp@ 5200 rpm and 285 lb-ft @ 4000 rpm. Needless to say, there wasn't much of a problem pulling away from the lights. Indeed, the engine delivers a high, flat torque curve with 90% of its peak torque from 1500 to 5200 rpm. The automatic 4-speed with overdrive and electronic control was smooth enough. Better still power delivery was extremely quiet, with hardly any noise invading the cab.
GMC completely remodeled the Sierra in 1999 and can now boast improved safety and security. Features include a structural safety cage in the cab design, roll-formed side-guard beams in the front doors, plus energy absorbing features in the steering wheel and instrument panel. The front frame rails also telescope on impact to absorb collision energy. Add to this 4-wheel ABS and a traction assist feature, whereby power is automatically reduced if one or both rear wheels start to lose traction, and the Sierra proves that it not only looks good, but that those looks hide numerous features aimed at better performance.
The cab itself is roomy and comfortable. The middle of the bench seat folds down to provide an armrest/storage compartment, or up, to provide room for 2 passengers, total. Dash design is simple, but clear to read and general visibility is good, although there is an enormous blind spot.
Evidently, I don't have much need for such a truck, living an urban lifestyle and all. (Although this cab proved big enough for shopping etc, which was a good start!). That said, there are an inordinate amount of pickups on the roads at the moment, in what is an ever-increasingly competitive category. With that in mind, the Sierra's base price of $16,500 and change, in conjunction with a maintenance schedule, which requires no maintenance (bar oil and filter changes) for the first 100,000 miles, and GMC would appear to have a winner on their hands. Especially in yellow!

Facts & Figures

Engine            Vortec 4800 V8 SFI 
HP                270 @ 5200
Torque            285 @ 4000
Transmission      4-speed automatic w/ overdrive
                  & electronic control
Steering          Power, Rack & Pinion
Suspension        Independent coil springs (front)
                  Semi-elliptic, 2 stage multileaf spring (rear)
Rear axle         Semi-floating
Wheels            Chrome (optional), 16.0 x 7.0"
Brakes            4-wheel disc w/ ABS
Axle Ratio        3.42
Max Trailer       6600 lbs
Payload           2054 lbs
GVWR              6100 lbs
Total Curb Weight 4058 lbs

Base Price        $16,525
As Tested         $21,970
Destination       $   720
HT Package        $ 2,885
                  Includes: Sportside body, AM/FM w/ cassette,
                  chrome grille surround, chromed steel wheels,
                  P255/70R 16 WOL tires, front A/C, Leather wrapped
                  steering wheel, Handling/trailering suspension

4-Spd auto trans  $ 1,095
Vortec V800 V8    $   695
Rear Axle         $    50

---
For additional information about the GMC Sierra: www.gmc.com
---