New Car/Review

BMW 325Ci
SEE ALSO: BMW Buyer's Guide
by Annabelle Frankl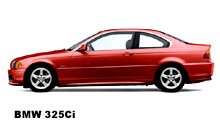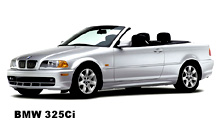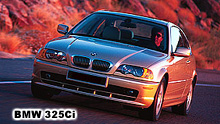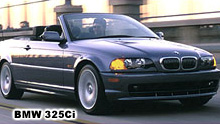 If this car were a man, he'd be the kind you take home to meet your parents; immaculately dressed, well-spoken, good genes, and a total looker. And his top comes off at the touch of a button...what more could one ask for! Sorry, getting carried away, but the 325Ci is a real girl's car. BMW might not like that description, but it's a bit too small, I think, for male drivers. Perfect, however, for yours truly, sunglasses on (gray, LA weather permitting), roof down, stereo turned up, nipping in and out of traffic and having a truly delightful time of it all.
My 325Ci came in sparkling silver, with dark red leather interior, offset with black dash and carpeting, chrome door handles and genuine Myrtle wood trim (why not chrome too?). As a general rule, I find BMW's to be very nicely appointed, with great attention to detail in the styling, subtle use of colour (orange-illuminated dials) and texture and the feeling that brown, plastic is as equally abhorrent to them as it is to me. Buttons are ideally located, smooth both to touch and to engage. The electric roof was relatively quick to drop or rise, and extremely quiet and smooth in its operation. A single button operates all four windows whenever needed. But, please, get rid of the 'mpg' dial. Totally annoying and ridiculous, always rocking back and forth, no matter how lightly you accelerate. Just a suggestion.
The 10-way power, 2-way manual, 3-position memory front sport seats, with adjustable thigh support were beautifully comfortable, and upholstered with just the right amount of padding. I find sport seats too often equate their title to 'buns of steel', with about as much padding as a racing bike. Ouch! Add to this the tilt/telescopic steering wheel, and the perfect driving position was easily attained. The 3-spoke, leather-wrapped sport steering wheel comes equipped with fingertip cruise, audio and accessory phone controls, and is very comfy (no rigid stitching, as I once discovered in an M3). The steering is also engine-speed-sensitive, varying the amount of power assist according to speed, and ably aiding the driver in her pursuit of a smooth ride.
Unfortunately, the same cannot be said of the clutch; far too much spring for my liking. Driving with a variety of footwear, and also barefoot, I found it hard to get clutch control quite right. And coming from Europe, where manual cars are the norm, I really have experienced quite a variety of clutches! It has gotten better over the week, so perhaps it just takes a bit of getting used to, but I normally pride myself on smooth gear changes because, let's face it, no one looks good in a nice car if they lurch away from the traffic lights. (And you can keep all your 'women driver' comments to yourselves!)
The 325Ci comes equipped with a 5-speed manual transmission. Clutch aside, the gearbox itself is smooth, with nice, short shifts. Powered by a 2.5 liter DOHC inline 6, this Bimmer produces 184 hp @ 6000 rpm, with a max torque of 175 lb-ft@ 3500 rpm. With a 0-60 of 7.7 seconds, you'll be pulling away at a relatively good rate of knots, although the revs will tend to dip if you don't get the clutch quite right. Acceleration was particularly satisfying in 5th gear, with good pulling-away power, even at high speed - always useful for avoiding LA's less adept drivers. Of course, if they make contact with you in gridlock traffic, there's really no escape (you know who you are Mr. Fender Bender).
The 325Ci offers a good, firm ride - always a relief to encounter sturdy shocks and stiff suspension. This time it's courtesy of strut-type suspension with forged-aluminium lower arms and hydraulic cushions at front, and multi-link suspension with cast-aluminium upper transverse arms at rear. These, coupled with twin-tube gas-pressure shocks, make for great road holding and handling. Equipped with 17" Star spoke alloy wheels and performance tires, it looks good, and mean, and it's grip more than lives up to this appearance. That said, I did sense the back end wanting to come round on more adventurous cornering maneuvers. 4-wheel ventilated anti-lock disc brakes, with electronic front-rear proportioning and 'dynamic brake control' made for seamless stopping ability, with the 325Ci maintaining good road control, even under heavy braking.
Numerous safety and security features include driver and front passenger airbags SRS, front door-mounted side-impact airbags, rollover protection system, automatic fuel cut off, plus a crash sensor which automatically turns on hazard lights, interior lights and unlocks doors.
With a base price of $35,990, the 325Ci is a nicely equipped vehicle. However to reap the benefits of many of the features mentioned, you'll need to spend $42,460 (see below). Although that's a good chunk of change considering we're talking about a mini-compact with a top speed of 128-mph, I think perhaps the parts add up to more than the whole and, for me at least, he's a keeper.

Facts & Figures

Base Price:       $35,990
Engine            2.5 liter DOHC 24-valve
                  inline 6 cylinder 
Transmission      5-speed manual
HP                184 @ 6000
Torque            175 @ 3500
Brakes            4-wheel ventilated disc
                  w/ABS & electronic proportioning
Steering          Power rack & pinion w/
                  engine-speed-sensitive adjust
Suspension        Strut-type w/ anti-roll bar (front)
                  Multi-link w/ anti-roll bar (rear)
MPG               19/27 city/hwy

Titanium Silver Metallic         $   475
Tanin Red Leather                $ 1,450
Sports Package                   $ 1,200
     Includes: 17x8.0 alloy wheels, 225/45R-17 performance tires,
     10-way adjust sport front seats, sport suspension

Premium Package                  $ 1,900
     Includes: fully auto soft top, auto dimmer rear view mirror,
     myrtle wood trim, auto climate control, integrated door opener

AM/FM/CD                         $   200 
Harman-Karman Sound              $   675
Destination                      $   570
As Tested                        $42,460

---
For additional information about the BMW 325Ci: www.bmwusa.com
---