New Vehicle Review
Road Impressions:
Subaru Outback H6-3.0L

Andrew Frankl
European Bureau Chief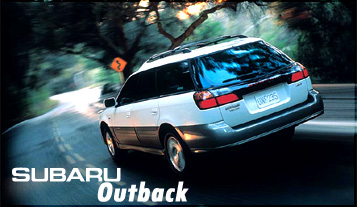 SEE ALSO: Subaru Buyer's Guide
If you ever considered stopping on the way to Lake Tahoe take my advice: give Denny's in Dixon a very wide birth. To add the extra ingredient our waiter's perspiration was in free flow..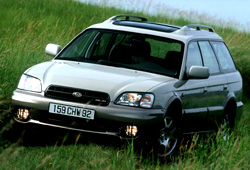 "You guys cool?" Cool?! We were ready to run except that three basic breakfasts took over 35 minutes and the place was half empty. It would go bust in Europe within seconds. Yuk. Luckily our Subaru did rather better. It ran like the proverbial Swiss clock all the way to snow-covered Alpine Meadows.
Regular readers will know that I've always been a Subaru fan and I have not changed my mind after this trip. The new six cylinder engine is somewhat different from most others. Unlike BMW's in- line or Mercedes' V6 the Japanese automaker decided on a "flat" horizontally opposed engine. A more familiar term might be "boxer", well known to Porsche and Ferrari afficionados. There are a number of advantages to this design, the one Subaru emphasize is that the design adapts easily to their trademark all-wheel drive configuration.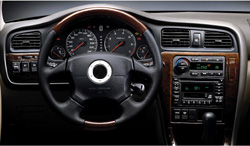 Is it worth the extra money? Well, I am not totally convinced. The four cylinder engine -admittedly pushing out 47 fewer ponies than big brother has always been perfectly adequate for my purposes.
With two thirds of the back seat folded down we had no problems with three lots of bags plus two pairs of skis, boots and other paraphernalia. Whilst the snow was falling pretty heavily and the road was getting pretty treacherous we had no difficulties of any kind reaching our destination. Except that the seats proved to be quite amazingly uncomfortable. I tend not to let other people drive being the World's worst back-seat driver but this time I was delighted to share the experience and the horrid driver's seat with step-son Alan.
Other ills? Well, none really apart from the myriad of knobs and switches surrounding the steering wheel which were pretty confusing really. Whilst Subaru have always been sensational in their engine designs I could not help feeling that an interior designer could have been gainfully employed...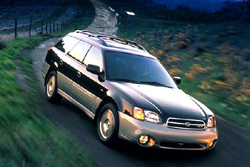 Of course what really mattered was whether the car would start under two feet or snow or not. It did so in an instant and quite frankly that was far more important than less than perfect seats.
Is it worth well over 30 thousand dollars? Would I buy it? I don't think so. The opposition is too strong at this price level. There is the Audi A4 Avant with an outstanding 2.8 liter engine, the Volkswagen Passat and Volvo's sensational V70-all of them with permanent four-wheel drive. I am very partial to the Volvo because over the years we've been driving literally hundreds of miles across Europe without stopping and without any aches or pains. I cannot imagine doing the same in this Subaru.
Having finished my somewhat unenthusiastic impressions of the 6-cylinder Subaru Outback those good people at Page One Automotive in San Francisco came up with a 4 cylinder version of the very same car which enabled me to form back to back comparisons. In most cases an extra 7000 dollars would buy you a lot of useful extras. This time the opposite is true! The 25 thousand dollar Legacy is a vastly and I mean vastly better proposition.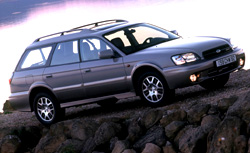 Better balanced, better seats (!), better handling- a better car all round. Going up to Alpine with three people and lots of luggage was a bit of a struggle in the 6 cylinder version and I dare say that it would be even more so in the less powerful one but that apart- don't even think of forking out $32,390 dollars. In fact if you prefer a manual gearbox you could save a further 800 dollars and if you skip the cross bar kit as well -the skis fitted perfectly well inside- then the price differential becomes evengreater.
All in all, the 2001 Subaru Legacy Outback H6-3.0 VDC Wagon all-wheel drive is NOT a good buy at nearly 33 thousand dollars but its little brother, the Legacy GT at around 23 thou most definitely is!
---
More Information:
www.subaru.com