New Vehicle Review
Road impressions:

Mercedes-Benz ML55

Andrew Frankl
European Bureau Chief
SEE ALSO: Mercedes Buyer's Guide
I know that our readers are busy people so let me sum it up in the first sentence: if you read the Robb Report because you can afford most of the things advertised in it- read on. If not-dream on. I am not in any way trying to patronizing or condescending, especially as I cannot afford to buy the Robb Report's luxury goods either but this time the situation is crystal clear: the ML55 is strictly for the rich.
Let us look at the price first-just over 65 thousand dollars, about double the price of most 4wheel drive SUVs. Consumption: between 14 and 17 miles per gallon. Estimated annual fuel cost-depending on fuel prices and the distances driven of course- 1350 dollars. In Europe it would be 4 times that!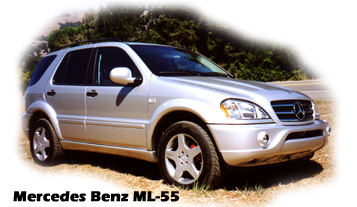 On the other hand you do get an awful lot of SUV and an amazing amount of goodies for your money, so much so that there are no extras! First and foremost as in any AMG tuned Mercedes you get an awful lot of ponies-342 to be precise from a 5.5 liter V8 engine which is not exactly shabby.... when you step on the loud pedal in anger the sound is not dissimilar to that of a roaring lion. It is glorious and it reminded me of the wonderful sounds, the sounds of a mechanical symphony which emanated from the exhausts of a Ferrari 360Maranello that I drove in Belgium just over a year ago. It does of course go like the proverbial rocket.
The build quality is also outstanding. Before you say so it should be for that sort of money let me remind regular readers of my road test of an early ML320 which got me from A to B but also shed bits of its interior like a Trabant. As Mike Basserman-at that time CEO of MBUSA- explained -new SUV, new plant, new country and new workers- which made sense even though it made early customers pretty unhappy . Understandably so.
Since then things have improved dramatically, the ML430 I drove a year later was already chalk and cheese compared to the previous one. ML55 is yet another leap forward as it was truly immaculate in black leather.
On 18 inch 5 spoke AMG wheels the ride is firm as one would expect, 342 horses up front are not for wallowing around. The rack and pinion-power assisted- steering is just right as I found out when I had to avoid yet another Toyota Corolla which was wondering around the highway. It really is astonishing how Corolla drivers the World over seems to be collectively out to lunch. A colleague of mine has just reported the very same symptoms from England and I have heard similar ones from various parts of the Continent as well.
When I first tried the 5 speed automatic I did complain about the shift being from right to left and not up and down. The MB people assured me at the time that I will get used to it and they were right. Personally I would prefer the D, 4,3,2,1, lettering a little bit bigger as the huge torque could easily mislead someone listening to music not realizing that the SUV was still in 3rd and not in D. Not a problem for the engine, only for the consumption..
If you are a fan of Formula One you'll realise just good the AMG engine is as it propels the CL 55 which is Grand Prix racing's official safety car. If you saw the carnage on lap one of the recent Italian Grand Prix at Monza resulting in 10 laps behind the safety car you'll understand just good and fast that engine has to be. Formula One cars overheat very quickly indeed as these are designed for speeds of over 200 miles per hour so had the safety car been less quick we would have had 22 overheating cars and probably no race!
Is the ML55 perfect? Of course not. The company was trying to avoid the problem Range Rover have had for years, namely having to stop for fuel every 200 or so miles, consequently they fitted a larger gas tank. Something however had to give and it was the huge spare wheel. The result: start shopping for roof-racks otherwise you'll never ever get four people and their skis plus luggage to Squaw Valley for Christmas. Even four large golf bags are marginal.
On the other hand once you are all set the ML55 will take care of everything else. The navigational system is now a lot easier to understand, the Bose sound system is as good as ever and as I've said the only creature comfort not included is probably the kitchen sink. Cheap it ain't, brilliant it is. At which point I'd better have a reality check realizing that 99% of the population cannot afford 65 thousand dollars for an SUV or a car for that matter. Well, if your heart is set on a Mercedes SUV the good news it that the ML320 will do almost everything the ML55 does. You'll have to sacrifice blasting away from traffic lights and accept the fact that going uphill with four people and luggage will take a few minutes longer. The vast majority of the population could not tell an ML320 from an ML55 so I would not even worry about lack of snob value assuming that you ever did! The 320 starts at around 36 thousand dollars and now that it is properly built represents excellent value. Much as I loved the ML55 I think I would go for the 320 and keep the change..
---
---
More Information:
www.mercedes.com