Land Rover, Jaguar, Infiniti In This Month's Letter from Europe(2001)

Letter from Europe
Andrew Frankl - European Bureau Chief
Things are supposed to be more quiet during the Winter, not this time. First of all I had a chance to drop in on the San Francisco Auto Show- a modest affair. I didn't realise that minor shows such as Seattle, San Francisco and others are part of a traveling circus. Same cars, same people all over the country. Same stupid questions as well. Apparently the most frequently asked and without doubt the most idiotic question comes from groups of fairly intoxicated men who think that "and do you come with the car?" is actually funny. Pathetic.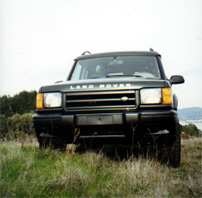 Land Rover Discovery:
a must for the jungle.
Not that I didn't have fun. Jaguar have a great team under the leadership of a charming lady by the name of Kimberley. The company had a revolving stage with a Grand Prix car on it and after some discussion they suggested that I should have a gig. Well, as Eddie Irvine-their No 1 driver- and I did a number of promotions together over the years stories were not too hard to come by. Eddie is just about the only driver who has serious fun in the old-fashioned sense. I am afraid the Editor would not allow me to elaborate on the subject so I will turn to cars I've driven lately.
Staying with things British it was nice to get re-acquainted with Land Rover's Discovery. The Disco has had some major improvements during BMW's 5-year tenure and now that the company belongs to Ford things will get even better. My old friend Bob Dover is in the driving seat and after the great jobs he did at Jaguar and Aston Martin I have no doubts whatsoever that he will do even better at Land Rover. The paint quality is dramatically different and if he can persuade the "lads" to assemble the vehicles with just a little bit more tender loving care the future will be bright for this great marquee which had some hiccups mainly because of build quality problems over the years. The one I drove certainly felt about as solid as a rock although I did find the 4 liter V8 somewhat sluggish. I am sure that in best Julie Andrews fashion it would climb every mountain even if it took a while to do it. Certainly my choice for an African safari although to be fair I've seen an awful lot of them in California.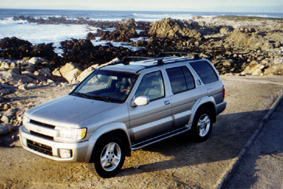 Infiniti: Total luxury and 240 horses!
Stepping out of the Disco and straight into the Infiniti QX4 felt like a step back into luxury. Price wise there was not a lot between the two-the Disco at 37 thousand dollars (with some extras) versus the Infiniti at 40 thou but in terms of being cosseted it was chalk and cheese. Even with its vastly improved 240 horsepower V6 engine I would not trust the QX4 to engage terrain the Disco would eat alive but then, let's be fair-how often do we drive into the jungle-apart from the urban one-every day? Consequently when I was recently driving to Monterey I felt seriously pampered in the very comfortable leather seat listening to Ben Webster on the brilliant Bose system and enjoying the scenery at the same time.
Nissan/Infiniti have been the Houdini of the motor industry, not very long ago it did look as though they might go under because of their horrendous debts but with Renault on board and some truly exciting new products the future looks a great deal better. They are certainly the apples in British Prime Minister Tony Blair's eyes- their new small Micra car will be built in the UK after all. It was a close run thing for a while...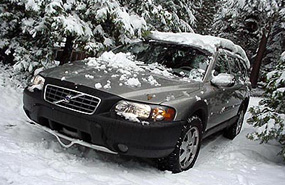 Volvo: V70 cross country
I am not, in any way trying to take anything away from the Discovery or Infiniti's excellent QX4 but for my purposes Volvo's V70 XC all wheel drive would probably be my first choice if I had to pick a car from anywhere in the World as my only car. Let's face it, a Ferrari would not be very practical in the snow, a Mercedes C class could not carry all my junk and BMW... well, maybe the X5 would be an alternative but I've never driven it so I don't know. No, the Volvo is just right. This particular version had an awful lot of extras-8500 dollars worth-some of which I could well do without. What it does have is a 2.4 liter intercooled five-cylinder turbo engine pushing out a respectable 197 horsepower, a top speed well in excess of 100 miles per hour and the ability to carry everything, including the kitchen sink with no trouble at all. Regular readers are aware of the fact that I am in fact the proud owner of a 4 year old S70 and consequently I am somewhat biased but at least I own up to it and I did pay full price for my car so I am not in any way singing for my supper I am pleased to say. Ford-who have recently purchased Volvo cars-have been so impressed with the safety work carried out by the Swedes that they made Gothenburg their worldwide center for it. A wise move if I may say so. Talking of wise moves Ford are also the owners of Jaguar, an automaker literally on the brink of bankruptcy not that many years ago. Looking at the number of S types on the roads it's hard to believe that once upon a time Jaguars were rusty and unreliable due in parts to the horrendously inefficient British parts industry.
JAGUAR: The new X- type.
Never mind the S type, today, 7th February 2001 the company are officially unveiling their BMW 3 series eater-the X type. Whether it will do so or suffer instant indigestion remains to be seen... I hope to report on the car in more detail once I've driven it. To give you some ideas in the meantime it will reach the United States during the Summer of 2001. There will be two engines to choose from -a 194 horsepower 2.5 liter V6 and a 231 liter V6. I am sure there will all sorts of other engines as well in the future including diesel for the first time. Also for the first time a Jaguar will be offered with permanent all-wheel drive, a definite plus over some major rivals.
Even in the "bad old days" Jaguars were always renowned for their dynamic qualities, now with quality control at Teutonic levels it is awaited with a certain amount of trepidation in Stuttgart and Munich. Former BMW boss Dr Reitzle is very much in the driving seat at Jaguar and whilst most things were already decided when he got to Coventry nevertheless it was not too late to leave his last minute tweaks on the car.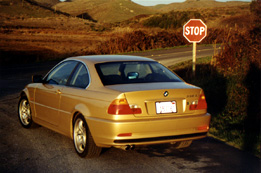 BMW: The car the new X- type has to beat
I've never met the good Doctor but I did get an opportunity to hear his speech at the LA Auto Show. For a German, any German, to fill a huge hall with cynical auto journalists at 9 o'clock in the morning is a tremendous achievement in itself and speaks volumes for his reputation. He did not disappoint. My English is your problem! Was his opening gambit and it went down rather well with the assorted scribes. He had some harsh words about dealerships. You buy a Brioni suit in a nice warm store surrounded by helpful assistants and then you go and buy a 50thousand dollar car from a parking lot! Valid point. I particularly liked his idea of worldwide deals. Seemed a bit far-fetched first but I can see his point now. Apparently as Ford own Hertz as well as Jaguar, Volvo and other makes an individual could-in the future- make a deal enabling him or her to drive a particular car-let us say a 4 door luxury model-anywhere in the World for a year in exchange for a certain amount of money. Clearly not very relevant for most of us but must be very appealing for businessmen who need a long line at the rental counter after a 12 hour flight like a kick in the butt.
Unlike most auto executives who would rather die than mention the name of a rival, Dr R. did express his admiration for Mercedes-Benz, accepting that with that 100-year-old three pointed star they can ask-and get-a premium. Clearly that is his dream with Jaguar as well.
One way or another this is going to be a fascinating year for the auto industry. We will drive the new Mini, the new 7 series BMW, the aforementioned X type and lots, lots more. As always, my colleagues and I will make sure that you, our readers will know about all the new and exciting things first!
---