New Vehicle Review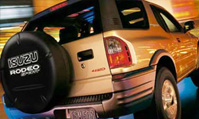 SEE ALSO: Izuzu Buyer's Guide
Road impressions:
Isuzu Rodeo Sport: the weakest link.
Andrew Frankl - European Bureau Chief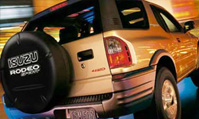 There can't be too many readers who haven't heard Anne Robinson's famous catch-phrase by now and nothing I couldn 't dream up anything to describe the IRS ( no, not THE IRS, silly) more appropriately. It really is the pits.
I took it down to Laguna Seca for the WAJ (Western Automotive Journalists)test-day and suffered all along the way. To be fair–it got me there and got me back but the same could be said of a bicycle.. As children we've all been to funfairs and either got on the bucking bronco or at least looked at it, waiting for the unfortunate person either to fall of or be violently sick. Well, at least I wasn't violently sick.. Now, I mustn't be unfair, my six and a half year old step-grandson Freddie thought it was cool. I suppose at age six and a half maybe I would have found it cool as well–lots of buttons, latches, all sorts of things for children to play with.
Before you think I have some sort of axe to grind allow me to quote that rather fine, honest and outspoken publication, Consumer Reports. These are some of the things they had to say: "offers little aside from its smooth and relatively economical V6". (They must have had a good one, mine was noisy and drank like a camel in the middle of the Sahara.) CR:" ride is busy and jittery, handling is clumsy". (Well, you know those ramps off highways with a sign which says 30 or 40 mph.. I was doing 20..) CR:" the 2001 Sport edition is merely a renamed Isuzu Amigo, lack of refinement keeps it from matching best in segment."
What CR did not mention was the amount of cheap and nasty grey plastic. Even the radio was tacky with an ariel resembling an elongated toothpick . The sound system looked cheap and nasty but did actually work well. Room inside: a joke. If you fold down the back seats there is room for two sets of golf clubs so in essence the Isuzu becomes a two- seater! The instrumentation is dated as are all the various levers and knobs, there isn't one single thing I would call even remotely classy with the exception of the truly excellent paintwork. Let us be fair- when clean and stationary it looks pretty. As does Cindy Crawford.
But I saved the worst-yes there is more to come- are the seats. I am sure if I were a bloody-minded person and hired a really mean and nasty lawyer I could come up with a lawsuit relating to damage to my back. 24 hours after returning home it still aches like hell. Not even East German Trabants had seats as bad as these although the grey (what else?!) seat covers did have that East European touch about them.
There is of course another way of looking at this Isuzu. If you skip all the options such as the air-conditioning, power windows and so on, the price drops to around 20 thou and I am sure the dealers would just love to discount it..anything to move it off the lot. Say, you pay 18 and you are also 18- young, fit, with lots of friends who don't mind the harsh ride or the total lack of sophistication. Throw in a few cases of beers, head for the beach, turn up the volume and you'll probably think that I am an old fogey, which I undoubtably am.
I am told that these Isuzus are built in the same factory as those excellent Subaru-s.
The Forester is such a wonderful, all round product for about the same money that it would seem sheer madness to consider the Rodeo at all.
---