A Five Year Frankl Retrospective
5 years and 243 articles later...
Andrew Frankl - European Bureau Chief
A recent missive from TACH's joint head honchos- Bob Gordon and Marc Rauch reminded me that I've been bashing away at my Compaq Presario as The Auto Channel's European Bureau Chief for over five years. It has been such a long time that I actually had to look at my notes to remember some of the highlights.
Without a shadow of a doubt a number of people have been extra helpful along the way. Tom Kowaleski-now with GM- then with Chrysler introduced me to Terry Page of Page One Auto. He it turn helped to arrange an interview with Edsel Ford II by talking to Ford Motor Company's West Coast PR Manager John Clinard. John, a master of his craft organized the final details and the result was an exclusive which helped to establish my credentials in the United States. We had a great time together talking about mutual friends such as Jackie Stewart and Bob Lutz and about the car industry in general. I had a funny feeling that he was going to leave the company as he must have realized by then that he was not going get the top job. Not much later this is exactly what happened. Interestingly enough he told me that whilst he often traveled on his own in the United States abroad he always had bodyguards. Bodyguards?! His uncle, Henry Ford II had a doctor following him everywhere with pints of blood. No, I am not joking, in those days senior executives were the targets of the Red Brigade and other terrorist groups and understandably major corporations were not taking chances. But I digress. Back to automobiles!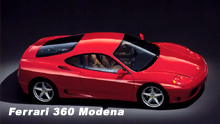 The highlights are varied and numerous. I would have to be a major hypocrite not to put the Ferrari 360Modena at the top of the list. Look at it this way: can you-in all honesty- name a car or an occasion that would top driving a brand new Ferrari round the finest race track in the World just a few hours after the Grand Prix? Neither can I. I shared this one with my son Nicholas and neither of us can recall it without a huge smile on our faces. Thank you Stuart Robinson.
Boss of Ferrari UK at the time he now has the huge and fascinating task of running Ferrari North America and launching Maserati in the States as well. Another great Ferrari experience was my drive in the Cannonball Classic. A reader of FORZA magazine ( I am the Grand Prix Editor) e-mailed me out of the blue-well, actually from Canada- offering their 12 cylinder 330GTC for the run. Whilst they- Ric and Kevin- were great, the Classic was a pale shadow of the real Cannonball. How do I know? I participated in the last one in 1979. Still, the dice with a Jaguar on the magnificent, majestic roads of Colorado will remain unforgettable. Thanks guys! Being a Ferrari aficionado I forgot just how good Porsches are these days.
Well, a quick blast from San Francisco to LA soon made me come to my senses. The 911 Carrera ran like a dream, was solid, predictable and fun. The six-speed gearbox was a sheer delight. My daughter Annabelle-a TACH contributor in her own right- just loved zapping from Santa Monica to Malibu.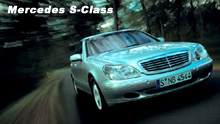 Almost any car will get you to the Carlton in Cannes from London in a day but I doubt if any other would be as quick and comfortable as an S class Mercedes. The 5 liter in particular is a gem and as the roads are clearly marked you would not need that stunningly silly navigational system that they've installed. To this day I have not met anyone who can figure it out. On the other hand the rest of the car is sensational and I much rather have a useless navigational system than a gutless engine. Talking of Mercedes the new C class is also a stunner, especially with the 3.2 liter engine. There are more and more M class SUVs around, for sheer value the 320 at under 40 thousand dollars is a relative bargain. Or very much of a bargain if you compare it to horrors such as the Lincoln Navigator- possibly the most cynically conceived, totally unjustifiable piece of "automobilia" I've ever seen. Regrettably GM, Toyota and Chrysler have also joined this league of undesirables appealing to small people whose inferiority complexes are played out at 70 miles per hour on the highways or in the supermarket parking lots. An F 150 pick-up is one thing, for millions of people it is essential to their jobs, their existence but to lurch around in these hideous monstrosities is plain obscene.
There is only one place where these things look good -on the bottom line of the balance sheets and regrettably that 's all that seems to matter. Pity. To talk of happier things, the other day I suggested that if I had pick one car from all the cars in the World it would be a Volvo V70 XC. This may seem like an anachronism after all the Ferraris, Jaguars, Mercedes and Bimmers but let me explain. It is exceedingly comfortable on long journeys. It will also cruise at 100 miles per hour years on end. It will carry an awful lot of luggage, be it golf clubs, skis or whatever. There are specialists who will fit all sorts of roof racks depending on your needs. It has an acceptable fuel consumption even in Europe where petrol/gas is 4 times what it is in the States. It also looks boring and middle class- a very good thing in countries where your car will get scratched or broken into just because it is a Mercedes or a BMW and the bad guys will think that you are a rich git. ("git"-Oxford dictionary: silly or contemptible person.) Which is not to say that all Volvos are wonderful. The other day I drove the new S60 T5 which I thought was an unsuccessful attempt to take on the BMW 3 series. I know that there is a temptation to broaden the image, the appeal of Volvo but I am not convinced that this is all together a good idea. Right now it is seen as safe and solid, albeit not a stylistic extravaganza. Dear Volvo, the people who put their children into your cars do so because of what you are -deviating too far could just alienate at least some of them. As part of PAG-Ford Motor Company's brilliantly conceived premier group- the task of taking on the BMW 3 series should be left to the new Jaguar X type.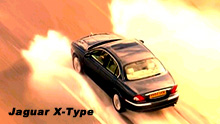 Talking of Jaguar... we had a lot of fun in the last five years. They took me to the launch of the S type in Biarritz, on the California Mille which was very exciting and to Willows Spring to drive the Silverstone edition of the XKR. I also got my only speeding ticket in a Jaguar XKR...not very difficult in such a refined automobile.
The company's transformation is nothing short of miraculous and I feel sure that sooner or later the Grand Prix team will come good as well although it might necessitate the infusion of a Villeneuve, a Coulthard or a Hakkinen. Of the Japanese cars Subaru struck me as tremendous value, dependable, with a permanent all-wheel drive system. Alpine Meadows, Squaw Valley, Park City were all full of them. The Suzuki Grand Vitara we tested over an extended period ran like the proverbial Swiss clock, never missing a beat either on the highway or in the hustle bustle of Los Angeles traffic. Nissan are making a spectacular come-back with the help of Renault. Their 3-liter engine was always exceptional and now with a bit of financial and stylistic help from their French colleagues I think they will be back with a vengeance.
I didn't get a chance to drive any Toyotas but I did get behind the wheel of a Lexus which was very nice but not me. I can see why people buy them in their thousands and with the very dramatic looking coupe I am sure there will be many more of them. Certainly the new advertising campaign for the new Lexus Coupe is sensational. I've never been a great Toyota/Lexus fan, maybe it's time to get to know each other better. Their entry into Formula One is somewhat surprising, it will take them years to win, if ever and in view of their success in selling cars to people to whom cars are domestic appliances I am somewhat puzzled. Time will tell. There are two BMWs in the family and I also write for Bimmer Magazine so I am pretty au fait with their products. Stepson Alan's new 330Ci looks goods, sounds good and is in fact very good. One has to drive a BMW after driving other cars to realize just how well the cars are put together by engineers who really care and take pride in their products. Here again there is a Volvo type danger of deviating from what they are good at-don't. I haven't been in a Chrysler for years so I just hope they will survive as I look at them from a distance.
Of all the interviews I've done the ones with Prince Albert of Monaco and F1 czar Bernie Ecclestone come to mind. The Prince explained how they were building a huge extension to the harbor to accommodate all the yachts and ships they've been turning away, especially during the Grand Prix. I wonder if that will still be the case with California's dot-coms disappearing faster then the snow in the Sierras... Bernie was great. He agreed that several of the GP drivers were somewhat dim and went on to talk about his children which was entertaining and a lot more interesting than some of the drivel talked about in the Paddock. I just dread the day when he finally retires because it will be an almighty mess with several interested parties all pulling in different directions. And finally to Bob and Marc. Guys, thank you for leaving us alone, letting us do our work. One of the reasons why The Auto Channel is still around is because just like my old magazine CAR (which I part owned for 22 years) the needs, the desires of the advertisers have never been a consideration. Long may it continue.
Publishers Note: Thank you Andrew for the great 5 years...both Marc and I deeply appreciate your talent and enthusiastic contributions to this monumental effort...you bring a large measure of class and insight to this place.
---