New Car/Review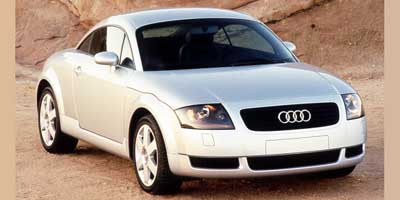 2000 Audi TT Coupe
by Carey Russ

Audi Full Line Video footage (6:36)
SEE ALSO: Audi Buyer's Guide
Audi has been making some spectacular cars in the past few years. The German company's exterior styling and interior design are second to none in the industry, and are refreshingly original. The underlying engineering is innovative, with much use of lightweight construction materials and techniques. But the A4, A6, and A8 sedans and wagons were just a prelude to Audi's best design to date, the new TT Coupe.
As is the case with so many imaginative vehicles today, the TT started life as a concept car. The design study introduced at the Frankfurt Auto Show in 1995 has made it to production with minimal changes --  larger side windows for improved visibility, and minor front and rear restyling for real-world practicality. The production TT is based on the platform used under the Volkswagen Golf and New Beetle, and uses the 1.8-liter turbocharged four-cylinder engine found in the Audi A4 and Volkswagen Passat and Turbo Beetle. But more than styling distinguished the TT from its platform-mates. The suspension is tuned for a firmer, sports-oriented ride, and the engine, which develops 150 horsepower in other applications, makes 180 hp in the TT.
The TT is the first sports coupe from Audi since the Quattro Coupe of the early 1990s. It is currently offered only in front-wheel drive form, although a quattro (all-wheel drive) version is slated for release later in 1999. And, a convertible is also on its way. While it is a far more sporting car than the production Audi coupes that preceded it, the TT is not a race car for the street like the old Sport Quattros. The TT is an eminently comfortable automobile designed for fast touring for two people with plenty of luggage. As I've found during a recent week with one, the 2000 Audi TT may look like a fantasy car, but it is very definitely made for the real world. It offers sports car performance and handling with near-luxury levels of comfort and refinement.
Attention given to the TT is more circumspect than attention to the Beetle when that car was new, but the TT definitely turns heads. Rightfully so, as the car is great to drive anywhere and extremely comfortable. Whether around town, up tight, twisting Highway One, or on a long highway cruise, the Audi TT is nimble, quick, and pleasant.
APPEARANCE:  There's not a bad angle to the TT. Of course, there are few angles anywhere on its rounded body. It is a graceful, minimalist design, dominated by its wheels. Its basic roundness is offset by the angular head- and tail-light covers, the crisp creases of the hood bulge and fender flares, and the straight-spoked alloy wheels. The rounded tail is reminiscent of pre-World War II Auto-Union Grand Prix cars, and the fastback passenger cabin looks a bit like the special enclosed cockpit of the speed record car derived from the GP racers. That low fastback greenhouse and high door line also give the TT a "chopped Beetle" look. Those are merely influences. The TT is a wonderfully original design. P.S. - check out the "quick-fill" style aluminum gas cap.
COMFORT:  Despite the tight exterior dimensions, space abounds inside of the Audi TT -- for two, anyway. It is a "2+2" configuration, meant primarily for two adults with space for two small children in the rear. The TT's interior is as striking as its exterior, with aluminum accents around the air vents, instruments, and controls, and aluminum door handles. The "high-tech-meets-retro" motif works well. Despite all of the style, the TT's interior is completely, logically functional. Leather upholstery is standard. The front seats are manually-adjustable and firmly comfortable for all-day driving. A leather -covered steering wheel that is adjustable for both tilt and reach aids driving comfort. One-touch windows and an excellent climate control system add civility. The split rear bench is designed for children between 4' 3" and 4' 11" according to a sticker on the door sill. Believe it -- there's not much room back there. Most people will find the rear seat to be a convenient cargo space. It folds to enlarge the already large cargo area under the hatch.
SAFETY:  Occupants in the Audi TT are surrounded by a sturdy safety cage and further protected by front and side air bags. Four-wheel antilock disc brakes stop it quickly and effectively.
ROADABILITY: Can a true sports car be a front-wheel drive design? Absolutely. Good chassis rigidity, aided by a strut tower brace, allows a suspension tuning that is firmer than that of Audi's sedans but still supple and comfortable. Audi's interpretation of MacPherson strut front suspension gives great turn-in and cornering ability and only the barest nudge of torque steer, and then only at absolute full throttle from a standstill. The TT feels like a front-drive car, but not annoyingly so. It is composed any enjoyable at all speeds. Standard all-speed traction control helps keep it in line in slippery or mixed conditions. It is a responsive joy to drive anywhere.
PERFORMANCE:  Audi knows how to make a turbocharged engine. The 5-valve-per-cylinder, twincam, 1.8-liter four-cylinder turbo in the TT makes 180 horsepower at 5500 rpm. That's an excellent specific power output, and it is obtained with no penalty in driveability or fuel efficiency. The engine makes 173 lb-ft of torque between 1950 and 4700 rpm for instant acceleration at almost any speed in any gear. There is no turbo lag. The engine has wonderfully strong midrange performance. In mixed city, fun road, and highway driving I averaged 23 mpg, and could easily have done better. The only transmission currently available is a 5-speed manual. With a good choice of gear ration, light clutch, and short shift throws, it's perfect for the car.
CONCLUSIONS: The new Audi TT combines style, performance, comfort, and practicality.
SPECIFICATIONS

Base Price               $ 30,500
Price As Tested          $ 33,925
Engine Type              dual overhead cam, 20-valve,
                           turbocharged inline 4-cylinder
Engine Size              1.8 liters / 107 cu. in.
Horsepower               180 @ 5500 rpm
Torque (lb-ft)           173 @ 1950 through 4700 rpm
Transmission             5-speed manual
Wheelbase / Length       95.4  in. / 159.1 in.
Curb Weight              2655 lbs.
Pounds Per Horsepower    14.8
Fuel Capacity            14.5 gal.
Fuel Requirement         unleaded premium (91 octane)
                           for best operation
Tires                    P225/45 YR17 Bridgestone
                          Potenza RE 040
Brakes, front/rear       vented disc / solid disc, antilock standard
Suspension, front/rear   independent MacPherson strut /
                          torsion beam axle with trailing arms and
                          coil springs
Drivetrain               front engine, front-wheel drive

PERFORMANCE
EPA Fuel Economy - miles per gallon
    city / highway / observed      22 / 31 / 24
0 to 60 mph                   7.4 sec
1/4 mile (E.T.)               16.1 sec
Coefficient of Drag (cd)      0.34

OPTIONS AND CHARGES
Audio Package: Bose (r) premium sound and
6-disc CD changer                           $ 1,200
Comfort Package: heated front seats, 6-function
driver information display                  $   700
Performance Package: Xenon high-intensity
headlamps, 17-inch cast alloy   wheels with
225/45 R17 tires                            $ 1,000