New Car/Review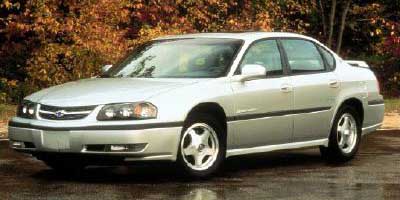 Chevy Impala (2000)
SEE ALSO: Chevrolet Buyer's Guide
By Nick Hromiak

Chevrolet Full Line Video footage (23:22)
SEE ALSO: Chevrolet Buyer's Guide
During the media introduction of the 2000 year Chevy Impala held in Carlsbad, California, Chevy's Brand Manager asked for a show of hands as to how many media folks in the room ever owned an Impala. The response was over 50 percent with this journalist included (I owned a '77). And that's not surprising since Chevy sold over 13 million Impalas since they were launched back in 1958. But the 2000 model has no comparison to Impalas of old.
Built on a totally new platform, the Impala 2000 is not a replacement for the bit larger Lumina. However it does share a few components with that mid-size sedan. Impala is a bit shorter than Lumina, and a little wider. As such, it offers full-size car interior space of 122 cubic feet.
The exterior is shapely, snazzy and very aerodynamic (.31 Cd). A big change for Chevrolet as the car has slight styling cues that hint of the car's heritage. Actually, only Chevy's trademarked bowtie badging on the grill is recognizable. Impala now sports an upclass appearance at a mid-class price. From its jeweled headlamps to its fender-to-fender taillamp assembly, Impala strikes a classy new image.
Like its forerunners, the new Impala is the right car at the right price. Ride and handling are completely different from Impalas of yesteryear. Four-wheel independent suspension with front and rear sway bars combine for an impressive ride and taut handling characteristics. For a more sporty feel, a Touring Package is optionally available.
This new sedan exhibits overall good road feel and just the right amount of steering pressure. It's a tight, responsive, nimble car that is almost BMW-like. Now that's saying a lot for a car that carries a base price of $19,265 (including destination charge).
Impala 2000 is quiet, smooth riding and has lots of pep when powered by the higher output 200-hp, 3.8-liter V6 engine. In the base Impala, a 3.4L 180-hp V6 is standard and provides sufficient power for most driving demands. And it is miserly with an impressive 20 city, 32 highway mpg fuel rating. Even the 3.8L, standard on the uplevel LS, is only a nip lower at 20/29 mpg.
As I had the pleasure of testing both engines, the performance difference between the two is mainly noticeable during high-speed passing situations. On one of California's 70 mph freeways, over which we drove the test cars, flooring the accelerator at that speed produced a potent downshift and a quick climbing speedometer needle. The 3.4L, however, lacked that delicious top-end jolt.
Chevy packed in a lot of amenities and niceties in the new Impala, items normally only found on higher priced sedans. There's true six passenger capacity, 16-inch wheels and tires, driver's side air bag, rear child seat tethers, largest brakes in class, automatic headlamps, tire inflation monitor, dual front temperature controls, air filtration system, 17.6 cubic foot trunk with split folding rear seats and pass-through, and a Radio Data System that, through the radio controls, can change the integrated clock's time automatically when passing through a different time zone, provide an audio interrupt for traffic or weather bulletins, and is programmable for various monitoring functions.
With all those accolades, does the new Impala have any shortcomings? Only one. Chevy elected to go with a driver's side impact bag. Their logic for omitting the passenger side bag was that children may ride in the in front and the bag could cause a problem.
That aside, I was pleasantly surprised by Impala's amount of leg, head and shoulder room fore and aft. Ingress and egress into the back seat is limo-like. And an inside-the-trunk release handle is optionally offered in case you get mad at the kids and try to lock them in, a promise relatives would make to me during my naughty youngster years.
While Chevy's resurrected Impala is totally new, it offers over a billion miles of on-the-job experience. They'll be arriving in dealer's showrooms in late spring.