Motorcycle Review
SIX SENSE

Why the Gold Wing and Valkyrie may not be the newest toys in town - but are still the best at what they do.

Nicholas Frankl
Contributing Editor
Aficionados of The Auto Channel will recall that a few years back the European TACH team decided to add motorcycle reports to our usual mix of test drives, cross continent sprints and Formula One ramblings. My very first "professional" motor biking experience was in fact a sturdy Honda 125. It took me to, and through, my learning curve and soon I was straddled across a VFR Magna with 750cc and a V4 to boot. This I must be honest was the start of a very pleasant relationship with the Japanese manufacturer which both fellow scribe Alexis Bachofen and I have enjoyed. Alexis is now pursuing his two passions of filmmaking and motorcycle riding in Australia and I am reliably informed (by him) that he will soon be amusing us with his accounts of outback adventures. Watch out for those sheep. Mate!
Mean while, I have jumped the pond in the opposite direction and am now ensconced in LALA land, or West Hollywood to be more precise. My first item on the "must do" list? Buy milk. But the second was "contact bike press officers" and start testing. That's how I found out that most of the big guys out here are set up in a Donald Trump style business park in Torrance, CA about 45 minutes from down-town, depending upon if you are driving, riding a Gold Wing or something a bit more rapid like a new CBR 929. What would you like to start with? Pete asked. What a question I thought. Just send me a list. He said. But I'm afraid we won't be able to get you onto the 929 or RC51 till April. And with that Peter Horst (manager of the bike press department) left me with a box full of exquisite reading materials and a red book from which to choose. As James Bond said at the end of The World Is Not Enough. "I thought Christmas was only supposed to come once a year"!
My list went in and soon I was back to collect a Candy Red Gold Wing SE. Now the riders out there reading this who wouldn't normally get out of bed for under 500 pounds (weight) and at least 150bhp will be asking what the hell is this Limey doing asking for a red elephant with a stereo and surround sound? Well, as an Englishman in LA, I thought it prudent - and rather more safe- if, at first, I chose the well traveled road and a bike with, well how do you say it? A bit of attitude. You know like that chap BA in The A Team. I reckoned that with that much bike even those yummy mummies in their Hummers would be sufficiently frightened not to pay me an un-invited visit. What's more I was right. The Gold Wing was great in London. But over here it's a whole new Interstate. You see in London we would call Wilshire Blvd a by-pass. Not as in Heart. But as in avoiding a small town. So the GW had plenty of room to flex and waft along.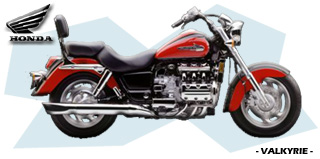 The down side of the GL 1500SE was always and still is its rather poor front suspension and general feel. It rides fine, two-up with bags full on a freeway, but try Sunset at speed from Westwood to the Ocean and it's a whole other story. The front tire feels as if it's riding on some other plane all together, not connected to the handlebars at all. Strange this, as the Valkyrie that I am currently riding is a very similar machine. But with an inverted fork set up the ride, feel and handling are vastly improved. Not to grumble. The Gold Wing is still phenomenal. I can't say Rolls Royce as the seats are not cowhide. But I think it truly is the Cadillac of motorcycles, the Riva of cruisers and the Gulfstream V of long distance stormers. Certainly the instrument binnacle would look very much at home in one of those flight simulators. Yes the BMW is efficient in that very German way. But nothing stops the traffic like a GW! Cruising down PCH, the sun shining and waters washing up along the shore, listening to Ella on a mild Jazz station and taking in the scenery. Is there any better way to travel with a companion?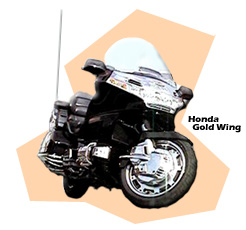 I can tell you about the 1520 cc, the 100+bhp, the Harley embarrassing, smooth flat-six motor, room enough for hundreds of gallons of luggage and the 6.3 gallon fuel tank, not to mention reverse gear and a CB radio. But that would be missing the point altogether. You can get that and much more from the Honda web site - what you cannot get is the feeling of running up Laurel Canyon and across Mulholland at midnight looking out across desert plains which now house those famous studios, sparkling like the Hollywood night time sky or one of those hand tailored sequin Oscar dresses. Of enjoying the sensation of riding slowly because you feel like it and arriving with your passenger smiling, warm, (thanks to the built in heating system) comfortable and without the need to check into the local chiropractor!
Bottom line? I have amazed sports bike riders in the last three weeks with the way in which the GW can go, handle and stop. No I'm not the born again Barry Sheene. Try it. You'll see what I mean.
---
Vehical Information:
GL 1500SE

| | |
| --- | --- |
| Engine | 1520cc liquid cooled horizontally opposed six-cylinder |
| Bore/Stroke | 71mm/64mm |
| Value train | SOHC; two vales per cylinder. |
| Dry weight | 815.7 pounds |
| Fuel Capacity | 6.3 gal |
| BHP | 95/5200 rpm |
| ¼ mile | 13.8 @ 94.8mph |
| Top speed | 125mph |
---
More Information:
www.hondausa.com

Thanks to:
Arai helmets: www.araiamericas.com
Intersport Clothing: 1-(800) 416-8255 / www.intersportfashions.com