Is GenX ready for a Volvo?


Small and Sporty, the Volvo's 40 series exudes practical playfulness
SEE ALSO: Volvo Buyer's Guide
by Larkin Hill

Volvo Full Line Video footage (11:04)
When I was a little girl I dreamt of being swept away by Prince Charming, throwing a huge white wedding and living happily ever after in a two-story house surrounded by trees and flowers. I'd have two kids, a dog, a couple of fish, and a Volvo station wagon. Yep, that would be my perfect life. Of course, curing cancer, looking like Barbie, living next door to the Jetsons, and exploring the world on horseback were also on my list, but that's another story.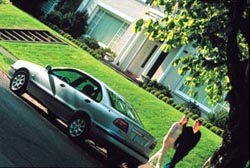 Jump to reality: While my idealistic-self still fantasizes about marrying Mr. Right, my realistic side says the only part of my little girl fantasy that is in my control is the Volvo (I found the other's to be quite impossible, and I'm terrible at chemistry). Sure I may have a huge white wedding, and a two-story house, but times and tastes change, and somewhere compromises must be made. I would be just as happy with an outdoor garden wedding and a one-story split level with a view (a real tough compromise, eh?). Nevertheless, one thing still holds true year after year…the Volvo.
Internationally known for its safety standards, Volvo has prided itself on being the most secure mommy-mobile in town. Sporting their signature boxy body and safety strapped rectangle grill; they've enabled soccer moms around the world to buckle their kids with assurance. Established middle/upper class families' are able to trek across town, state, and country with confidence.
While the garage locations differ from state to state, one thing always remained the same: it's a mom's car. So, what has Volvo done to broaden their appeal? In the late Eighties they introduced a two-door turbo coupe, however, slow sales and high prices eliminated the production of that. So Volvo stuck to what they do best: boxy mid-priced wagons and sedans. Yet, while critics questioned the boxy car company's future during the mid-90's, Volvo was arming themselves with some powerful ammunition.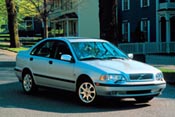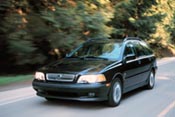 Welcome model year 2000! New for the North American market is a lineup of vehicles targeted at a younger audience than ever before. Already tremendously popular in Europe for the last three years, the S40 and V40 are attempting to catch safety concerned couples and new parents who still desire a small and sporty vehicle.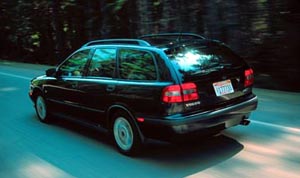 The cute 1.9-liter turbo charged S/V40 pump out 160 horsepower and have a top speed of 126 miles per hour. Boasting a SLIM (Strong, Light, In-line, Multi-valve) engine, the S40 and V40 share the same cylinder dimensions as their larger Volvo 70 brethren. Providing intelligence to the engine is a system that cuts off the air conditioning unit for a few seconds during full throttle, so the driver is able to command maximum power at a time when he/she wants it most.
The turbo system used in the 40 series is a Light Pressure Turbo, which basically means that the engine has a quicker response time from when the pedal is pushed to the time acceleration begins. All of which translates into improved torque. Maximum torque of 170 pounds per fees is available at 1,800 rotations per minute, which means that there is high torque at very low speeds. For those mom's out there, this translates being able quickly accelerate from the slower speeds the majority of us drive regularly.
Also standard on the S40 and V40 is an automatic gearbox. Now, for some, an automatic would be a natural first choice, since kids would probably be involved and there are more important things to remember than when to shift. However, for of us who enjoy the control manual transmissions provide, Volvo has compromised by providing three driving modes. What exactly does that mean? Well, since Volvo recognizes the fact that people have different manners of driving, they've decided to incorporate three different driving styles into the gear box: Economy (E), Sport (S), and Winter (W).
The Economy mode is designed to provide the driver with optimum fuel efficiency at all driving speeds. The sport mode shifts up and down at higher engine speeds in order to provide the driver with a more dynamic drive, and the Winter mode starts the transmission in third gear so as to prevent wheel spin on slippery surfaces. In addition to the various driving modes, Volvo's added a safety feature that's popular in many automatic vehicles in the United States: The inability to remove the ignition key unless the park position is selected on the shifter. By doing this, Volvo hopes to significantly reduce the risk of a parked car rolling. Actual Drive Test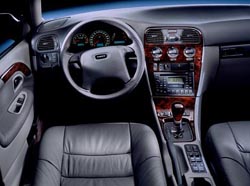 Upon squeezing into the squishy leather driver's seat of the S40, I notice how aesthetically appealing the dash and overall interior is. Simple in the layout, but void of obnoxiously oversized knobs and switches, the entire interior's elegant and easy to navigate. The optional power driver's seat was quick in response and varied in positions. Very quickly I found my optimal driving stance. The second thing I noticed as I threw my bag in the back seat was how very close it was to the front. Remembering their target market's a relatively young crowd with very small or not children, the lack of rear legroom was of little concern…initially. What if they had adult friends? What if they wanted to carpool to work? What if their kids were huge for their age? I decided not to worry, but took a mental note.
Turning the ignition, adjusting the air conditioning, and slipping in one of my favorite CD's completed my preparation process. I was ready to explore the sights, scenes, and good smells of Seattle (Mmm, I could almost smell the Starbucks triple espresso I craved). As we glided out of the parking lot, I noted how smooth and quiet the S40 rode, very luxurious!
As the sound system came alive and the climate control kicked in, I decided to slide back the sunroof cover to test the true clarity vs. stereo and quietness of the ride. It passed. Not only was the music not disturbed by the open moonroof, but it also resonated nicely over the throttle being floored.
As we slid into the first stop on our tour of Seattle, I found maneuvering through city traffic a pleasure. The compact size zipped in and out of lanes, the windows were easy to look out of, and the ability to effortlessly reach the radio controls provided a convenient change of CD's. Easily we slid into our parking space, happy and ready to commence on the first adventure of our tour-du-Seattle.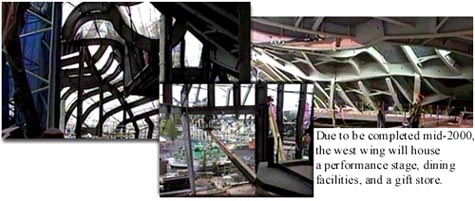 Experience Music Project.
In order to emphasize Volvo's humanitarian philosophy of the individual's need for balance of mind and spirit, we were treated to a hard-hatted tour of the still-under-construction 140,000-square-foot interactive music museum. Located in the Seattle Center that currently attracts more than eight million tourists per year, the Experience Music Project (EMP) will celebrate the artistry and innovation of America's popular music. Anticipating 800,000 visitors in its first year, the EMP will house everything from an Arts camp to nearly 80,000 artifacts, a performance stage, a sound lab, and an electric library.
After the short walk through the construction site, we're escorted back to the parking lot for a vehicle change and a short jaunt to our next destination: REI
REI(Recreational Equipment Incorporated)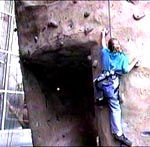 The visit to REI is less formal, and we're allowed to peruse the outdoor mecca for a good forty minutes. While the shopping opportunities are almost endless, the most exciting part of the REI store is their 65-foot climbing Pinnacle. I watched in astonishment as a couple of little girls bravely tackled the towering wall and treacherous overhangs. The time quickly passes and before long our time's up and the entire Volvo group is escorted upstairs for a biographical journey of Mt. Everest. Pan-eyed and laughing, all of the journalists and Volvo representatives sit speechless as Goran Kropp and Renata Chlumska enthusiastically narrate their respective journeys to the tallest mountain on earth. We learn that in 1996, Goran bicycled 6,900 miles from Sweden to Nepal, climbed Mt. Everest without oxygen, climbed down, and bicycled back to Sweden…single-handedly carrying all of his own gear the entire time. Three years later, Everest was conquered once again. This time Goran accompanied Renata Chlumska, who became the first Swedish woman to ever reach the summit. And, as if that's not enough, during their 1999 expedition they brought supplies to a Khumbu Valley school that Goran founded in 1996 for sherpa children and began a much needed clean-up of the 24,000-foot high Everest South Camp. True humanitarians and athletes, both Goran and Renata are the essence of strength, quality, and goodness.
Following their inspirational and humorous presentations, we're offered the opportunity to climb the REI Pinnacle. Almost deathly afraid of heights but still whirling from Goran and Renata's speeches, I figure if they can climb Mt. Everest, the least I can do is attempt the 65-foot wall. Last in line, with sweaty palms, shaky knees and a plethora of people watching, I slowly creep up the wall, all the while hanging on for dear life. Overhang and all, I make it to the top…with my number one supporter cheering for me all the way…thank you Renata! I'll be doing the same as she tackles the "Seven Summits" of the world.



After the exhilarating and exhausting climb, we hurry to eat lunch and jump back into our V40 for the last destination on our tour: Microsoft. On the way to the Microsoft compound we discovered a small annoyance in our V40's ergonomics. Short on time, my driving partner and I both grabbed a drink to consume on the way…only to find out that one of the cup holder's blocks the stereo. While one is located under the adjustable center armrest, the other is the pullout style located directly between the air control and stereo system. We opt not to change CD's, and were pleased to find that the pullout holder was impressively sturdy and snug and before long we've arrived at the Microsoft compound.
Microsoft Home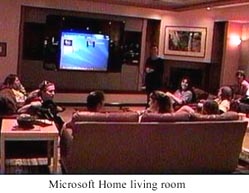 Despite the name, this is not where Bill Gates lives. However, it is the futuristic portion of our journey and the part that represents Volvo's dedication to the advancement of technology. Not exactly knowing what to expect, we're lead down a long hall, with a huge computer compound displayed behind glass walls, to a very regular looking door. Upon entering, we're greeted by a smiling woman who escorts us to a very normal looking living room. Ok, so it's nice looking, but not exactly what I'd call "futuristic"…lots of wood and carpet, a big television, three couches, plants, books, and a relatively small kitchen. The only unusual part was the amount of computer's lying around…at the desk, on the tables, in the kitchen (so, we're at Microsoft!).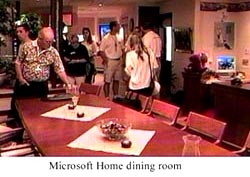 Even during the first portion of the presentation the technology, while advanced is still very logical (cordless laptops, advanced palm-pilots, etc.). However, toward the end, the speaker demonstrates the house's advanced capabilities. Holding a garage-opener-size transmitter stating the name "Taj", our presenter was able to control the lights, ask the time, and check for messages. Both fascinating and scary, the speaker talked about future capabilities of our homes (and we worry about losing documents if our computer crashes…let's not get into an entire house crashing!). Yet, the best part of the tour came when the topic of the internet arose, our presenter was able to visually demonstrate the future of entertainment, and let's just say that the term "cable" will be a history lesson for our generations to come.
Finally our day's complete. Mentally whirling, we're ushered out of the "future home" and back into our 40's. Slipping into the driver's seat once again, I reflect on Volvo's three core values: Safety, quality, and care of the environment. Without sounding too much like a Volvo ad, I must say that they should include the terms, "adventure" and "innovation" to their vocabulary. They claim that because of their Scandinavian heritage, they must take a holistic approach to the environment and humanity (I knew there was another reason I liked them). Yet, while their philosophies follow their cultural background, I assume they derive their safety and quality issues from their driving habits (let's just say that a two lane road is not just meant for two cars side by side).


Overall
Targeted at a different demographic profile than the rest of Volvo's line, the S40 and V40 are reaching for a young, hip, adventurous crowd that won't compromise on safety and reliability. Has Volvo done that with the 40 series? Probably…the cars are small, but they're peppy and stylish. Both the wagon and sedan have done well in Europe, and the recent introduction of the sleek C70's and S80 has broken the American stereotype that all Volvo's are boxy and boring. Also, wagons are growing in popularity, equipped with perky little rear antennas and rounded bodies they no longer represent complete mommy-dom. The V40 is sure to provide some stiff competition to the A4 Avant and BMW's model year 2000 3-series wagon, while establishing a loyal customer base for their larger V70.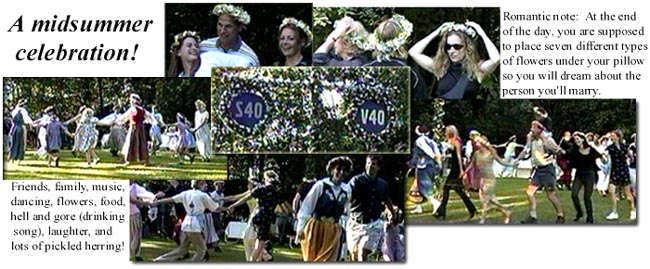 ...and to show a not-so-serious side to a seriously safe manufacturer...