| | |
| --- | --- |
| | 2000 Audi TT |
SEE ALSO: Audi Buyer's Guide
by Larkin Hill
---


Get the Free Windows Media Player
---

Audi Full Line Video footage (6:36)
Long overdue, both Audi and Volkswagen have "bounded back", so to speak, from considerable odds placed against them in the 80's. While Volkswagen was able to sustain themselves through Jetta and Golf sales, Audi was forced to remain in the shadows for around 10 years, surviving on high hopes, shoestring budgets and Quattro loyalists.
Audi has re-vamped its image and produced a lineup of cars worthy of bragging about. In 1995, Audi took its first step toward revival with the introduction of the A4. Finally, armed with the A4's positive press and public reaction, Audi's continued to introduce a comprehensive line-up of near-luxury (A4), luxury (A6), and premium luxury (A8) automobiles.
Eager to expand their horizons, Audi first introduced the TT as a concept vehicle at the Frankfurt Auto Show in 1995. Quickly gaining high praise and accolades for design ingenuity, Audi set forth in making it a reality. our years later, the Audi of the next millenium is born.
Entirely devoted to the car market, Audi is the only remaining German luxury manufacturer that has chosen not to produce a large sport-ute (SUV or SAV). Instead, armed with their signature Quattro system, Audi opted to expand their lineup with a roadster. Based on a theme of circles and cylinders, the entire car contrasts sharply with the angular lines that are reappearing on many manufacturers' 1999 and 2000-year models.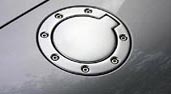 Officially introduced to North America at the 1999 Detroit Auto Show in January, my first impression was how tiny it looks. Very round, low to the ground, and rather short, the production model remains visually loyal to its concept sister. Yet, despite the small stature, the overall design compliments Audi's existing line-up, and supports their position as the "leaders in German design." Brushed aluminum and circle designs highlight virtually every detail of the car, from the instrument panel to the gasoline cap.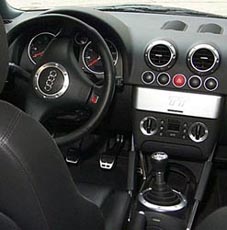 The entire interior is retro, uncluttered and simple. Sitting in the driver's seat, all eyes are drawn to the brushed aluminum accents that accentuate the air vents and knobs, glove box, door handles, and console-to-dash bars (don't know their purpose). Even the cup holders are attractively designed, and as an added bonus they're actually functional, truly capable of securing a cup or can (yes, it was designed in Germany). The most impressive design feature on the TT only becomes apparent when searching for the radio. Brilliantly hidden behind a brushed aluminum panel etched with the TT nomenclature is the stereo. In order to keep continuity within the retro design, Audi opted to hide the generic-faced, yet absolutely necessary, radio/cassette/CD player. Lifted by a slight press of a finger, the spring-mounted design not only provides an eye pleasing alternative to the basic and boring stereo system, but it also provides a unique and fashionable security advantage. For those who have had their cars broken into, any cover on a stereo will suffice, but if it's attractive, even better.
While initially impressed with the overall "look", there were still a few issues that had to be addressed: Namely comfort, safety, and handling. After months of anticipation, the TT was introduced to the press in the heart of Texas.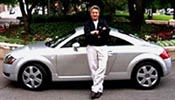 Flying by commercial airline to Dallas, we were quickly ushered to two private jets that took about 25 journalists to Austin. Initially questioning their rationale, "why not just fly us directly to Austin?" The motive quickly became apparent upon arrival. Greeted by Len Hunt, Vice President of Audi North America,journalists and their luggage were ushered toward twelve TT's, stylishly displayed in a nearby hanger. Whereupon a brief introduction was conducted, writers were paired up, TT's were distributed, and all were sent off to run a 200-mile course.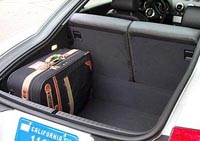 Choosing stylish silver with black interior, my first positive discovery came when loading my luggage. Despite how small the TT looks, approximately 13 square feet of trunk space is provided. It's an ample amount for a roadster, and a good reason for us to carry our luggage. Clever Audi!
Upon sliding into the firm leather seats, I realized how very low to the ground we sat. In fact, the sensation was enhanced by the long, yet narrow side windows and radically raked front and rear windows. However, while I felt snug, the large bow of the roof provided generous headroom, eliminating any claustrophobic feel. Even my over six-foot driving partner had quite a few inches to spare. In addition, the TT's long dash provided a sense of roominess within the cockpit.
While we were quick to adjust to the low stance on the road, it was only when we pulled up next to a standard sized sedan we were reminded of how small the TT really is. Being a fan of large activity/utility vehicles, the sensation was a little unnerving at first. As a passenger I was fully aware of how acutely petite we were, and while I enjoyed the agility of the roadster, I only came to appreciate the crouched stance when I shifted to the drivers seat.
Driving the TT afforded the most enjoyable sensation. The 1.8 liter four cylinder inline, turbocharged, front-mounted powerhouse delivered 180 horsepower with 173 pounds per feet of torque. Take-off was light, yet stable, strong and agile. While I didn't attempt my own 0-60 test, the boasted time of 7.4 seconds is a believable number; in fact it felt faster. Before realizing, our speedometer reached 80mph. Hugging the numerous curves around the hilly terrain proved to be of second nature to the TT. Incredibly smooth at speeds ranging from 2 mph to 100mph, the TT had a very even response time, making it a pleasure to both challenge and cruise at leisurely speeds.
After testing performance capabilities in many roadsters, I've found that their enjoyment levels are limited. In fact, they usually provide a disappointing everyday service. Because of that reason, many roadsters are marketed as second cars, only to be taken out on special occasions or weekends, usually used for quick jaunts to the mountains, beach or parties. While I expected a similar definition to apply to the TT, I discovered that it didn't. It was as comfortable cruising the city streets of Austin as it was cavorting around the country hills; in fact, even the rear seats fold down to provide more room, a very practical necessity.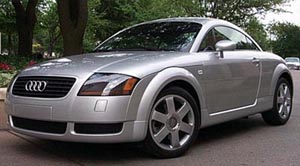 While the TT quickly transcended its small stature by providing impressive interior room and a sturdy ride, its safety features must be substantial. As is characteristic with German engineering, safety is an important factor when designing a vehicle, and the TT holds no exception. Armed with the standard driver and passenger next-generation front airbags, the TT is also equipped with chest and head airbags that are located within the front seats. Aware of the controversy surrounding passenger airbags being deployed with small riders, the TT features a deactivation switch that is located in the glove box. While the TT technically has four seats, it is designated 2+2 seating, meaning the second row is better suited to small children or luggage. However, since passengers may be placed in the back, 3-point safety belts are provided. The TT's even equipped with a safety unlock system that automatically unlocks all doors and switches off the fuel pump if the airbags are deployed. Also included is a first-aid kit that is elegantly stored next to the right rear seat.
Yet, while the TT has thus far proven to be both stylish and useful, it, like most things, is not perfect. Despite the numerous features provided, I felt only one item was missing; a moon or sunroof. While it was later explained that such an addition would be impossible, due to the lack of flat surface on the roof. I suspect the reason has more to do with aerodynamics, and the fact that any disturbance would cause great noise and shaking. Even with one window down, the suction is so bad that the TT experiences both problems, which is remedied only by rolling down the other window or shutting both. Thus, Audi's answer to those who crave openness is the TT roadster convertible, due out early 2000.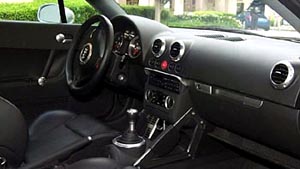 The only convenience issue I have concerns the cupholders and stereo. While I applaud Audi for making both very attractive, there were slight functionality details that left something to be desired. First, the cupholders: Location, location, and location! Under the elbow is not the most convenient place to reach while driving. The dash could have easily housed two retractable models, I'm sure they could have been made equally handsome. The stereo problem I have stems from the location of the CD changer, while it was extremely efficient in space conservation, it was rather difficult to reach. Located behind the driver's seat, it's not the most convenient placement, especially if the driver wants to change CD's. Yet, as a whole the Bose system itself is excellent, premium sound resonates well throughout the car, only to be complimented by the lack of road noise (only with the windows up).
Overall: Very impressive. It's exciting to see fashion merge with utilitarian purpose. Never before have my senses been just as satisfied sitting inside as observing from the outside. Finally, a manufacturer has catered to the person driving the vehicle, rather than the observer. While there is merit to those interiors that blend all the utilitarian elements into one neutral atmosphere, it's refreshing to see sharp attention to detail and style. In addition, not only does the TT look fantastic; it's exciting to drive. I've witnessed men, women, experts and novices, young and old alike, crane their heads and perk their ears at the mere mention or glimpse of the TT. The TT marks yet another successful addition to the already impressive A and S series lineup.