2000 BMW X5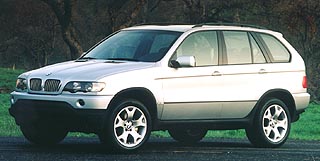 By Larkin Hill
Staff Writer, The Auto Channel
Commendable on and off-road capabilities!
Maintains the necessary performance requirements to wear the BMW badge
Aesthetic interior wood detail--high quality
Ergonomically logical with convenient ambient lighting at night
Comfy seats

Petrol police beware!
CD optional--for 50k there should at least be an in-dash single disk player
Low ground clearance: 7.1 inches. (RX300: 7.7, M-class: 8.4, Escalade, 8.4)
Oddly placed brushed chrome highlighting on door panels
5 series station wagon on steroids?