New Car/Review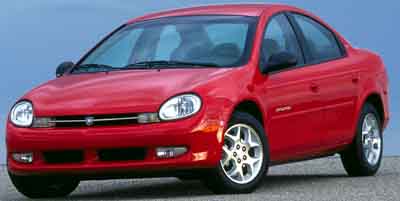 2000 Dodge Neon
SEE ALSO: Dodge Buyer's Guide
by John Heilig
SPECIFICATIONS
MODEL: 2000 Dodge Neon
ENGINE: 2.0-liter SOHC four
HORSEPOWER/TORQUE: 132 hp @ rpm/ 130 lb-ft @ rpm
TRANSMISSION: Five-speed manual
FUEL ECONOMY: 27 mpg city, 36 mpg highway, 25.6 mpg test
WHEELBASE: 105.0 in.
LENGTH x WIDTH x HEIGHT: 174.4 x 67.4 x 56.0 in.
CURB WEIGHT: 2564 lbs.
FUEL CAPACITY: 12.5 gal.
LUGGAGE CAPACITY: 13.1 cu. ft.
TIRES: P185/65R14
INSTRUMENTS: Speedometer, tachometer, fuel gauge, water temperature, digital clock.
EQUIPMENT: Power windows, power door locks, power mirrors, cruise control, air conditioner, AM-FM stereo radio with in-dash CD player, dual front air bags.
STICKER PRICE: $15,000 (est.)
I thought Neon was pretty decent when Chrysler first introduced it in 1994. When you drive the 2000 Neon, though, you see what the experience of five years of production did for the car.
First, the new Neon is larger. Itís a little bit more powerful and has a design that seems to be better integrated and all the pieces fit better. In Dodge for anyway, it definitely has the Dodge corporate style.
Our new Neon still is a compact car. Itís still relatively inexpensive. While list prices havenít been announced yet, my guess is that our tester would run about $15,000 "nicely equipped." The Neon also gives a good feeling of solidity.
Dodge designers put a great amount of effort into reducing NVH Ė Noise, Vibration and Harshness. In doing so they have created a more solid car with the 2000 Neon. You have an extremely secure feeling driving this car, a feeling you donít get with a lot of cars its size.
The only complaint I had, interestingly enough, was with the noise. There is a solid amount of noise coming from the engine compartment under the hood. The 2000 Neon is powered by a 2.0-liter four cylinder engine. And while itís not a buzzy engine as some Japanese fours tend to be, itís more of a roar, like the old Saturn engine.
Is Neon playing catch-up with Saturn? I donít think so. I think they are probably running neck and neck in their own race. Each has its own benefits and each has its own drawbacks.
Instrumentation was relatively standard with a speedometer, tachometer, fuel and water gauges. These were black on white gauges that converted to lighted on black at night. Itís a concept that many manufacturers have been using lately to great artistic effect.
Our Neon was well equipped with power windows and door locks, cruise control, an AM-FM stereo with an in-dash CD player, three cupholders in the passenger compartment and assist handles at all four doors. It also had a remote door locker. The three cupholders for the front passengers made for an interesting combination. They all had handle cut-outs, but I donít think they were large enough for Slurpies.
We had a nice five-speed manual gearbox that transmitted the power from the engine to the front wheels. While it was not as smooth as the Volkswagen Jettaís, it had the same solid feeling as the rest of the car. For example, many shifters have a wishy-washy feeling thatís not unlike stirring Jello with a long stick. Here the shifts are solid and the shifter isnít wobbling around while youíre shifting or driving. The gears themselves are well spaced, so there is a difference between third and fourth and fifth.
Front passengers sat in individual cloth-covered bucket seats that offered decent side support. Handling of the 2000 Neon is enhanced over the previous version. There is a temptation to go into corners at a faster-than-average clip and the Neon gives you the feeling that it can handle these.
The rear seat is a bench with a back that folds down to increase trunk capacity.
All in all, the 2000 Dodge Neon is an improvement over a car that was pretty decent to begin with. I was particularly impressed with the solidity of the Neon and the straight line tracking. Thereís no feeling that you have to keep moving the steering wheel back and forth on a straight road.
Except for some engine noise over 3,000 rpm, itís a relatively quiet car for a small car. It doesnít compete with something like the Lexus but itís not design to compete with that car. The feeling you get is one of solidity, and thatís a comfortable feeling in a small car.