New Car/Review
Pontiac Upgrades Top-Selling Grand Am
By Tom Tully
Grand Am is one of those immensely popular cars that you see everywhere. In fact, it's one of the all-time biggest sellers in the history of auto-dom, with annual sales of over 200,000 each year since 1992.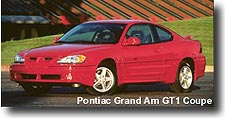 I have personal experience with not one but two white ones -- same 4-cylinder engine but one was automatic and one was standard.
I could have owned the 89 Grand Am with automatic as a legacy from my Aunt Mimi. Instead, I decided against it because it just wasn't fast enough.
I might have gone the other way, though, if Mimi's Grand Am had had the improved handling of the all-new 99 Grand Am and the 170-horsepower optional V6 engine.
Pontiac actually rebuilt the Grand Am from the ground up, with a new, more rigid frame, new suspension, new transmission for the V6, new brakes, a longer wheelbase, and bigger wheels and tires. Yet, they didn't completely change the Grand Am's looks. Yes, it's sexier, but it's still recognizable as a Grand Am.
Pontiac says more than a million Grand Am owners said a key reason why they bought the car was its looks. I guess that's a good reason to be careful not to screw up a good thing.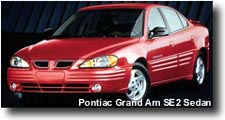 I liked the revised styling, and I think Pontiac will probably keep selling these cars by the thousands. Besides better handling and good looks, there's also the price factor -- you can get an SE2 sedan like the one I tested for a list of $18.9K.
My test model only had the 150-horsepower twin-cam 4 cylinder engine, but I was satisfied with the performance. It seems that quite a few of the compact 4-cylinders are going to a 150-horsepower standard.
The Altima has had it for some time. The Saturn has it. The new Beetle has it. And in town, the 150 horses allows you to move smartly through the traffic.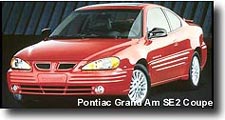 Where you really notice the lack of power with a 4-cylinder is at the high end; you don't have extra passing power, for instance, when you're already over the speed limit.
However, maybe it was the Grand Am's aggressive looks, but for some reason I was able to go past some faster cars and then stay ahead. I blew past a new Corvette and got the driver interested in catching up.
He missed a hole, though, and then just gave it up. What a surprise.
Pontiac throws in quite a few goodies as either standard or for no charge in the SE2 package, including ABS and traction control, AC, automatic, stereo with CD player, airbags, remote entry, cool red gauges, cruise, power mirrors and windows, 16-inch sport wheels, battery rundown protection and new rear cornering lights that illuminates behind you better when you're backing up at night.
We also get daytime running lights whether you want them or not (they've been proven to prevent accidents, so I can't complain too much) and even more goodies. That's a lot of stuff for under 20 grand.
Roll up a good looking design, better handling, lots of goodies and a price under 19 thou and you come up with another winner from Pontiac.