New Car/Review
New '99 Galant Is Prettier And Faster
By Tom Tully

Mitsubishi Full Line factory footage (11:59) 28.8, 56k, or 200k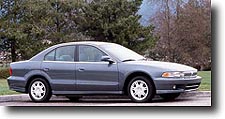 Mitsubishi's new Galant, its top-selling compact sedan, got a big overhaul for 99. It's much better looking, and for the first time, the car can be ordered with a 3-liter V-6.
I was glad to see Mitsubishi come out with this new vehicle. They needed it to stay up with the competition.
At one time, I had the feeling that Mitsubishi was a very performance-oriented manufacturer. They make the GT-3000 sports car, which in its VR configuration is very, very fast. They also make the turbo Eclipse, another small, fast car.
But the old Galant, a decent car with a good-looking front end, really didn't measure up, mainly because it didn't have V6 power.
Now, with a 3-liter, 195-horsepower engine, the Galant is in the same league with Maxima, Camry, Accord and Passat. The car's 4-cylinder motor also got a horsepower boost, up to 145 horsepower. This almost measures up to the 150-horse standard set by Altima, Grand Am and VW's Beetle.
The best Galant is the GTZ, which you can buy for under $25K fully loaded. While I liked the power, I was more impressed by the handling and looks.
My white test model, with its rear spoiler, sport-tuned suspension and styled wheels, really attracted attention. As a matter of fact, in this age of understated looks from the likes of Honda and Toyota, it was interesting to be in a car that looked tougher than it really was.
Not that you can't have a lot of fun in the GTZ. I whizzed through the traffic with great confidence. But I had the same feeling I got with some Audi products -- that I wanted more power because I had the cornering and braking to handle it.
However, I think a car that has more handling than it does power is much better than the reverse, which is the way most American cars used to be. By the way -- the Galant is an American car, even though it carries the same badge that adorned the Zero fighter planes used by the Japanese in World War II. Galant is made in Normal, Illinois.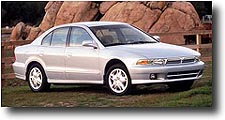 When I stack up the goodies you can get on a Galant for under $25K, it has good value compared to the competition. We've got leather, a good stereo with CD, sunroof, performance tires and wheels, a beefed-up suspension, a more rigid frame, adequate room, and great looks. ABS is standard on all Galants with a V6 engine.
And let's not forget all the other amenities that I've come to love, such as power windows, seats and locks, remote entry and mirrors, air, automatic transmission, cruise and intermittent wipers, to name the more obvious ones.
There's one other thing -- the new 99 Galant GTZ turns heads because nobody has seen one. I don't think I saw another new Galant during the week I tested it, and I always find myself looking at other models of the car I'm in.
Compare that with the ubiquity of, say, Camrys and Maximas, and you find another benefit to driving a Mitsubishi.
The new Galant is definitely a step up, and Mitsubishi has put more value on the table.