New Car/Review
NEW 1999 BMW 3-series coupe
SEE ALSO: BMW Buyer's Guide
Ted Laturnus and Tony Whitney
BMW 3-series coupe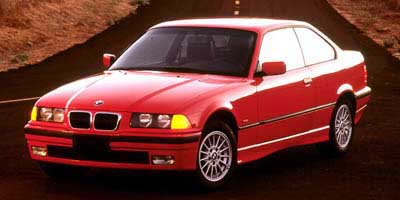 Nobody, it seems, is immune from corporate takeover rumors. Even BMW, arguably the most successful manufacturer of niche automobiles in the world, has recently been the subject of speculation. Both Ford and Fiat have apparently approached the Bavarian carmaker with money in hand, but sources within the company insist that the Quandt family, who own majority shares in BMW, have absolutely no intentions of selling it to anybody, the seemingly insatiable cash drain of Rover Cars - which BMW purchased last year - notwithstanding. BMW officials admit that Rover has been a financial headache from Day One, but BMW is one of only two car manufacturers in the world that have consistently turned a profit, year after year, for at least the past three decades (Toyota is the other one). "Why would they sell a company with that kind of performance?" says a well-placed BMW executive.
As if to reaffirm the company's health, BMW recently hosted a worldwide press introduction of the new 3-series Coupe. Journalists from all four corners of the globe congregated in Marbella, Spain to get a first glimpse of the new six cylinder 323Ci and 328Ci, both of which will be available by this summer. A 318Ci and 320Ci will likely follow later in the year.
The new 3-series Coupe - the 2nd generation - is longer, wider, and lower to the ground than its sedan stablemate. Although its styling cues are only subtly different, it has a much more powerful and muscular look to it. BMW designers are describing it as "an athlete in smart clothes." Okely-dokely. But it is a different vehicle, both behind the wheel and from a stylistic standpoint, and the extra dimensions really add to the car's visual appeal. BMW will also offer two different interior design themes, much as Audi does with their A6. In this case, they'll be known as Maglia and Mosaico, both of which feature leather upholstery, state-of-the-art ergonomics, and, depending upon your choice, tastefully applied wood or fabric trim.
Power for both new coupes is amply provided by a pair of in-line six cylinder engines. A 2.5 litre developing 170 hp at 5500 rpm for the 323, and a very potent 2.8 litre developing 193 hp at 5500 rpm for the 328. Both of these powerplants represent the best combination of smoothness, power usability, and responsiveness on the market. Six cylinder engines simply don't come any better, whether in-line or V configuration. Fuel consumption, although probably irrelevant for most people interested in this type of automobile, is decent: 9 L/100 km and 9.1 L/100 km, combined rating, for the 323 and 328 respectively…or 31 mpg. Performance-wise, the 323 is lively and well-behaved, with decent power, impeccable road manners, and 'way above average handling, but the 328 is almost a European muscle car, with a tremendous power range and outstanding performance. A five-speed manual or five-speed automatic transmission is available for both models, but the manual provides the most bang for the buck. The autobox features BMW's Steptronic mode, which is similar to the Porsche/Audi Tiptronic.
As befits a top-end sports coupe, the 3-series is loaded with technological goodies and modcons. Dual control heat and ventilation controls, express-down and up power windows, power seats, anti-locking brakes, traction control system, and Xenon headlights all come standard, and options include a handling/stability system called DSC, which automatically applies the brakes individually on each wheel when and if you get in over your head during hard cornering. As well, both the 323 and 328Ci will have an optional Global Positioning System, utilizing an optical display within a console-mounted monitor.
From a driver's perspective, perhaps the best thing about the new 3-series is its sense of balance. You'll be hard-pressed to come up with a more agile five-passenger car, and it's amazing how different a beast the new coupe is compared to the sedan. It looks better, runs better, handles better, and drives better.
However, it's also more expensive. The 323Ci will start at $29,995.