New Car/Review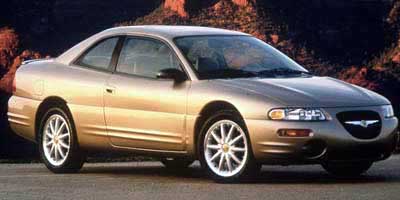 1999 CHRYSLER SEBRING LXi Coupe
By Tom Hagin

Daimler/Chrysler Full Line Video footage (39:14) 28.8, 56k, or 200k Part 1 and 200k Part 2


SPECIFICATIONS

     Manufacturer's Suggested Retail Price              $ 21,325
     Price As Tested                                    $ 23,425
     Engine Type              SOHC 24-valve 2.5 Liter V6 w/SMFI*
     Engine Size                                 152 cid/2497 cc
     Horsepower                                   156 @ 5000 RPM
     Torque (lb-ft)                               170 @ 4400 RPM
     Wheelbase/Width/Length                  103.7"/69.7"/190.9"
     Transmission                           Four-speed automatic
     Curb Weight                                     3227 pounds
     Fuel Capacity                                  15.9 gallons
     Tires  (F/R)                     P215/50HR17 AS Performance
     Brakes (F/R)                          Disc (ABS)/disc (ABS)
     Drive Train                  Front-engine/front-wheel-drive
     Vehicle Type                        Five-passenger/two-door
     Domestic Content                                 68-percent
     Coefficient of Drag (Cd.)                              0.36

PERFORMANCE

     EPA Economy, miles per gallon
        city/highway/average                            19/27/22          
     0-60 MPH                                        9.5 Seconds
     1/4 mile (E.T.)                       18.0 seconds 82.5 mph
     Top speed                                           120 mph

     * Sequential multi-point  fuel injection

Back when the Chrysler Sebring/Dodge Avenger twins were introduced, the company predicted that the market for coupes with mild performance and sporty looks would explode. They were partially correct.
Since then, the company has been bought by Mercedes-Benz and is now called DaimlerChryler. The expected boom in sales of these cars is not as high as once expected but both represent a great value for the money. There are a pair of Chrysler Sebring hardtop models in which to choose: the base LX and out tester for this week, the top-line Sebring LXi.
OUTSIDE - Chrysler was wise to shape Sebring using the latest style trends. It has only seen modest changes over the five years it's been in existence, but most of its competition has now adopted a form of the swoopy styling that Chrysler switched to long ago. For 1999, LXi models come standard with body-color outside mirrors, while same-color wheels can be had with selected exterior colors. Starting up front, Sebring's nose is sleek, bulbous and round, with a telltale Chrysler grille painted the same color as the body. A pair of bulges in the hood hint at high-performance intentions, but Sebring's price doesn't allow for too much power. The windshield is steeply raked, while the roof is somewhat flat. This all ends in a short trunk that drops sharply. Most owners said styling was a main factor in their purchase decision, and many have compared its look to that of some very expensive imported vehicles. Seventeen-inch alloy wheels are standard on Sebring LXi.
INSIDE - Sebring has lots of room inside for a coupe. Surprisingly, the back seat has enough room for two adults with leg room to spare, but three's a crowd. Trunk space is voluminous, and can easily swallow a pair of suitcases or many sets of golf clubs. Also, the rear seats are split, lockable, and fold down to give extra space. This feature is standard on both Sebring models. The dashboard is straight- forward and simple, with pushbuttons and twist knobs that are easy to operate. Standard Sebring equipment includes tilt steering, variable intermittent wipers, AM/FM cassette stereo, air conditioning and fog lamps. LXi versions get a CD player, power windows, door locks and mirrors, keyless entry, cruise control and a HomeLink universal transmitter system.
ON THE ROAD - To make the front-wheel drive Sebring more affordable for the masses, Chrysler decided to offer a pair of adequate powertrains for the car. The first is Chrysler-built, dual overhead cam, 140 horsepower 2.0 liter four cylinder engine that can be mated to either a five-speed manual or a four-speed automatic transmission. The second, a single overhead cam 2.5 liter V6 that is built by Mitsubishi, is the standard engine for Sebring LXi. It now produces 163 horsepower (up from 155 in 1995) and 170 pound-feet of torque, which is nine more than the original. Acceleration is good, but not spectacular. Power delivery is smooth at low RPMs, but as engine speeds rise, the engine sounds coarse and transmits noticeable vibration into the cabin.
BEHIND THE WHEEL - Sebring rides on a unit-body platform with four-wheel independent suspension. Coil springs, tube shocks and stabilizer bars, along with speed-sensitive, power rack-and-pinion steering, are standard. It has a long wheelbase, which adds to its ability to track straight and true at highway speeds. Compared to its Dodge Avenger twin, Sebring is tuned for a softer and more comfortable ride. With the softer ride comes a bit of body roll in tight corners, but quick changes in direction are well controlled and very stable. This is due in part to its extra wide P215/50HR17 performance tires. Braking is Sebring's strongest performance point. With its standard four wheel disc brakes and optional anti-lock braking system (ABS), the Sebring LXi can be brought to a stop from 60 miles per hour in just 131 feet.
SAFETY - Dual dashboard airbags and side-impact door beams are standard; ABS is optional.
OPTIONS - Package 24K ($630) adds a power driver's seat and leather seating surfaces. ABS is $600. A power sunroof is $640. Uplevel Infinity-brand stereo is $325. Destination adds $535.