New Car/Review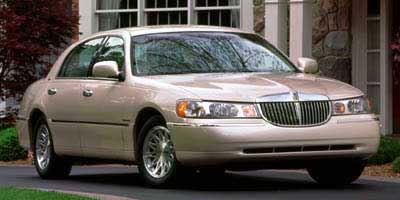 1999 Lincoln Town Car Signature
By Tom Hagin

Lincoln Full Line Video footage (3:29) 28.8, 56k, or 200k
SPECIFICATIONS

     Manufacturer's Suggested Retail Price              $ 40,325
     Price As Tested                                    $ 41,985
     Engine Type              SOHC 16-valve 4.6 Liter V8 w/SMFI*
     Engine Size                                 281 cid/4601 cc
     Horsepower                                   220 @ 4500 RPM
     Torque (lb-ft)                               290 @ 3500 RPM
     Wheelbase/Width/Length                  117.7"/78.2"/215.3"
     Transmission                           Four-speed automatic
     Curb Weight                                     4042 pounds
     Fuel Capacity                                  19.0 gallons
     Tires  (F/R)                        P235/60R 16T all-season
     Brakes (F/R)                          Disc (ABS)/disc (ABS)
     Drive Train                   Front-engine/rear-wheel-drive
     Vehicle Type                        Six-passenger/four-door
     Domestic Content                                 85-percent
     Coefficient of Drag (Cd.)                              0.37

PERFORMANCE

     EPA Economy, miles per gallon
        city/highway/average                            17/24/21          
     0-60 MPH                                        9.5 seconds
     1/4 (E.T.)                          18.0 seconds @ 82.0 mph
     Top-speed                                           105 mph

    * Sequential multi-port fuel injection                              

Determined to rid itself of its stodgy, unexciting image, over the past few years Lincoln has been hard at work revising its mien.
It first introduced the mammoth Navigator SUV, which sold like crazy and carried it to the top of the American luxury car field for the first time in 59 years. Its new, near-luxury Lincoln LS sedan will compete in a crowded market, but it should stand up well against the competition. This all happened at the same time as a new Continental and Mercury Grand Marquis were transformed into much better vehicles.
But the new Town Car is Lincoln's flagship, and it was redone as a new model in 1998. Three levels of opulence remain: the base Executive, top-line Cartier or our tester for the week, the Town Car Signature.
OUTSIDE - Town Car is almost four inches shorter than the version it replaced (all taken from the long overhangs), and the wheelbase is three-tenths of an inch longer. Trunk space is down a bit, however, but there is still room for plenty of luggage. Its shape seems to have borrowed styling cues from Ford's flagship import brand, Jaguar. Its style is about as retro as it gets these days, although observant car-spotters see portions of Ford's Sentinel concept car in its silhouette. The sweeping V-shaped grille and headlight assemblies are an elegant blend of old and new ideas. Our test car came with a Signature Touring Package that added monotone lower bodyside cladding and fascias, dark center bars in the grille, body-color, rather than chrome door trim and 16-inch chromed alloy wheels shod with P235/60R performance tires.
INSIDE - The interior was redesigned, adding simpler, more straightforward analog gauges instead of digital instruments, firmer (but not by much) and more supportive padding for the bench seats, and ample amounts of faux wood applique across the dash. The front seat is split in a 40/20/40 fashion, and the wide, hinged armrest has a padded lid with storage for CDs, cassettes and a cell phone. With the armrest lifted, room is cleared for three-across seating, but seat belt anchors that jut from within the seat mean the center position is the least desirable place to sit. Standard Signature Series features include climate control, eight-way power seats with a new power recline feature, Alpine-brand stereo system and leather upholstery.
ON THE ROAD - Town Car uses Ford's modular 4.6 liter V8 engine that produces 205 horsepower and 280 pound-feet of torque. The Signature Touring Sedan option brings dual exhaust to the fold, and adds another 15 horsepower and 10 more pound-feet of torque. Acceleration is adequate, but not spectacular. For such a big car, a shot of horsepower is almost necessary to remain competitive in the power department with others in its class. The twin-cam, 32-valve, 290-horse V8 of the Lincoln Mark VIII would be a nice, but probably pricey, option. A new, standard all-speed traction control system gives more confidence on slippery roads. The four-speed automatic transmission has been recalibrated and made stronger, and the torque converter is stiffer and stronger as well.
BEHIND THE WHEEL - Town Car now rides on a stiffened chassis that uses firmer body mounts to give a quieter ride. A revised steering system reduces the olds car's tendency for steering vagueness. Adding the Signature Touring Sedan package brings handling advantages over the other two Town Car models. Slightly larger tires with more grip, retuned suspension components that include thicker anti-roll bars, Tokico-brand monotube shocks and mildly stiffer coil springs keep it from excessive rolling and pitching, and a new Watts Linkage rear axle control system on all Town Cars increases the rear end's lateral stiffness and changes the roll center for the better. The front suspension's lower control arm bushings were stiffened to match, and the whole package destroys the myth that says Town Cars are destined to have pillowy, boulevard rides that are not exciting. The front brakes are 25-percent larger as well, and utilize a standard anti-lock braking system (ABS).
SAFETY - Dual dashboard and side airbags, ABS, traction control and side-impact door beams are standard.
OPTIONS - Signature Touring Sedan Package: $700; heated seats: $290.