New Car/Review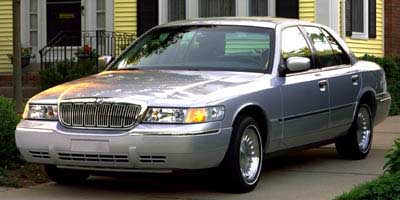 1999 Mercury Grand Marquis LS
By Tom Hagin

Mercury Full Line Video footage (7:17) 28.8, 56k, or 200k
SPECIFICATIONS

     Manufacturer's Suggested Retail Price              $ 24,120
     Price As Tested                                    $ 28,865
     Engine Type              SOHC 16-valve 4.6 Liter V8 w/SMFI*
     Engine Size                                 281 cid/4601 cc
     Horsepower                                   215 @ 4500 RPM
     Torque (lb-ft)                               285 @ 3000 RPM
     Wheelbase/Width/Length                  114.7"/78.2"/212.0"
     Transmission                           Four-speed automatic
     Curb Weight                                     3935 pounds
     Fuel Capacity                                  19.0 gallons
     Tires  (F/R)                        P225/60TRX16 all-season
     Brakes (F/R)                          Disc (ABS)/disc (ABS)
     Drive Train                   Front-engine/rear-wheel-drive
     Vehicle Type                        Six-passenger/four-door
     Domestic Content                                 80-percent
     Coefficient of Drag (Cd.)                              0.37

PERFORMANCE

     EPA Economy, miles per gallon
        city/highway/average                            17/24/21          
     0-60 MPH                                        8.5 Seconds
     1/4 mile (E.T.)                       16.5 seconds 85.0 mph
     Top speed                                           110 mph

     * Sequential multi-point  fuel injection

The Mercury Grand Marquis represents a breed of American car that is all but extinct. It's one of the last American mega-sedans built the traditional way: rear-drive, full frame and nearly two tons of steel.
Its buyers are loyalists, although their ranks are thinning, but the '99 version is the best Grand Marquis ever. It's available in GS and uplevel LS trim, which is the vehicle we evaluate this week.
OUTSIDE - Grand Marquis continues to be built on a chassis that began life in 1979, but it's been upgraded since then. The basic components are the same but the look has been changed dramatically. Over the years it was squared off, with sharp corners and creases and lots of chrome trim. The new Marquis uses tasteful amounts of the brightwork, with small strips around the side windows and the car's perimeter at knee-level. The big, toothy grille is chrome as well, but there is black trim around the front and rear windows. The car's corners have been rounded, which drops the coefficient of drag to .37. This would usually indicate liberal amounts of wind noise, but extra insulation, a near silent engine and special body mounts make it ride quietly. As part of an optional handling package, our tester featured 16-inch laced spoke alloy wheels and Goodyear performance tires.
INSIDE - There is room for six full-sized adults and our car featured optional leather seating surfaces over very soft material. Tailoring the driving position was made easy by power adjustments for the driver's seat along with power operation of the lumbar support. As is the case with most large cars, shorter drivers may have trouble seeing over the dashboard and across the long hood. The instrument panel is a flat plane that stretches from door to door, and uses a strip of faux wood trim that ties in with more of the material on the door panels. Its huge trunk can swallow prodigious amounts of luggage, while a cut-out just above the bumper makes loading that cargo simple. Our tester came with the optional Ultimate package that added a digital dashboard, power passenger seat, automatic climate control, premium sound system an auto-dimming inside mirror with a built-in compass.
ON THE ROAD - For decades, traditional "boulevard cruisers" almost always had traditional pushrod V8 engines and Grand Marquis bucks this doctrine only slightly. Its engine is a V8, but this is Ford's 4.6 liter single overhead cam "modular" engine that is shared by many of its auto and truck siblings. It's modular because it can be made into the mild 200-horse, 275 pound-feet of torque version of our test Mercury, or as elaborate as the 320-horse twin-cam version of the Mustang Cobra. A case in point is that when the dual exhaust of our test car's handling package is added, an extra 15 horsepower and 10 pound/feet of torque appears. This big, heavy car could use a shot of even more power, but the potential is always available through aftermarket parts. A four-speed automatic transmission is naturally the only gearbox choice.
BEHIND THE WHEEL - Not many passenger cars rest atop full-length frames. Trucks do, because it's rugged and dependable. Grand Marquis uses lots of special bushings to mount the cabin to it frame, so the ride and handling is smooth and composed. Its clone, the Ford Crown Victoria, is the choice of many law enforcement agencies around the country due to the rugged construction and its predictable handling. The suspension uses an independent front short-and-long A-arm layout, while the rear uses a traditional "live" rear axle. Coil springs, stabilizer bars and gas-pressure shocks are also used, but rear axle movement is controlled by a Watts linkage system. This is a race car-inspired device that utilizes a series of bars and crossmembers to keep the rear axle under precise control. Four-wheel disc brakes are standard, while an anti-lock braking system (ABS) is teamed optionally with traction control.
SAFETY - Dual airbags and side-impact beams are standard; ABS and traction control are options.
OPTIONS - Ultimate package: $2,400; leather seating: $735; six-disc CD changer: $350; handling package: $535; destination charge: $605.