New Car/Review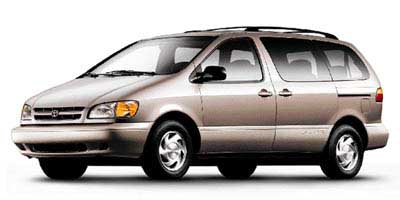 1999 TOYOTA SIENNA XLE
By Tom Hagin

TOYOTA Full Line video footage (7:17) 28.8, 56k, or 200k


SPECIFICATIONS

Manufacturer's Suggested Retail Price              $ 26,574
Price As Tested                                    $ 29,679
Engine Type              DOHC 24-valve 3.0 Liter V6 w/SMFI*
Engine Size                                 182 cid/2995 cc
Horsepower                                   194 @ 5200 RPM
Torque (lb-ft)                               209 @ 4400 RPM
Wheelbase/Width/Length                  114.2"/73.4"/193.5"
Transmission                           Four-speed automatic
Curb Weight                                     3997 pounds
Fuel Capacity                                  21.0 gallons
Tires  (F/R)                          P215/65R15 all-season
Brakes (F/R)                          Disc (ABS)/drum (ABS)
Drive Train                  Front-engine/front-wheel-drive
Vehicle Type                      Seven-passenger/five-door
Domestic Content                                        N/A
Coefficient of Drag (Cd.)                               N/A

PERFORMANCE

EPA Economy, miles per gallon
city/highway/average                            18/24/22          
0-60 MPH                                       10.0 seconds
Cargo volume (cu.ft)                         143 cubic feet
Maximum towing capacity                         3500 pounds
* Sequential multi-point fuel injection


The Toyota Sienna is that company's latest minivan and is based on the its popular Camry sedan. The CE version is the base Sienna, followed by the well-equipped LE. The top-line XLE offers all of the luxury minivan trappings, and is the model we test here today.
OUTSIDE - In size, Sienna could be called a mid-sized minivan. It's six inches longer and nearly three inches wider than its Previa predecessor, but its roof line is three inches lower. The hood and windscreen are sharply raked and are almost on a single plane. All the corners on the Sienna are rounded. To beef up the chassis and to increase rigidity and crash protection, the Toyota uses high-strength steel sheets in its unibody construction. Its dual sliding side doors are almost the minivan standard these days but in addition, the passenger-side slider is available with an optional power assist. XLE versions enjoy two-tone paint and a set of alloy wheels, along with a roof rack.
INSIDE - The Sienna is car-like in drivability. The driving position is just right and the view outside is panoramic. Everything falls nicely into place but we'd like to see a memory feature offered on the power seats. Minivans are frequently driven by many family members and it takes a wait for the seat to power back. The seats are modular, so they can move around, be removed completely or folded flat into tables. Ample storage nooks, cupholders galore, extra power ports and a pair of bottle holders makes Sienna a handy vehicle. The dashboard and its controls are functional and simple to use, though we found the location of the stereo very low in the dash. Fortunately, this year a set of steering wheel audio controls have been added. Also new this year are optional dual integrated child seats on all but XLE models. Standard XLE features include dual air conditioning, rear defogger, power windows, door locks and outside heated mirrors, as well as a high-power AM/FM/Cassette/CD system, cruise control, intermittent front and rear wipers, power driver's seat and first and middle row captain's chairs.
ON THE ROAD - The Sienna uses Camry's 194 horsepower, 3.0 liter V6 engine which features dual overhead camshafts and 24 valves, along with multipoint fuel injection and a variable intake system. Its smooth power delivery and instant throttle response is impressive, and its exhaust note is music to the ears. It also produces 204 pound-feet of torque and can tow up to 3500 pounds, which is around the weight of a small boat or camp trailer. Fuel mileage is acceptable, as we averaged just over 21 miles per gallon over a long holiday weekend, but Toyota recommends pricey high octane premium fuel. A four-speed automatic is the only transmission available and is operated electronically. We'd like to see a traction control system offered for increased wet weather grip - even if it's optional.
BEHIND THE WHEEL - Sienna is built in Georgetown, Kentucky, alongside the high volume Camry. They share many underbody parts, including the MacPherson strut front suspension. Sienna, however, uses a torsion beam in back, instead of the Camry's dual-link independent layout. This is a result of price and packaging constraints, and Toyota has done a great job of refining Sienna's ride to feel much like that of its sedans. Even with a full load aboard, the ride is relatively nimble by minivans standards, and the steering gives the feeling of being well-connected to the road. And since XLE versions receive larger tires than the two lesser types, road grip is slightly better. Standard on all models is a low tire pressure warning system, which works in conjunction with the computer system to warn of a tire air pressure loss. Front disc and rear drum brakes are standard, as is an anti-lock braking system (ABS). Rear disc brakes aren't available, although they were used on some Previas in years gone by.
SAFETY - Dual airbags, ABS, side-impact beams and a tire pressure warning system are standard. The front seat belts use pre-tensioners.
OPTIONS - Leather-trimmed seating and power sliding right-side door package: $1805; Power moonroof: $880.