New Car/Review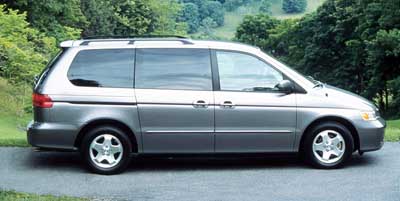 1999 HONDA ODYSSEY EX
By Tom Hagin

HONDA Full Line video footage (19:03) 28.8 56k, or 200k


SPECIFICATIONS

Manufacturer's Suggested Retail Price              $ 25,800
Price As Tested                                    $ 26,364
Engine Type            SOHC 24-valve 3.5 Liter V6 w/PGM-FI*
Engine Size                                 212 cid/3471 cc
Horsepower                                   210 @ 5200 RPM
Torque (lb-ft)                               229 @ 4300 RPM
Wheelbase/Width/Length                  118.1"/75.6"/201.2"
Transmission                           Four-speed automatic
Curb Weight                                     4317 pounds
Fuel Capacity                                  20.0 gallons
Tires  (F/R)                           215/65R16 all-season
Brakes (F/R)                          Disc (ABS)/drum (ABS)
Drive Train                  Front-engine/front-wheel-drive
Vehicle Type                      Seven-passenger/five-door
Domestic Content                                 70 percent
Coefficient of Drag (Cd.)                               N/A


PERFORMANCE

EPA Economy, miles per gallon
city/highway/average                            18/26/23          
0-60 MPH                                       10.5 seconds
Cargo capacity                               135 cubic feet
Towing capacity                                 3500 pounds

* Programmed fuel injection

The highly profitable minivan segment of the auto industry is not a place to experiment. But that's what Honda did when they entered the game. Its first Odyssey was OK, but undersized and underpowered. The new Odyssey is different. It's big, powerful, has a five-star safety rating and an acceptable price. It's also full of thoughtful touches. As with most of the Honda line, it comes in LX and uplevel EX trim, and is selling very well. This week we test an Odyssey EX.
OUTSIDE - Since the company had no vehicle larger than its compact Accord on which to base a new vehicle, it was forced to create a new chassis from scratch. Neither could it simply stretch the old model, which was 14 inches shorter and five inches narrower. It had the competition set squarely in its sights, so not coincidentally, its dimensions are nearly identical to the current version of the domestic minivan that practically invented the segment. In true minivan fashion, the Odyssey features a wedge shape with a large, raked-back windshield. Its dual sliding side rear doors are powered, and can be operated by either pulling the door handles, by pushing one of two buttons on the key fob or via a dashboard-mounted button. EX models like our tester come fitted with 16-inch alloy wheels and all-season tires.
INSIDE - Much of the focus with minivans centers around the interior. Vast expanses of glass (flush and tinted in back), give it an open, airy feeling. Seating and storage flexibility is the best feature of Odyssey's interior, with space for seven passengers and many different seating arrangements. Three-point safety belts and headrests are provided for all seven as well. Its rearmost seat is designed to fold and tumble neatly into a well in the rear compartment, opening lots of cargo space. And by removing the center seats, there is enough room for 4X8 sheets of wallboard. Standard interior features on EX models include front and rear air conditioning, an AM/FM/CD stereo, eight-way power driver's seat, steering wheel audio controls, HomeLink transmitter, power windows, door locks and outside mirrors, cruise control, variable intermittent wipers and much more.
ON THE ROAD - Honda raised the bar on minivan power, too. Under the short hood is a 3.5 liter V6, with single overhead camshafts and 24 valves. Its 210 horsepower leads the minivan class, and its smoothness is nearly in a class by itself. It also produces 229 pound-feet of torque, and offers nearly 90 percent of this torque at a low 2000 rpm. It accelerates very well, and if properly equipped, can tow as much as 3500 pounds. The engine features Honda's VTEC variable valve timing system, which allows for optimum fuel and emissions efficiencies at low revs and more power as engine speeds rise. Mated to this is a four-speed automatic transmission (the only gearbox available), with Honda's Grade Logic, a system that uses the vehicle's computer to match shift points to a driver's driving style.
BEHIND THE WHEEL - Odyssey's stiff unitized body is reinforced with seven underfloor crossmembers, all interconnected to the roof pillars and ceiling supports. Its four-wheel independent suspension uses strut- type components up front and a multi-link setup in back. This rear system is very compact, which made more interior space available and allowed the body to be lowered on the chassis for increased stability. Another neat feature is the location of the spare tire: it's packaged neatly in a well behind the front seats. The Odyssey's ride is smooth, with minimal noise and vibration entering the cabin. It also uses a precise rack-and-pinion steering system which is neither too light nor too heavy. Front disc and rear drum brakes with a four-wheel anti-lock braking system (ABS) are standard and feature a brake distribution system. This device senses where the weight is placed inside the vehicle, then compensates braking force so the rear wheels won't lock up if little weight rests over the tail. Traction control is standard.
SAFETY - Dual airbags, ABS, traction control and side-impact door beams are standard.
OPTIONS - Floor mats: $149; Destination charge: $415.