New Car/Review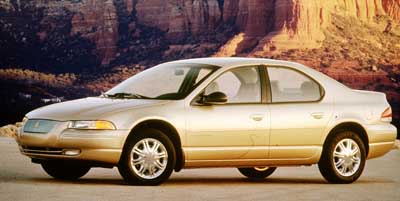 1999 CHRYSLER CIRRUS LXi
By Tom Hagin


SPECIFICATIONS

Manufacturer's Suggested Retail Price              $ 19,460
Price As Tested                                    $ 20,775
Engine Type              SOHC 24-valve 2.5 Liter V6 w/SMFI*
Engine Size                                 152 cid/2497 cc
Horsepower                                   168 @ 5800 RPM
Torque (lb-ft)                               170 @ 4350 RPM
Wheelbase/Width/Length                  108.0"/71.7"/187.0"
Transmission                           Four-speed automatic
Curb Weight                                     3179 pounds
Fuel Capacity                                  16.0 gallons
Tires  (F/R)                          P195/65R16 all-season
Brakes (F/R)                          Disc (ABS)/disc (ABS)
Drive Train                  Front-engine/front-wheel-drive
Vehicle Type                       Five-passenger/four-door
Domestic Content                                 70-percent
Coefficient of Drag (Cd.)                              0.31


PERFORMANCE

EPA Economy, miles per gallon
city/highway/average                            19/27/23          
0-60 MPH                                       10.0 Seconds
1/4 mile (E.T.)                       18.0 seconds 79.5 mph
Top speed                                           120 mph

* Sequential multi-port  fuel injection

It's been four years since the Chrysler Cirrus became available. And while its overseas rivals are de-contenting their vehicles to make them more price-competitive, Daimler/Chrysler is bucking that trend.
OUTSIDE - Even after being on the market for so many years, Cirrus has a unique, bold style. It is one of the shortest and widest cars in its class, with a modern look that has not yet dated itself. Its cab-forward shape identifies it as a Chrysler product with its large cabin, long wheelbase and stubby, yet spacious trunk. The tires are slipped to the outer edges of its wheel wells, which makes it look wider than it is. Its nose is slightly overstyled and bulbous, but contributes to its overall character. Trunk space is cavernous, easily swallowing suitcases and grocery bags with room to spare. New this year is a winged emblem across the grill, along with a couple of new exterior colors, bringing the total color choice to ten. Chrome wheelcovers that look like expensive alloy wheels are also new for '99, though customers wanting alloy wheels have the choice of two different optional versions.
INSIDE - Cirrus is very roomy inside, easily accommodating four adults comfortably. Adding a third passenger to the back seat makes things somewhat tight, but not uncomfortable. Its expansive windshield makes for a great view forward, and the seating position affords short and tall drivers a commanding view. The seats are comfortable and supportive, but between the front seats there is a console with little storage space. However, there are bins and pouches elsewhere in the car in which to store other items. This year a revised dashboard adds new graphics to an already-pleasing arrangement of controls, switches and knobs. Standard features include air conditioning, power windows, door locks and outside mirrors (which are also heated), leather seating, a power driver's seat, keyless entry, rear defroster, a folding and lockable rear seat, and a six-speaker, AM/FM cassette stereo.
ON THE ROAD - Cirrus is powered by a 2.5 liter, single overhead cam V6 engine. Built by Mitsubishi, it produces 168 horsepower and 170 pound-feet of torque. It's an adequate powerplant, only slightly disappointing immediately off the line, and it seems to deliver its best power at high rpms, though that's when it produces the most noise. What that means is that drivers will hear a bit of engine thrashing if the need arises to accelerate hard - an example of which would be a hurried merge into high-speed freeway traffic. It's smooth around town, however, and that's when smoothness counts the most. Mated to this is a four- speed automatic transmission, the only gearbox available. We'd like to see some sort of wet-weather traction control system added, along with the sporty AutoStick gear-changing system wherein the driver can operate the automatic transmission somewhat like the manual transmission operations.
BEHIND THE WHEEL - Handling is one of the strong points of the Cirrus. Connected to its unit-body chassis is a unique four-wheel independent suspension layout. Most cars in its class use inexpensive strut-type suspension up front and a simple twist-beam rear axle. Cirrus, however, features a modified double wishbone suspension system, coil springs, tube shocks and anti-roll bars front and rear. This allows it to stay flat in corners, with lots of tire grip and very little understeer. Revised suspension tuning for '99 has given it a smoother ride as well, reducing the amount of kickback over bumps that has proven noticeable on previous Cirrus models. Its speed-sensitive rack-and- pinion steering is responsive and light enough to give good road feel, without a lot of effort from its driver. Also new this year are four- wheel disc brakes, replacing the disc/drum setup of previous models. Many cars costing close to Cirrus' price do not have four-wheel disc brakes, a safety feature that reduces brake fade and increases stopping power. A four-wheel anti-lock braking system (ABS) is standard.
SAFETY - Dual airbags, side-impact door beams and ABS are standard.
OPTIONS - Pearl coat paint: $200; engine block heater: $30; in-dash, six-disc CD changer: $550; destination charge: $535