New Car/Review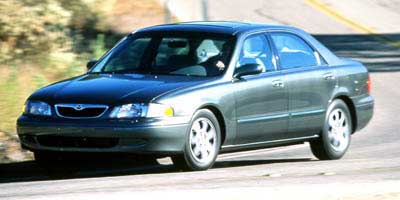 1999 Mazda 626 LX V6
By Tom Hagin


SPECIFICATIONS

     Manufacturer's Suggested Retail Price              $ 19,065
     Price As Tested                                    $ 22,560
     Engine Type               DOHC 24-valve 2.5 Liter V6 w/MFI*
     Engine Size                                 152 cid/2497 cc
     Horsepower                                   170 @ 6000 RPM
     Torque (lb-ft)                               163 @ 5000 RPM
     Wheelbase/Width/Length                  105.1"/69.3"/186.8"
     Transmission                              Five-speed manual
     Curb Weight                                     3019 pounds
     Fuel Capacity                                  16.9 gallons
     Tires  (F/R)                                      205/60R15
     Brakes (F/R)                          Disc (ABS)/disc (ABS)
     Drive Train                  Front-engine/front-wheel-drive
     Vehicle Type                       Five-passenger/four-door
     Domestic Content                                 65 percent
     Coefficient of Drag (Cd.)                               N/A

PERFORMANCE

     EPA Economy, miles per gallon
        city/highway/average                            21/27/24         
     0-60 MPH                                          8 seconds
     1/4 Mile (E.T.)                         17 seconds @ 79 mph
     Top speed                                           130 mph

     * Multi-point fuel injection

The character of Mazda has changed a lot during the past decade. Gone is the rotary engined and rocket-like RX7 Turbo sports car and gone too is the perceived promotional value of a rotary-powered Mazda sports-racer winning the prestigious 12 Hours of Le Mans endurance race in France. Mazda now is in the business of making passenger cars for families and a "personal" roadster for upscale Generation X'ers.
The 1999 Mazda 626 is typical of this Mazda restructuring mindset. This conservative sedan is available in LX and uplevel ES trim, with either a four cylinder or V6 engine. Today, we drive the LX-V6.
OUTSIDE - In this category of vehicle, flashy graphics, aggressive tires and protruding spoilers are simply not part of the picture. The smooth, rounded shape of the 626 is relatively unobtrusive, not unlike its direct competitors, but quite aerodynamic and effective. Its chrome-trimmed grille offers a feeling of reserve, and recalls the nose of Mazda's Millenia sedan, while chrome surrounds the side windows. It's rounded and smoothed in all the right places, and it's styling comes off as restrained. While the lesser four-cylinder 626 version has 14-inch steel wheels with wheelcovers, our test LX model featured 15-inch aluminum wheels and 205/65 tires found in the Premium Package option.
INSIDE - The positioning of the front seat is low and shorter drivers will appreciate the infinitely adjustable power-driven front seats that can be raised an lowered to suit the needs of almost all drivers. There's lots of legroom up front and plenty of width in the back seat for two big people, but don't expect to transport three adults back there in comfort. Like others in its class, massive amounts of room for three across in back doesn't exist. Our LX model test car also had optional leather upholstery covering amply padded seats. The Premium Package adds a power glass moonroof, anti-theft system, Bose-brand audio with a CD, and alloy wheels. It had variable speed intermittent wipers, air conditioning, rear defroster, cruise control and keyless entry, as well as power windows, door locks and outside mirrors.
ON THE ROAD - A 125 horsepower four cylinder engine powers half the 626 lineup, while a 2.5 liter V6 propels the top two models. Our tester came with the V6 engine, which gives silky-smooth power delivery at all but the highest rpms. It uses dual overhead camshafts and four valves per cylinder to produce 170 horsepower and 163 lb-ft of torque, a bit low for cars in this class. But these power figures belie its more than adequate performance, as we achieved nine-second 0-60 MPH times in test runs. Passing power is good as long as the engine RPMs kept high, and we particularly enjoyed the healthy rap from its twin-tipped exhaust pipes. Transmission choices are a standard five-speed manual, which transforms the 626 into a hot-performing sports sedan, or an optional four-speed automatic which is the obvious choice for family use. Traction-control is an option.
BEHIND THE WHEEL - The 626 was all-new last year, with a 3.3-inch wheelbase stretch, a 2.4-inch longer body, and a bit less than a half-inch more width. Height remained the same. Mazda strengthened the chassis over the '97 model, with a 32 percent increase in bending resistance and 43 percent more torsional stiffness. It uses MacPherson strut front suspension with coil springs, tube shocks and an anti-roll bar, while the rear is also independent with what Mazda calls its Twin Trapezoidal Link system. Coil springs and another stabilizer bar round out the underpinnings. It is relatively softly sprung, so the ride is smooth and stable. Large bumps can unsettle the stable ride, more so with a full load aboard. It stays flat in tight corners, exhibiting understeer and plowing when the corners got too radical. All 626 Mazdas have speed-sensitive rack-and-pinion steering and on V6 models, disc brakes are found on all four corners. An anti-lock braking system (ABS) is optional.
SAFETY - Dual airbags, side-impact protection are standard, while ABS and traction control are options.
OPTIONS - Premium package is $2,095 ABS and traction control $700.