1999 Cadillac Seville STS Review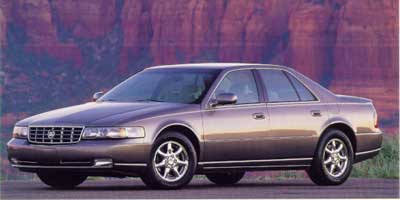 SEE ALSO: Cadillac Buyer's Guide
by Carey Russ
Cadillac has long been the quintessential American luxury car maker, but has had little presence outside of U. S. borders. The newest Seville is designed to change that. Cadillac market research for the car involved potential customers in Europe and Asia as well as the U.S., and right-hand drive versions will be sold in Japan, Great Britain, South Africa, Singapore, and Hong Kong. To underscore Cadillac's international intent, the Seville's debut was not in the U.S., but in Germany, at the 1997 Frankfurt International Auto Show.
Although the new Seville is stylistically an evolution of its predecessor, there are major changes under its skin. It uses the third generation of GM's "G" large-car architecture, a much more modern and rigid structure than the old Seville platform, for improved suspension control and ride quality, lower noise levels, and better fit and finish to body and interior panels. Power is still supplied by the world-class "Northstar System", which integrates powertrain and chassis components for smooth, efficient performance. The new Seville is still offered in SLS and STS form, with the softer SLS tuned for more traditional American tastes and the STS set up to do battle with the imports, using all of the latest technology in Cadillac's arsenal.
How international is the new Seville? I tested an SLS about a year ago and found it to be a good American highway cruiser. More recently, I spent a week with a 1999 STS. It's a luxury sedan, not a sports sedan, with a cosmopolitan American character. The components of the Northstar System are equal to any equivalents in the world, and the level of technology found in the STS surpasses the competition in many areas. What's more American than technology, after all? For the moneyed but value-minded, the STS has more room than any equivalently-priced import competitors. The STS faces strong competition with its own unique character and strengths.
APPEARANCE: A compliment to its designers, the latest Seville looks smaller than it actually is. Unlike some Cadillacs of the past, today's Seville is elegantly conservative in style, not at all flashy. It is an evolutionary development of the previous-generation car, softer and more rounded without losing the Cadillac edge. The undercut shoulder line, blending into the abruptly-cut tail, establishes continuity with the previous Seville. The STS is distinguished by its body-colored eggcrate grille.
COMFORT: The STS is most international in its interior styling and layout. A contemporary design with a medium gray-over-cream color scheme and a tasteful amount of wood trim, it imparts a feeling of spaciousness. Unlike some Cadillacs of the past, the STS is meant for active driving, and careful instrument and control placement enhances the driver's experience. Electroluminescent instruments are easily read in any light. The front buckets are wonderfully comfortable and feature shoulder straps anchored to the seatback for automatic height adjustment. The rear bench is contoured for two, and will hold three adults. Perforated leather seating areas keep passengers cool in warm weather, and optional heating for all outboard seats helps winter warmth. Massaging lumbar front seats are an interesting option. Convenience is a large part of the luxury experience, and practical storage areas and a console-mounted CD changer score high. A ski passthrough in the rear seat can be useful; a diagram for stowing four golf bags in the trunk shows that Cadillac knows its market.
SAFETY: The 1999 Cadillac Seville STS is designed for both active and passive safety, with high-performance suspension, traction and stability control, powertrain, and antilock braking systems, a sturdy safety cage around passengers, and front and side airbags.
ROADABILITY: Nowhere does the STS's technology shine as brightly as in its chassis. "Continuously-Variable Road-Sensing Suspension" sets shock damping in real time. Road texture detection helps optimize braking efficiency. The Stabilitrak stability control system combines a yaw rate sensor and lateral accelerometer with the suspension, steering, ABS, and traction control systems to enhance driver control in hard cornering situations such as emergency maneuvers. The STS's suspension tuning is firmer than that of the SLS, a luxury-comfort calibration very similar to the best European luxury cars. The STS is supple and comfortable enough for American highway tastes, and is one of the better luxury cars made - anywhere - when the road gets interesting.
PERFORMANCE: The Northstar V8 is a gem. In STS tune it makes 300 horsepower and 295 lb-ft of torque, slightly more horsepower and less torque than in the SLS. More importantly, the STS has a more performance-oriented final drive ratio for quicker acceleration. It reaches 60 mph about a second quicker than the SLS. The 4-speed automatic transmission is enhanced by "Performance Algorithm Shifting" (PAS), a software program that works in concert with the Stabilitrak hardware and software to choose the correct gear in real time, as opposed to the multi-mode or adaptive systems used by other automakers. It works well in performance driving.
CONCLUSIONS: Cadillac is serious about being a player in the world luxury car field, and the Seville STS is showing the way with space, comfort, and technological innovation.
SPECIFICATIONS

Base Price
$ 48,050
Price As Tested
$ 53,892
Engine Type
dual overhead cam, 32-valve aluminum alloy V8
Engine Size
4.6 liters / 279 cu. in.
Horsepower
300 @ 6000 rpm
Torque (lb-ft)
295 @ 4400 rpm
Transmission
4-speed electronically-controlled automatic
Wheelbase / Length
112.2 in. / 201 in.
Curb Weight
4001 lbs.
Pounds Per Horsepower
13.3
Fuel Capacity
18.5 gal.
Fuel Requirement
unleaded premium (regular permissible with diminished performance)
Tires
P235/60 ZR16 Goodyear Eagle LS
Brakes, front/rear
vented disc / solid disc, antilock standard
Suspension, front/rear
independent MacPherson strut / independent multilink
Drivetrain
front engine, front-wheel drive

PERFORMANCE

EPA Fuel Economy - miles per gallon
city / highway / observed
17 / 26 / 19
0 to 60 mph
6.7 sec
1/4 mile (E.T.)
15.1 sec
Coefficient of Drag (cd)
0.31

OPTIONS AND CHARGES

Sunroof
$1,550
Chrome wheels
$795
Crimson pearl exterior color
$650
Convenience package - includes:
electronic compass mirror, heated front and rear seats, garage door opener
$632
Wood trim package - steering wheel and shift knob
$595
In-console 6-CD changer
$500
Goodyear Eagle LS tires
$250
Massaging lumbar seats
$200
Destination charge
$670