New Car/Review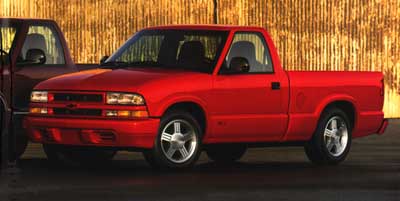 SEE ALSO: Chevrolet Buyer's Guide
1999 Chevrolet S-10 LS Xtreme TM
by Carey Russ

Chevrolet Full Line Video footage (122:43) 28.8, 56k, or 200k
"Variety" is the name of the game with pickup trucks, and Chevrolet's S-10 compact pickup is no exception. Offered with regular or two- or three-door extended cabs, four cylinder or V6 engines, standard "Fleetside" or retro-look "Sportside" cargo boxes, two- or four-wheel drive, two trim levels and plenty of options, there is an S- 10 for just about every pickup need. But that's typical for pickup trucks. What is unusual is the 1999 Chevrolet S-10 Xtreme(tm). The Xtreme one-ups the competition with custom style and high- performance handling in a factory truck.
The Xtreme is the direct descendent of the "Hugger" concept truck that toured the auto show circuit a few years ago. It adds special body and suspension parts that give it a contemporary street rod look and sports car handling. Technically, the Xtreme is not a separate model, but an option package. So, it may be had on any two-wheel drive S-10. That means regular or extended cab, 120-horsepower 2.2- liter four or 180-hp V6 engines, five-speed manual or four-speed automatic transmissions, and either trim level or cargo box.
What you get with the Xtreme package is a custom truck with a full factory warranty. The package includes the ZQ8 performance suspension that also lowers the ride height two inches, 16-inch alloy wheels and low-profile performance tires, body-colored grille and bumpers, and "ground effects"-look trim pieces.  It's not quite low enough to be truly "slammed", but if your vocabulary includes the term "approach angle", look at the ZM6 heavy-duty 4x4 off-road package, not this one. On the other hand, if "e.t." means something to you other than a lost alien movie character, this may be your truck.
I've just spent a week with an LS trim level, extended-cab, V6 Xtreme. Surprise! It's one of the most unusual-looking sports cars I've ever driven, and has a considerably larger trunk than any sports car I've ever driven. Sports car? Don't argue, just head down the nearest well- paved twisty road and see. The ZQ8 suspension works wonders within its limits. The Xtreme package turns heads, too.
APPEARANCE:  The recipe is simple. Take one S-10 truck, and lower it two inches.  Add a low (low) front air dam with fog lights and matching fender flares, "ground effects" lower side cladding, and rear bumper. Remove all chrome except for around the headlights and the"Xtreme" badging on the sides, and paint in monochrome color scheme in red, white, or black. For best effect, use the "Sportside" bed with its narrow box and bulging fenders - this vehicle is about style, not cargo capacity. But the "Fleetside" looks good, too. Don't even think about a camper shell on it! The regular cab looks sportier, but the extended cab offers more useful space.
COMFORT:  Inside, the Xtreme is the same as any S-10 of the same trim level. The S-10's interior was redesigned for the 1998 model year. The contemporarily-styled instrument panel has easily readable gauges and well-marked controls. It is comfortable and convenient, with plenty of useful features. My LS has comfy, cloth-upholstered bucket seats and a handy floor console. The map pockets in the doors have integrated drink bottle holders, a useful feature. The rear area of extended-cab S-10s has sideways-mounted folding jump seats but is better used for cargo stowage. This particular truck does not have the third, driver's side rear door, and it is sorely missed, as three (or four) door extended cab pickups are amazingly convenient.
SAFETY:  Every 1999 Chevy S-10 has dual "Next Generation" airbags with a passenger-side deactivation switch, 4-wheel antilock brakes, the "Passlock" theft-deterrent system, and side-guard door beams.
ROADABILITY: The Xtreme's ZQ8 sport suspension package includes de Carbon shock absorbers, stiffer springs, larger stabilizer bars, and 16-inch alloy wheels shod with 235/55 Goodyear Eagle GA tires. The ride height is lowered two inches. The result is sports car- like handling and a vintage sports car ride quality. This is not as surprising as one may think. The S-10's chassis specification -- independent double wishbone front and solid axle rear suspension and ladder frame with separate body -- is the same as that of most British sports cars through the early 1960s. Cornering on smooth surfaces is surprisingly good, with very little body roll. On bumpy pavement, the solid axle and stiff suspension are less than comfortable. But this is a sport vehicle aimed at a young buyer who can appreciate it for what it is. And there's plenty to appreciate.
PERFORMANCE: If the Xtreme's ride is vintage British, its acceleration with the optional 180-horsepower, 4.3-liter Vortec V6 is good old All-American muscle. It's not quite one of the NHRA Pro Stock drag racers it resembles, but this little truck moves. The V6 has plenty of low-end torque for quick acceleration from a standstill and doesn't run out of steam until above highway speeds. The 4-speed automatic in my test truck was appreciated in traffic, but  the 5-speed manual gearbox would give even better performance.
CONCLUSIONS: The 1999 Chevrolet S-10 Xtreme is an interesting factory custom truck.
SPECIFICATIONS

Base Price               $ 15,370
Price As Tested          $ 22,807
Engine Type              12-valve pushrod overhead valve V6
Engine Size              4.3 liters / 262 cu. in.
Horsepower               180 @ 4400 rpm
Torque (lb-ft)           245 @ 2800 rpm
Transmission             4-speed electronically-controlled
                          automatic
Wheelbase / Length       122.9 in. / 204.7 in. (extended cab)
Curb Weight              3216 lbs.
Pounds Per Horsepower    17.9
Fuel Capacity            19 gal.
Fuel Requirement         unleaded regular, 87 octane
Tires                    P235/55 R16 Goodyear Eagle GA
Brakes, front/rear       vented disc / drum, antilock standard
Suspension, front/rear   independent double control arm  /
                          solid axle with 2-stage leaf springs
Drivetrain               front engine, rear-wheel drive 

PERFORMANCE
EPA Fuel Economy - miles per gallon
    city / highway / observed      17 / 22 / 18
0 to 60 mph                        7.9 sec
1/4 mile (E.T.)                    16.0 sec

OPTIONS AND CARGES
Deep tinted glass                            $   115
Reclining highback bucket seats              $    291
Sportside body                               $    475
L35 Vortec 4300 V6 engine                    $ 1,349
4-speed automatic transmission               $ 1,070
AM/FM/cassette sound system                  $      80
Tilt steering wheel and speed control        $    395
Power locks, windows, mirrors                $    795
Preferred equipment group 1SE - includes:
  Xtreme sport package - includes:
    ZQ8 sport suspension, 16-inch aluminum wheels & P235/55 tires,
    body-colored grille & bumpers, unique front fascia, foglamps,
    special     badging, air conditioning, tachometer, leather-wrapped
    steering wheel  AM/FM/cassette sound system from above
                                             $ 3,097
Bow tie bonus savings                      -($   750)
Destination charge                           $    520

SIDEBAR: VOCABULARY BUILDER
OK, you may wonder about some of the terminology in this week's test. For those many readers who think of "e.t." as a lovable alien from a movie, here are some definitions:
E.T. - an abbreviation for "elapsed time", used primarily in drag racing. A car's e.t. is the time it takes for an acceleration run down a drag strip of (usually) a quarter mile in length. The average street car does this in about 16 to 18 seconds, with a speed of  maybe 60 to 80 mph at the end. Top fuel dragsters do it in under four seconds, with a speed in excess of 300 mph at the end.
Approach angle - is an off-road driver's term for the maximum slope that a vehicle may approach from horizontal without scraping important items in the front. "Departure angle" is similar, and refers to the maximum slope angle the vehicle may descend from without damaging its rear end. These measurements are important in serious off-road driving. A vehicle with good approach and departure angles can traverse bumps, gullies, and hills that will cause a vehicle with lesser approach and departure angles to get stuck.
     High ground clearance and short overhangs enhance approach and departure angles. Since the S-10 Xtreme has low ground clearance and a low, hard spoiler in the front, its approach angle is closer to that of those notoriously driveway-unfriendly vehicles, the Corvette (just about any Corvette) and 1993 to 1997 longnose Camaro, than a 4x4 pickup. Sports cars will be sports cars, after all. Just take it slow and easy on steep hills, parking lot entrances, and driveways.
Slammed - customizer lingo for extremely lowered.