SAAB BACK AT LEMANS!
NICHOLAS FRANKL
European Correspondent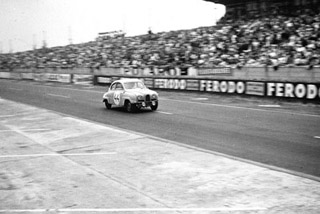 When I called the ever helpful and efficient Press Dept at Saab UK, and asked if I could have one of their sleek new 95 estates, in two days time, to go to Le Mans, they simple said yes. We would love to go back. Go back? I enquired, not being familiar with Saab's Le Mans racing history. Yes back to where our 2 stroke Saab 96 raced in 1959 came the reply.
I wasn't looking for a new lap record of the 13 Km La Sarthe. Just a comfortable tourer to soak up the miles, plus luggage for two, a couple of sleeping bags and a wash kit. Le Mans, you may not know, is actually annexed to Britain for 96 hours every June as 100,000 Brits invade the lush fields and thick forests with all manner of automotive and camping apparatus. For four days or so, a cocktail of new 'n old, cheap 'n not so cheap, fast and very fast cars, bikes and even trucks descend on this town 100 miles south east of Paris, for the automotive equivalent of a pilgrimage to Mecca.
Travelling around the assorted camp sights, you cannot help but be truly amazed at the depth of motor racing support. These thousands are here for the racing, well and the beer 'n sausages, but certainly not because some blue chip company has invited them to wine, dine and camp. No way. This is their passion, this is what makes their hearts beat just that little bit faster and for 24 glorious hours all they can see, hear and smell are fabulously noisy cars going very, very fast.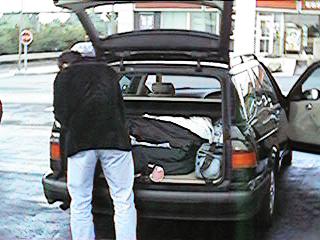 The 95 was to be the workhorse of the weekend. Filled to the brim with various odds and sods that you feel might be necessary on a motoring "expedition" if either a Mediterranean Typhoon were to sweep through the event or a 120° Saharan sand storm. Of course the only thing we really needed, a gallon of fresh water with which to wash and clean ones teeth, was carefully forgotten in Blighty. Off to Le Shuttle we went, and immediately both my Co-driver Baron and I were struck by just how good Saabs are these days. If you haven't driven one for a while like me, you cannot help but notice how Germanic (and here it's meant as a compliment) they now are. The shut lines are excellent, the interior tasteful and well appointed, with walnut veneer facia and leather interior on this SE model, plus electric seats and an excellent sterio with CD player too.
Now it takes more than just a loaded goody bin to make a fine automobile, just ask the Proton or Daiwoo gang. What is important, particularly when entering a petrolhead zone like Le Mans, is to have the mustard and respect to play with the Eurotrash. I must be honest, for £26,800 I do expect a little more go than what I was offered by the 2.3 light pressure turbo block at the business end. Yes we did cruise very happily at 110mph, but considering we were only two-up with not that much weight in the back, the cars acceleration was sluggish and certainly hills weren't much fun. If I had used all the available 5 seats and added luggage and maybe the odd bicycle, then I think the performance might have been pretty poor. The answer is to go for the V6 or the tuning version of the 2 litre which ups the power from 150bhp to a commendable 190bhp. I assume this means that the pressure from the turbo is no longer "light".
But your wallet will be - some £825!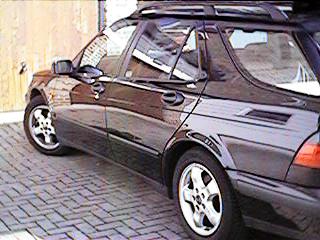 The chassis is good. Compliant to the steering inputs, which are direct and not too light, the neutral feeling of the car is carried through to handling, which is responsive both around town and at speed. The tendency is as you'd expect. Towards understeer, but the car shod on 16ins alloys and lower profile Michelins, remains stable and passive, until really pushed.
Inside the car is a delight. Extremely quiet at high speed, aided by a low CD figure, and very comfortable. The seats are electrically adjustable and a pleasure over long runs. I drove for 31/2 hours on one leg and didn't have an ache to grumble about. Controls fall easily to hand and are well spaced and easy to use. The AC is excellent and once set doesn't have to be touched again. One of the best innovative features is the night panel. This turns off all ancillary dials and lights apart from the speedo. But when the fuel gets low, the gauge automatically lights up to warn you. The result is far less glare from the dash when night driving, especially useful on motorways and one of the best passive safety items I have come across- you know not having an accident in the first place due to loss of concentration or tiredness is far better than being saved by 6 airbags after you've had one.
Overall the Saab 95 is a strong contender in this fearcly competitive sector, which Volvo likes to call it's own. Cheaper than Mercs and Beemers, the Saab can hold it's own. Granted It doesn't have the street cred for the socially insecure, and the engine is a bit gutless. But with the V6 option you have a very competent package, with good design and functional performance. Isn't that the idea of a family estate?
SAAB 95 Estate

Price           £26,795
BHP             170
0-60            9.5 secs
Top speed       130mph