New Car Review
Cougar
Ford's Coupe With Style
Nicholas Frankl
European Corrspondent

Ford Full Line factory footage (14:26) 28.8, 56k, or 200k
Puma - a small wild cat found mainly in North America.
Cougar - Found in USA. Also known as Puma or Panther?
What's next The Lion King?
Ford, the world's pre-eminent car designer, has done it again. Forget the crap about "luxury is a right not a privilege" , try some balls in the design department GM! The front engined, Mondeo based coupe is the car Ford hope will continue the trend towards acceptance of the"new edge design". Why? Well, because what Ford's bean counters really care about is the success of the forthcoming Focus - the Escort replacement. If the Ka, Puma and Cougar sell a few units in the mean time then that's great too. Certainly this shouldn't present too much of a problem for Ford's specially appointed Coupe dealers who are tasked with shifting a meagre 7000 units a year across two engines, the V6 2.5 Duratech and the 4-cylinder 2-litre Zetec.
| | |
| --- | --- |
| Both engines will power identical cars, all will come equipped with stunning alloy wheels wrapped in low profile tyres. Colour co-ordinated bumpers, electric windows, mirrors and drivers seat, plus ABS, leather, and dual airbags. I drove the V6 recently in Germany across a range of Autobahns and mountain twisty bits. The car is quiet, comfortable (for at least two) and quick. With a top speed of over 135mph and a decent, if not overly impressive, 0-60 of 8.0 sec's the car is a fair performance package. To turn it into a great one all Ford need do is plumb the Jag V8 super-charger in and WOW, the car would still look the business and perform like a super car. | |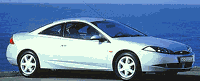 It feels wider than it is, deceptively so, this Cougar, but the balance is good and safe, maybe too safe in fact for any real fun 'n games. Here, understeer is what you get and there ain't nothing you can do to change it. Although shod on excellent Michelins, the car is 20% stiffer than the ST24 and certainly steers round corners very neutrally. The steering itself is light on feel and a bit heavy on response, the gear box smooth but not special - the fifth ratio being particularly long on throw and a little notchy. The engine sounds good, but the power surge never really matches the crescendo. To be frank- the V6 Mondeo unit feels a lot quicker. Although I'm assured that it isn't.
| | |
| --- | --- |
| Is this a hairdresser special? Probably. But that's selling it short. For sure it will succeed, if for no other reason then the fantastic looks and the outstanding marketing support. | |
Weather it will lay the ground work and prepare the public for the BIG ONE.... well let's wait till September. Certainly if you are lucky enough to win The Auto Channel's two Mercury Cougars - you won't be going home unhappy.
Ford/Mercury COUGAR.

Price   £22,500 (V6). £19,500 Zetec - on the road

0-60            8.0 secs
Top Speed       137mph
Bhp             168 at 6250rpm          
Mpg             27.6
Brakes          disks all round  ABS standard
Tyres           215/50 VR16
Insurance       2 litre Group 11E. V6 14A - Best in Class