ALL R'd UP

HONDA ACCORD TYPE R

Nicholas Frankl

European Correspondent
It appears that I seem to be enjoying Mr Honda's wears rather a lot these days. First his fine long distance riding machine the Goldwing and now his attempt at a family man speed machine. The new Accord is a hugely important car for Honda. Based around a global platform and spread over four distinct ranges for European, American, Asian and Japanese markets, Honda will build over 600,000 of these mid-size fellers. For Europe and the middle east that means Swindon, Honda UK's facility that started with the previous Accord and Civics and is now being enlarged to the tune of £450m ($720m) to expanded production and make space for a new b' car in 2002.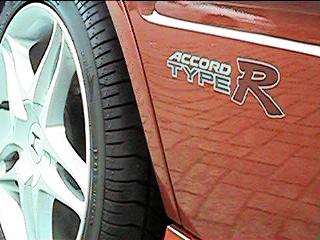 The Accord is the car that took America by storm and knocked Ford and GM off the top selling spot. Fed up with poor service, poor dealers and poor performance, buyers flocked to the reliable, if not awe-inspiring alternative. They clearly didn't have a Type-R then, did they? Well. No Sir. Cos no yellow bellied limy would ever drive a Jap mobile with a lawnmower engine that revved to 9,000 and threatened to put a smile on the masses so broad they'd think Clinton's cigar antics was just a sales scam dreamed up by Castro on magic mushrooms. Nope, our US friends have to make do with a V6-and very fine it is too, available here in the co-incidentally US build Accord Coupe. Well sorry Uncle Joe, may I suggest a grey import? They are all the rage here, and I hear that in Japan you can even get a four-wheel-drive Type-R.
The Accord R is the second official member of this new family to hit the European market after last years Integra. I say official as I also had the pleasure of a Prelude R, and although it came from Honda UK it wasn't for sale. Bo-Hoo. Basically the idea is to give what might otherwise be a very competent and appealing - yet possibly slightly less than invigorating range of cars a bit of lift. Racing they say improves the breed, and certainly our friends at Suzuka (Honda's test track) know a thing or two about that game. So, as with Ford with their now defunct RS division, Merc with AMG and BMW with the M sport, Honda has let it's petrolhead boffins take hold of their normal family models and basically go to town with all the bits and bobs they could find in one of those extreme fast car parts magazines.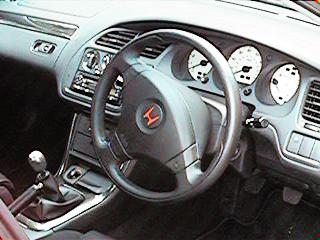 The problem, if you can call it such, is that all the R's are based around the concept of driving, and I don't mean the sorry excuse you see on the road's come Sunday or in fact, come to think of it, almost any day. No. They mean hard driving, preferably alone (better power to weight you see) and on either racetracks, mountain roads or rally stages, or a combination of all three - that being a Honda R techy petrol heads idea of a seriously good wet dream. I think. Why? Because then you can thrash the daylights out of its engine, screw the thing up to 8,000 revs and watch it gasp for breath and beg for more. Then you can fully appreciate what an incredible engine a DOHC VTEC is, feel the surge in power as you change up and push past the R' barrier at mach 5,800. Then and only then can you unclasp your grip from the Momo wheel, place the chrome, short throw, gear lever into neutral and climb out of your Recaro buckets, pat yourself on the back and thank those techy's for creating such a bloody great car.
You see the problem? Let me explain to our readers in Wales and Wyoming. If you do any of that stuff in towns - you go straight to jail faster than Ben Johnson can say anabolic and they confiscate and crush your car. Aha! Worse still, if you drive normally in town, IE 1st gear, then 2nd gear, then stop and so on, it's very tiring to rev the balls out of your engine, not to mention noisy and rather silly. Lots of the wrong sort of people think you must be trying to set some sort of unofficial speed trial and so join in to compete. Result? Yup you guessed it - jail again. Or at the very least a good knuckle wrapping.
So where does this leave our Accord R with its red line somewhere near five-figure territory and max power over 7,200? Answer, in the garage. It is simply no fun to drive a great car that delivers most of it performance at high revs around town. So my advise to you if you commute in and around a city is don't buy an R. You'll end up in trouble or ruining the fine Bridgestone's and ABS and EBD assisted disks on weekend track days getting all your frustration out. If, however, your daily commute is say from Norfolk to Birmingham, across some fab A and B roads- then rush, right now if you can, down to your local R dealer and put your money down. You'll Live to thank me, the handling is sharp and responsive, the chassis is taught and alive. The noise on-cam is toe tingling and you can get all the rubbish + family in when you need. If you do live in town and still want this kind of fun then check out a more relaxed V6 engine, both Alfa in the 156 and Ford in the new Mondeo have them.
Alternatively, go for broke and be prepared to fight it out at the lights, at least the cops will be smiling from the serenading sounds of Type-R.
ACCORD TYPE-R

£24,245 Price (UK)
7 SECS  0-60mph
140mph  Top Speed       
209 Bhp