New Car/Review
The Buick Regal GS, A car for Clark Kent
by Larry Weitzman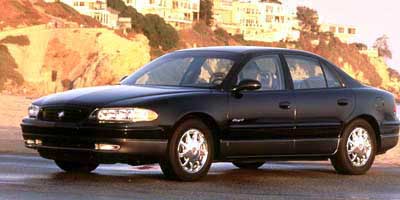 SEE ALSO: Buick Buyer's Guide
The Regal is Buick's midsize entry into a crowded field of not quite full size cars. The GS is Buick's interpretation of a sports sedan that is fun to drive while not jarring your kidneys to the point of a pit stop. If you think the supercharged Park Avenue Ultra is just a bit too big, but love it's performance and comfort without sacrificing road manners, then this is your car.
The GS body is in its second year and is based on the GM10 platform used by the Pontiac Grand Prix and Olds Intrigue. The body styling is conservative but it's smooth, flowing and pleasant. There is no chrome or bright metal on the body and the grille is blacked out with the classic Buick three crest emblem in the center. There are no add ons such as spoilers, scoops to give this car away.
About the only things that gives a hint of performance which the GS is capable of are the twin chrome tipped exhaust and the clean looking multispoke 16 inch alloys shod with huge 225/60 touring Goodyear Eagles.
The GS is powered by Buick's 3.8L V-6 that's also used in the Park Avenue. But the GS engine has an Eaton 90 (Rootes type) mechanical supercharger which provides a maximum of about 7 pounds of boost. This added induction pressure lifts the horsepower output from a normally aspirated 200 to a whopping 240 hp at 5,200 rpm and 280 lb-ft of torque at 3,600 rpm. Redline is a lofty 6,000 rpm and this is an overhead valve pushrod engine. Buick is another example of solid, reliable engine performance and design without the use of more expensive overhead cams.
And does it go. I knocked off several 0-60 runs at under seven seconds with an average of 6.83 seconds. Even with front wheel drive, there is almost no torque steer at WOT. Switchable traction control is standard, but even with it engaged, it is possible to light up the tires from a dead stop. With it switched off, be prepared to rubberized the road for a hundred feet or more with a full throttle launch. We are talking some serious power here.
Members of the boulevard grand prix be on notice. Watch out for housewives with grocery bags or business men in ties in Regal GS's. You could easily have your ego shattered, as the vacuum (drafting in racing parlance) created by the Buick's acceleration sucks the coolant right out of your radiator.
Luxury cars such at BMW 528's or Mercedes E320's and even Infiniti Q45's will need a jato bottle (not advised) or a tow rope to stay with the GS.
Passing performance is equally quick. 50-70 mph acceleration comes close to escape velocity at 3.9 seconds. Going up a steep hill only slows that time to 5.75 seconds. These are some of the quickest times for any sedan I've tested and certainly the quickest considering price. It does all this without the least bit of fuss or intrusion. It's almost sneaky quick.
But high performance doesn't necessarily carry a fuel penalty. Even though rated by the EPA at 18/27 mpg city/highway, my test average was 20.4 mpg with only 25 percent on the highway and with significant time spent pulling substantial boost from the supercharger. At a steady 70 mph, the trip computer indicated 30 mpg. With a 17.5 gallon fuel tank, 500 miles nonstop is not out of the question.
The standard heavy duty 4T65E is super smooth. It has a choice of two shift patterns, performance and normal. With the performance button engaged, shift points are moved upward for more aggressive, spirited driving.
The Buick GS comes with standard Gran Touring suspension. It is state of the art and fully independent. Up front are MacPherson struts with lower control arms and the rear has a tri-link set up with coil springs at each corner. Front and rear stabilizer bars are standard. It provided an appropriate blend of sport handling and soothing ride quality.
I have driven the Regal LS with standard suspension and although sharp, I found the Gran Touring upgrade with its slightly stiffer shock valving and spring rates provided just a little more control without any noticeable loss in ride quality.
Ponderosa Road didn't even phase the GS as it almost completely isolated its passengers from the washboard. In the tight 90 degree bumpy corners, the rear stayed firmly attached to the road. There was no noise or vibration. Buick uses unique rubber isolation bushings in its rear suspension to reduce road noise, harshness and vibration.
Yet even with its supple well controlled ride, the GS can corner with the best of them. Green Valley and Bass Lake Road were hardly a challenge for this sleeper sedan. Maximum legal speed could be maintained without pushing this GS. There is some predictable understeer, but the GS tells you when it is approaching its limits while always maintaining its rock solid composure.
On the highway, the GS has a substantial feel, with no road or wind noise. Tar strips and concrete expansion joints are a non event. It is a pleasure on the road.
Steering is magnetic, variable assist rack and pinion. It is very accurate with great on center feel and the appropriate resistance in the twisties.
The brakes are four wheel disc (front ventilated) with a newly designed (for 1999) antilock system. They provided sure smooth stops with excellent progressive pedal feel. They add to the vehicle's confidence.
Now for the good stuff and that's in the interior. This Regal had some of the nicest front seats you will find in any car. My test car came with standard leather, on the seats, doors and steering wheel. The front office seats were almost like easy chairs. They were soft with excellent support and enough depth to hold the driver in place during spirited driving. When it comes to seating, furniture manufacturers could take a lesson from Buick.
The rear seating is just as good. Very comfortable for two and not too bad for three. Legroom is generous as well as headroom. There is a large trunk pass through for skis or other long items that can't fit in the cavernous 16.7 cubic foot trunk.
The dash is fairly simple. In a pod in front of the driver's position there is a large speedo flanked by a tach on the left and a combined fuel and temp gauge on the right. There is the usually plethora of warning lights and beneath the tach is the trip computer which has a digital boost gauge. It's done is a low key flat black. As with the outside, there is no gaudy chrome on the inside.
The center of the dash contains the superb sound system with a cassette and an optional single play CD. The large knob for volume was a pleasure to use, but the steering wheel contains controls for the radio as well. Beneath the sound system is the digital HVAC system which has dual temperature controls for driver and the passenger. It has an outside temperature readout.
The center console has the floor mounted shifter with a storage/armrest to the rear. There is tasteful wood trim on the doors and console. Nothing gaudy, always subtle. The door panelling is well padded and the dash and other areas are all done in soft touch padding.
It only gets better. The GS is priced at $24,395 plus $560 for destination. The only option was GM buy power which for $620 gives dual zone electronic controls for the AC, steering wheel controls for the radio, single play CD and auto dimming electrochromatic mirrors. Everything else is standard including the supercharged V-6, full power including the driver's seat, traction control, leather, keyless entry and a host of other features that are extra cost options on other cars. Total price of my test vehicle was $25,575.
There only five options I would consider for this GS. The moon roof is a bargain at $695. A passenger power seat is available for $330 but the manual adjuster and seat recline work very smoothly. The fabulous Monsoon sound system upgrade which is normally priced at $295 is now a free incentive. You can't beat that deal with a stick. Heated seats are $225 and would be number one on my list. The only other item is the factory wiring for a trunk mounted CD. It's only $50 and worth every penny in case you later decide that 10 in a row beats fooling with a single play CD.
If the GS power is not a requirement, the LS may be the ticket. At $21,695, it's a relative bargain. Add a couple of options like the Gran Touring package ($600) and the buy power package ($1,310) and were talking about a fully loaded Regal for under $24,000. If your worried about its performance, don't be. It will knock off 0-60 in the low eights and have passing times within a second of those reported for the GS.
Thompson's Buick, Pontiac, GMC and Jeep in Placerville has an excellent selection of Regals for testing and inspection. You don't have to be a mild mannered reporter or wear tights and a cape to drive one, although if Clark Kent were to own a car, the Regal GS would be his likely ride.

SPECIFICATIONS

Price                                   $21,695 (LS) to about  $27,000



Engine
                                         3.8L OHV V-6 (GS)240 hp @ 5,200 rpm 
                                         280 lb ft of torque @ 3,600 rpm
                                         3.8L OHV V-6 (LS)
                                         200 hp @ 5,200 rpm
                                         225 lb ft of torque @ 4,000 rpm

Configuration
Transverse mounted front
engine, front wheel drive

Transmission
4 speed electronically 
controlled automatic

Dimensions
Wheelbase                                109.0  inches
Length                                   196.2  inches
Width                                    72.7   inches
Height                                   56.6   inches
Turning circle                           37.5   feet
Curb Weight                              3,439 lbs (LS), 3,543 lbs (GS)
Fuel Capacity                            17.5   gallons
Truck Capacity                           16.7   cubic feet

Performance
0-60                                     6.83   seconds
50-70                                    3.9    seconds
50-70 up hill                            5.75   seconds
Top Speed                                Without its electronic speed 
                                         limiter, well into triple digits.
Fuel Economy                             EPA rated at 18/27 city/highway.
                                         My estimate is 20-22 in El Dorado
                                         County driving and 28-30 at legal
                                         highway speeds