New Car Review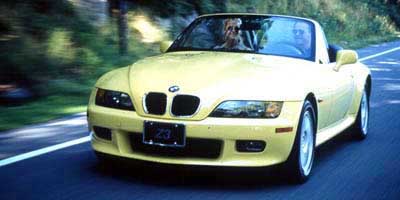 SEE ALSO: BMW Buyer's Guide
1999 BMW Z3 2.3
by Larkin Hill

BMW Full Line factory footage (23:35) 28.8, 56k, or 200k
The majestic hills surrounding Santa Barbara sparkled after the cleansing night shower. The air, crisp and brisk, welcomed the warming rays of the early morning sun. A perfect day to explore the environs behind California's most scenic coastal town. And the winding roads, with their steep inclines, were guaranteed to challenge "the ultimate driving machines" we were about to test: BMW's all-new 5 series sport wagons, upgraded Z3, and 740i with sport package.
Happily, I was teamed with a colleague from a publication group, whom I had met at an earlier ride and drive event, but not seen since. The first leg of the adventure called for a spin along the ocean. Although the air remained chilly, the Z3 roadster convertible was the obvious first choice to put through its paces. Of course, I would have chosen the Z3 first anyway, since I test drive cars the way I test wines - the lightest and least invasive to start, and the heaviest and most robust at the finish. This isn't to say that the 2.3 version of the Z3, with 2.5 liter 6 banger, is lacking in power, it's just that I couldn't shake the recollections of its listless predecessor, which only utilized a 1.9 liter four cylinder engine.
We were assigned a bright red little number, and from the moment we slid onto its contoured leather seats, we knew we were in for an exciting adventure. While we were determined to look like two hot California babes in our red roadster, we were not about to do a "quick-freeze" simply for the sake of fashion. Activating the heated seats and climate control system we were, within minutes, cruising down highway 101 wrapped in a deliciously warm cocoon.
Rigid yet responsive handling coupled with the larger and more aggressive 2.5-liter DOHC 24-valve inline 6-cylinder engine, made the entire experience exhilarating. A new standard feature of the power plant for model year '99 is something called "double VANOS", a German acronym for variable valve timing; which operates on both camshafts. It simultaneously increases torque, controls emissions, and provides superior fuel economy relative to performance. As is typical of a roadster, the ride is stiff and precise. You'll feel every bump in the road, and smooth braking is an acquired skill. But in reality, this isn't so much a negative as a positive, since these characteristics are exactly what make driving a roadster so much fun. The vehicle's small size and aerodynamic body design gives you the feeling of being "one with the road."
Side impact airbags are now standard on all Z3 models. New optional equipment for the 1999 2.3 includes cruise control, a removable hardtop with a heated rear window, halogen free-form fog lights, and an in-dash CD player. BMW's onboard Navigation System is now a BMW center-installed choice.
Bottom line: While the body design has never been my favorite, it's the only part of the Z3 that I don't absolutely adore. The intelligence of the vehicle as a whole has always impressed me. The distinctive physique, superior handling, attractive ergonomics, and excellent value (still under $30,000) have catapulted the Z3 2.3 to near perfection.