New Car Review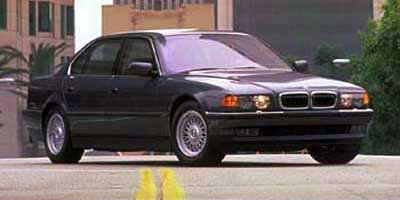 SEE ALSO: BMW Buyer's Guide
1999 BMW 740i Sport Package
by Larkin Hill

BMW Full Line factory footage (23:35) 28.8, 56k, or 200k
Usually there are very few improvements to be added to a manufacturer's top-of-the-line product. But leave it to BMW to come up with something new for their 1999 740i: An optional Sport Package.
The 740i was the third BMW I tested during media days in Santa Barbara, and from the moment my soft posterior met the smooth leather seats, I knew it'd been worth the wait. Sleek redwood trim replaces the standard high-gloss burl walnut, which abundantly decorates the interior decor. The controls were ideally located and the 18-way contour sport seats with thigh support provided an exact fit (the backrest's upper portion is also power adjustable). Rounding it out, the barely audible (from the interior) growl of the 4.4-liter V-8 engine satisfied all my senses.
Continued refinements and upgrades overall have been made for the 740 series. Three new colors have been added (Anthracite, royal red, and titanium silver), and two interior combinations will be offered (Navy Blue and English green with Oyster Beige). The three major engine updates for the 740i and 740iL include increased torque, lower emissions, and reduced maintenance requirements.
Gliding out of the parking lot produced another pleasurable sensation. While the 740i maintains a smaller wheelbase than the 740iL and 750iL, it felt substantial yet incredibly agile.
Acceleration up the steep hill was a breeze. The STEPTRONIC system, which was added to the 5 speed automatic transmission, enabled us to manually choose which gear we preferred to be in. The sport suspension that first made itself known in the M series extends itself for the first time in the luxurious 7's. The high performance inclusions simultaneously sharpen handling responses without sacrificing ride comfort. The changes include the front suspension being lowered, the instillation of firmer springs, firmer shock absorbers, and a larger front anti-roll bar.
Technical changes that significantly increase the vehicle's performance include; the torque converter maintaining a higher stall speed (which boosts the acceleration response when starting from a standstill), a shorter final drive ratio (3.15:1 vs. 2.81:1), and 18-inch M parallel Spoke polished wheels. Collectively the changes provide the driver with the performance of a sports car and the luxury of a premium sedan. Now, whether navigating mountainous terrain or a busy metropolis, the 740i with Sport Package can equally promote a smile.
Overall: The 740i combines the best of two worlds: "sportiness" and "luxury". The level of excitement and comfort possible in the 740i is sure to please the most discriminating connoisseurs.