New Car/Review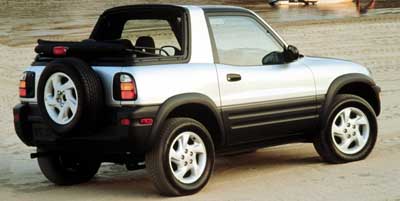 Toyota RAV4 two-door convertible
by John Heilig

Toyota Full Line Video Footage (16:43) 28.8, 56k or 200k
SPECIFICATIONS
MODEL: Toyota RAV4 two-door convertible
ENGINE: 2.0-liter four
HORSEPOWER/TORQUE: 127 hp @ 5400 rpm/132 lb-ft @ 4600 rpm
TRANSMISSION: Five-speed manual
FUEL ECONOMY: 24 mpg city, 29 mpg highway, 25.1 mpg test
WHEELBASE: 86.6 in.
LENGTH x WIDTH x HEIGHT: 147.6 x 66.7 x 65.0 in.
CURB WEIGHT: 2723 lbs.
FUEL CAPACITY: 15.3 gal.
LUGGAGE CAPACITY: 9.4/35.3 cu. ft. (rear seat up/down)
TIRES: P215/70R16
INSTRUMENTS: Speedometer, tachometer, fuel gauge, water temperature, digital clock.
EQUIPMENT: Power sunroof, cruise control, air conditioner, AM-FM stereo radio with in-dash CD player, anti-lock brakes, dual front air bags.
STICKER PRICE: $17,100 (est.)
I have to admit that when I first drove the Toyota RAV4 several years ago, It was a four-door version and I really enjoyed it. The RAV4 and the competing Honda CR-V upped the ante in the small sport utility segment. That raising of the bar has been answered and stretched a bit by the Suzuki Grand Vitara, showing that there is as much competition in the small side of the segment as there is in the larger side.
This weekís tester, however, is a different story. Our tester is the two-door RAV4 "convertible." By calling it a convertible I mean that there is a cloth top over the rear bench seat that can be removed allowing for fresh-air driving. Itís like the old Jeeps and in style itís like a small Isuzu Amigo. And I think it misses the mark.
First, by cutting the number of doors down to two, you eliminate any carrying capacity in the rear seats and limit access to whatever space is back there. Putting people back there is akin to a sentence of hanging with the shoulder belts hanging from the C-pillars. And once those people are back there they are cramped from side to side, but there is a decent amount of legroom. Behind that area is no carrying capacity.
The rear seat can be removed fairly easily to turn the RAV4 into a small truck, but then you have a two-seater with carrying capacity.
It seems to me that if I was going to buy a small sport utility Ė and itís something I would consider Ė Iíd still want the convenience of four doors, simply because there are times when you want to take extra people with you and thereís always the need for more carrying capacity.
Powering the RAV4 is Toyotaís 2.0-liter four that delivers 127 horsepower. It drives the front wheels (under normal conditions) through a five-speed manual transmission. Thereís a switch on the dash to lock the center differential and get four-wheel drive.
The week I had the RAV4 we were blessed with exceptionally good winter weather and didnít need 4WD. Even though we didnít need 4WD, I switched it one or two times. The feeling was the car wasnít as "comfortable" in 4WD as in 2WD, so we left it in 2WD.
These little two-door convertibles can be a blast off-road. I remember a new car introduction (with another manufacturer) where the manufacturer offered a similar vehicle. While it was louder and less comfortable than the mid-size four-door that manufacturer also built, the two-door convertible was a lot of fun. You just have to stay away from the mud when you have the top down.
There were few luxury amenities in the RAV4. We did have cruise control and an AM/FM stereo radio with a CD, as well as an adequate heater. We had good old-fashioned wind-up windows, non-remote mirrors, so we had to roll down the window (manually) every time we wanted to move the mirrors. And we did have a sun roof, so the front passengers could have the same exposure to the atmosphere as the rear passengers. While the weather was good the week we had the RAV4, it was also very cold, so I didnít open the sun roof.
At first I thought my lack of appreciation for the RAV4 convertible was an age problem. I know that several times I disagree with younger people I work with and with my daughter regarding some of the cars we drive. So I checked. My daughter didnít like it. Some of my younger co-workers didnít like it. My wife didnít like it and sheís younger than I am.
It was a frustrating feeling. I liked the four-door and thought it was a neat package. But Iím afraid this vehicle misses the mark.