New Car/Review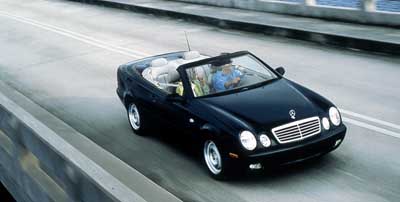 Mercedes-Benz CLK320 Cabriolet
by John Heilig
Mercedes-Benz CLK320 Cabriolet
SPECIFICATIONS
MODEL
: Mercedes-Benz CLK320 Cabriolet
ENGINE
: 3.2-liter V-6
HORSEPOWER/TORQUE:
215 hp @5500 rpm/229 lb-ft @3000 rpm
TRANSMISSION
: Five-speed automatic
FUEL ECONOMY:
19 mpg city, 28 mpg highway, 18.7 mpg test
WHEELBASE
: 105.9 in.
LENGTH x WIDTH x HEIGHT
: 180.2 x 67.8 x 53.0 in.
CURB WEIGHT
: 3669 lbs.
FUEL CAPACITY
:
16.4
gal.
LUGGAGE CAPACITY
: 9.5/5.8 cu. ft. (roof up/down)
TIRES
:
205/55R16
INSTRUMENTS:
Speedometer, tachometer, fuel gauge, water temperature, digital clock.
EQUIPMENT:
Power windows, power door locks, power mirrors, power seats, power top, cruise control, air conditioner, AM-FM stereo radio with in-dash cassette player, anti-lock four-wheel disc brakes, dual front air bags.
STICKER PRICE:
$47,500
There are times when I regret that I have a normal salary and a relatively normal lifestyle. After a week of driving the Mercedes-Benz CLK320, this was one of those times.
I first should confess to a fondness for the products with the three-pointed star. There have been few among the many Iíve tested that have been bad cars. Many have been desirable. But I seriously believe the most desirable is the CLK320 Cabriolet.
Normally Iím not a fan of convertibles. Theyíre not practical in hot weather and certainly useless in the winter, and I live in an area of the country where we have winter. This summer has been an especially warm one, too, with temperatures in the high 90s and exceeding 100 a couple of days. The sun has been blistering hot.
Still, when I dropped the top of the CLK Cabriolet, there was enough wind to overcome the heat, and with the air conditioner hitting on all cylinders, there was a lot of cool air wafting up from the inside of the car to cool the rest.
Since Iím basically lazy, Iím attracted more toward convertibles that donít require a lot of work to raise and lower the top. My favorites are the Porsche Boxster and 911 and the Mercedes-Benz SL series, where all you have to do is push a button and the top lowers or raises itself completely automatically. With the CLK Cabrio, you have to push one button and either unlatch or latch the top to the top of the windshield. Everything else is automatic, and I learned to live with this minor inconvenience. When the top is down, trunk space is at a premium, but if you can afford the Mercedes, you can also afford another car with a bigger trunk for those times when you need more space. There is also the rear seat, assuming you're not going shopping with another couple.
I believe the styling of the CLK is among Mercedesí best. The oval headlights are from the E-Class, even though the CLK is closer to the C-Class in size. I can see this styling point spreading across the entire line. The profile of the car is exquisite, and with the black top contrasting with the silver body, the color combination worked well, too.
Inside, the was seating for two in leather-covered bucket seats up front. The rear was a bench that offered some leg room, if not a lot. Children could sit back there in comfort. We compared the back seat with a co-workers Dodge Stealth, and the CLK offered greater comfort.
My wife felt, however, that there should have been a lumbar support for the front buckets. She had a backache after long rides, although I came through unscathed.
The engine/transmission combination is sweet. The 3.2-liter V-6 develops 215 horsepower. Hooked to a five-speed automatic transmission, it is able to deliver the performance to the rear wheels whenever you need it. I was able to accelerate away from stop signs and speed up to avoid trouble once I got moving. On winding roads, it helps to be able to anticipate when youíll need more throttle and apply the pedal a half second to a second before you want the engine to kick in, but other than that, everything was perfect.
There arenít many cars that Iím willing to risk all and "steal" from the manufacturers who supply vehicles to us. The Mercedes-Benz CLK320 Cabriolet was one of them. It was fun, it performed, it looked great, and it made everyone in the office jealous.